Aside from their fitness tips, we also look to models for their effortless style and demeanour — not to mention the secrets behind their gorgeous looks. While we know that most of it can be attributed to genetics, there are some tricks of the trade that they follow to maintain (or even enhance) what they already have. (But don't we all?)
So at this year's Victoria's Secret Fashion Show, our interests were piqued, and not just by the fun ensembles that were paraded on the runway but more so by the preparation that went on backstage. Some of the models got ready by making sure their skin is healthy and glowing, and we spotted them using masks from 111SKIN. We just had to try them! We got the Rose Gold Brightening Facial Mask and had our human resources director, Katherine — who loves masking — give it a whirl. What does she think about it? Read on our 111SKIN review.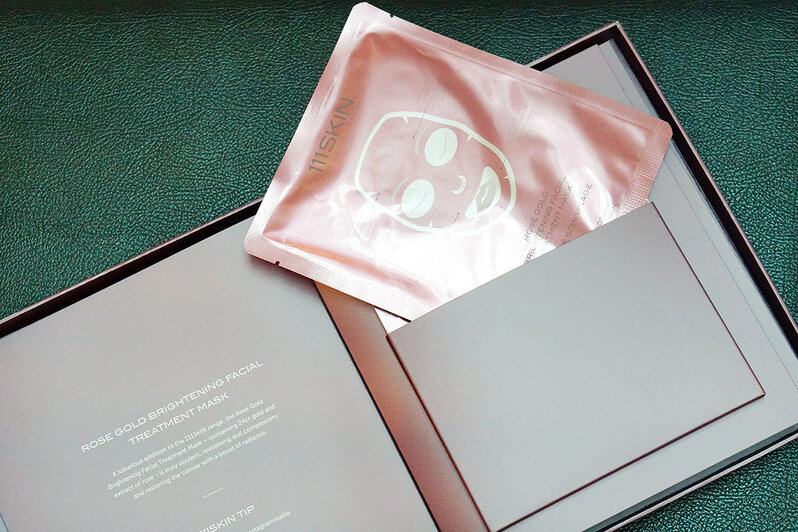 Starting the 111SKIN review with an observation of the packaging details
The details
Katherine has dry skin with fine lines and loss of skin elasticity and collagen. As a masking enthusiast, she looks for a product that comes from a reputable company that invests in research development. The product also has to be compatible with her skin and does not cause any allergy. It also has to deliver what it promises and has to be paraben- and sulfate-free.
The claims
The 111SKIN Rose Gold Brightening Facial Mask uses hydrogel, 24K Gold and Rosa Damascena extract to give skin ultra-hydration and brightening. It has liquorice root extract and niacinamide to brighten, silk amino acids and vitamin E to hydrate, Centella Asiatica and 24K gold to heal, and rose extract to protect the skin.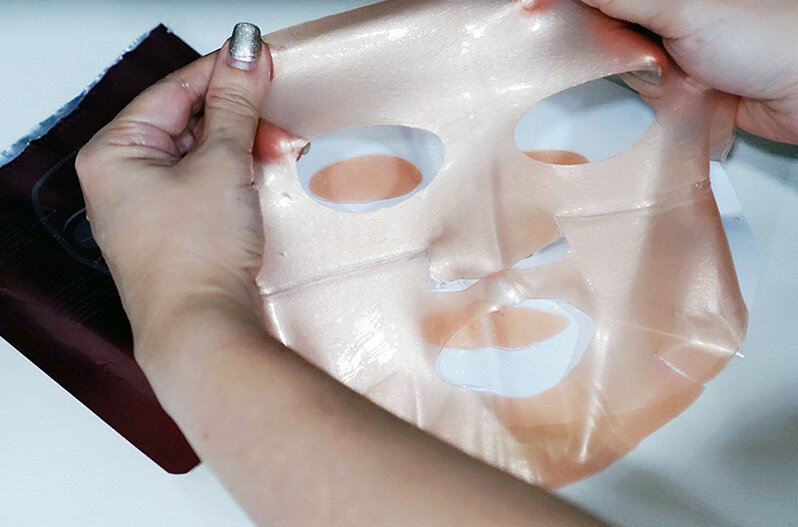 Packaging and application
The masks were well-sealed and beautifully presented in a shiny rose gold-coloured sachet, says Katherine. As for the application, Katherine says, "The hydrogel fits snugly on the face. It is advised to use the mask lying down, but since I was getting ready to go out, I was pottering about my bedroom. Despite all the back and forth, the mask stayed put and did not slide off." Katherine adds that the mask also has a subtle, clean and natural fragrance of essential oils.
The results
The mask claims to aid in diminishing the appearance of fine lines and wrinkles. Of this claim, Katherine shares, "For this point, it performs as promised. It softens the fine lines around my eyes and the nasolabial folds around my mouth. I am most impressed by the lasting effect till the next day."
As for the use of 24K gold to brighten the skin, Katherine says she can't vouch for it a hundred percent, but she noted that her skin tone appeared to be more even and fairer after using the mask.
When it comes to adding protection to the skin barrier and rejuvenating lacklustre skin, Katherine says it was pretty effective.
"My skin felt cool, soft and smooth," she shares. "I used the mask before going for a night out and while in my car on the way, I could not stop touching my face because I loved how cool and smooth it felt. The mask also prepped my skin so well, making it looked smooth and poreless. I only needed a small dollop of primer and a few pats of my BB cushion to look like I had been at the spa all afternoon instead of what I really did, which was dashing around madly in the mall doing last minute Christmas present shopping."
The verdict
So, should you grab this mask ASAP? In her 111SKIN review, Katherine says, at SGD34 a piece (SGD170 for five pieces), it's not exactly wallet-friendly, but it is worth its price because of three important reasons. One, you immediately feel that the mask is working. Katherine says she felt a tingling sensation while the mask was on and felt that the mask was already doing its wonders on her skin. Two, it uses hydrogel, which has been proven to be more effective in delivering results than regular masks. Three, there are a lot of potent ingredients present in the product that can change your skin for the better.
111SKIN will be available exclusively at Robinsons The Heeren from 10 January 2018.