Stressed out: checked. Lack of sleep: checked. Eating out way too much: checked. Thinning hair: checked. The on-the-go lifestyle of the modern woman can heavily contribute to some major beauty woes, including serious hair issues. The most common hair problem of all? Thinning hair. Yes ladies, thinning hair is no longer a problem for the more matured crowd.
Whether you're 25 or 45, thinning hair can be a result of several common lifestyle habits we expose ourselves to. With this budding concern in mind, three modern women –
June
, Winnie, and myself – headed down to the
TK TrichoKare
, the very first Trichological Centre in Singapore that offers customised European herbal hair remedies. We consulted a Trichologist (think a doctor who specialises in hair and scalp issues) and got to the root of the problem.
--------------------------
Thinning Hair Cause 1: Diet
We know how it goes: our hands reach out for just about anything – usually a quick, unhealthy snack high in sugar and fats, and low in vitamins and zinc – on the way to our 10th appointment of the day. Insufficient nutrition in our diet can cause sebaceous glands to become overactive, leading to a greasy scalp, which can potentially cause hair loss.
The first thing to do is, of course, load up on hair-loving protein, iron, zinc and vitamin B with lean meats, leafy greens, nuts, beans and fish. For June, her Trichologist recommended the TrichoKare's award-winning Hair Fall Preventive Treatment on her greasy scalp.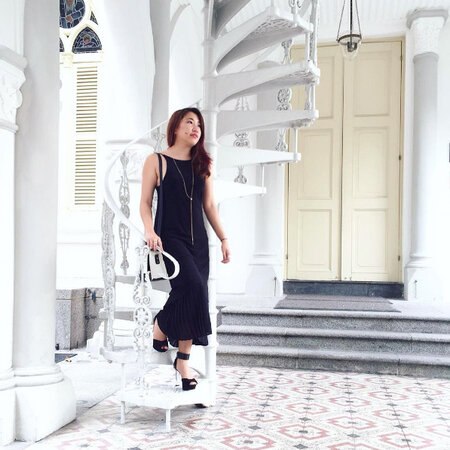 "I was mortified to find out that I have oil-clogged hair roots! Thankfully, I had the chance to experience the award-winning Hair Fall Preventive Treatment. A herbal-blended essence and a follicle serum were used to balance my scalp's sebum level and strengthen the strands before undergoing this futuristic-looking infra-red light treatment.