Ask anyone where they would want to travel to and many would always have Seoul, Korea on their list. The home of the K-Pop industry is filled with gorgeous sights, shows, and one-of-a-kind delights that it's no question why millions of tourists flock to see and experience them every year!
If it's your first time going there and you're looking for that full Seoul-City experience, then you'll love our fun travel tips to truly enjoy Seoul. So just keep scrolling below for the list of places you should head to and the local delicacies you must try while in this large and gorgeous metropolis!
--------------------------
Shop easily from hard-to-find cosmetic brands
Shopping is a must when in Seoul due to their numerous shopping areas and fashion markets! And if you're a beauty addict like us, then you are going to love their wide selection of cosmetics! Brands such as
HERA
,
Laneige
,
Iope
, and
WHOO
can easily be purchased here in Seoul as they are some of the country's most popular cosmetic brands. And, if you're a fan of Korean celebrities, K-stars love using these brands for their makeup and skincare needs!
If you want to try out some cosmetics from
Iope
but have a hard time finding them anywhere else, then be sure to try out their
Water Fit Lipstick
when you're in Seoul. This glossy and hydrating lip colour will give your lips a beautifully sculpted finish that won't dry out or smudge at all. Perfect for any climate!
Moving on to face bases,
HERA
, a leading cosmetics brand in Korea has acquired fans from all corners of the world with their gorgeous makeup and skincare line. But their most popular product, which you can easily get in Seoul is their
UV Mist Cushion Ultra Moisture
! This amazing cushion foundation will be your sun block, base, and foundation in just one little compact.
Can't get enough of cushion foundations? Well, then you're going to love WHOO's
Gongjinhyang Sul Mibaek Moist Luminous Cushion
. A sun block, base, and foundation in one! This cushion foundation will also whiten and brighten your skin as well as reduce your wrinkles!
And switching up to skincare, since the release of their famous
Water Sleeping Mask
, Laneige has been leading the game in skincare in Korea, and slowly expanding to all over the world. And now every time you go to Seoul, you can pick up a jar of it and sleep your way to greater skin!
Discover the best deals and tips for shopping at Lotte Duty Free
Love shopping for beauty and skincare items? Well then you're going to love Lotte Online Duty Free Shop because all of their products have amazing discounts and special offers! Apart from that, you can also receive amazing offers and discounts on hotels too! If you're heading over to Korea soon and need a hotel to stay in, learn how you can receive an 8% discount in any hotel when you book with Agoda just by clicking

here
! Want more tips to make your trip exciting and fun? Just keep reading below!
When shopping in Seoul, you don't have to worry about rushing to do your shopping or lugging your purchases around and risk losing them. Through Lotte's Duty Free Shop, you can still shop

3 hours prior
to your flight departure even when you are on your way to Incheon International Airport! Easy peasy!
Eat local delights only Seoulites would know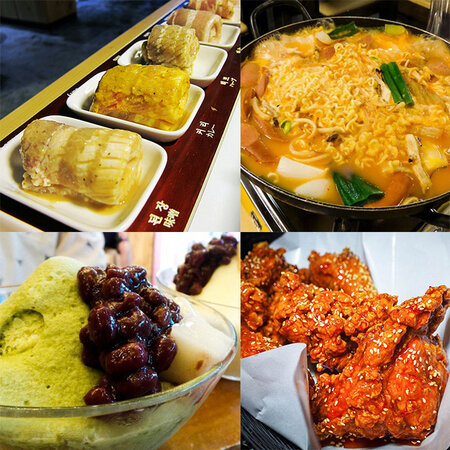 (photos from sethlui.com)
Whenever you go to any country, you can always feel the richness of their culture through their food. So when you travel to Seoul, enjoy the company of the locals and their street food such as patbingsu (red bean shaved ice) from Homilpat, samgyupsal (grilled pork belly BBQ) from Palsaek Samgyeopsal, budae jigae (Korean army stew) from Nolboo, and chi-maek (fried chicken and beer) from Thunder Chicken or Two Two Chicken! From the chicken's crackling and crispy skin to the stew's mixture of spam, sausages, and cheese, you'll definitely find your favourite local food whether you have a spicy, savory, or sweet palette!
If you're a fan of K-dramas, too, you can dine at one of the restaurants in the popular drama, "Let's Eat"! Throughout 3 episodes, stars of the show dined in restaurants such as Season's Table in episode 11, Mr. Park's Tteokbokki in episode 4, and Keun-gi-wa-jip in episode 12! When visiting these famous spots, you get to experience the same food and fun experience similar to what is shown in those K-dramas! Now that you know all of these tips, we hope you enjoy your vacation in Seoul!
--------------------------
Do you have any more travel tips to enjoy Seoul? Share it with us in the comment box below!