While a season packed with endless parties and get-togethers may be fun, these various cocktail soirées are also going to be filled with fizzy drinks and sinful food indulgences, which can really take a toll on your skin.
Just like how you ought to
prepare your wardrobe essentials to turn yourself into party-ready perfection
, your complexion needs a little beauty prep too to endure the numerous festive and late-night parties. So keep reading below for the best ways you can prepare your beauty regimen, and yourself, for the holiday season.
Add punch to your existing regimen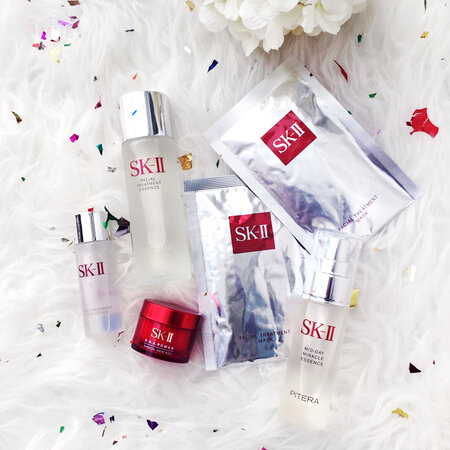 The key to any great holiday makeup look is a flawless canvas underneath, i.e. smooth and even skin. That's why, besides using a cleanser and a moisturiser, you should add more potent products to your routine to get the most out of a short period of time. Before going in with the
SK-II R.N.A Power Radical New Age Cream
, dab the
Facial Treatment Essence
all over your face and neck to replenish your skin's moisture, and improve its appearance and texture. If you have an oilier or more acne-prone skin, make sure to grab a bottle of
Facial Treatment Clear Lotion
for its mixture of AHAs and Pitera. It removes dead skin cells and impurities, ensuring that the rest of your skincare routine will be able to penetrate deeper and more effectively.
If you're in the mood to give yourself a pampering session, use the
Facial Treatment Mask
to restore your skin's glow — the perfect way to relax and unwind before you head to the party.