(cover photo from ClozetteINSIDER)

Despite their busy schedules, female K-pop idols never seem to stop shining with their glamorous outfits and beautiful skin. Their unwavering beauty tip? Pore care! Long hours at work, lack of sleep, and heavy makeup is every cause for skin irritation and acne. Despite all that, they manage to keep their skin soft, smooth, and bright. I'm sure many women are envious of their perfect skin and are curious to find out the secret to their beautiful skin. Envy no more because this article will teach you how to achieve their beautiful skin!
No woman is beautiful without hard work, so be sure to follow these steps closely! Also check out the products recommended for each step!
--------------------------
Step 1: Deep Cleansing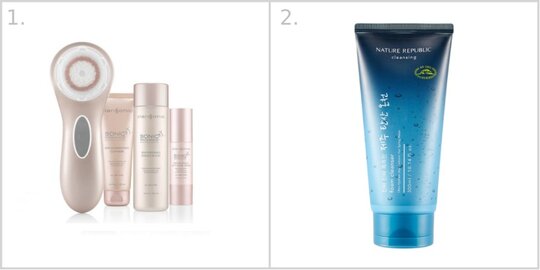 (photos from: Clarisonic , Nature Republic)
Cleansing is a must in all routines but what is more important is how deep the cleansing is. Proper and thorough cleansing is essential in removing skin irritants and dirt which are responsible for aging and troubled skin. We suggest you try these products:
1. Clarisonic Sonic Radiance Brightening Solution Kit: The invention of electronic cleansers was revolutionary. The Clarisonic Sonic Radiance Brightening Solution Kit is a great range that brings cleansing up a notch by cleansing even deep into your pores and thoroughly removing all the impurities built up during the day. The kit consists of the Illuminating Cleanser, Essence Boost and Activator Serum. The best thing about it is that It comes in a dreamy, stunning colour of metallic rose pink! Overall, it is a great range for brightening and maintaining moisture.
2. Nature Republic Ultra Hydrate Jeju Carbonic Hot Spring Water Foam Cleanser: This cleanser contains carbonic hot spring water from Jeju resulting to an easily-lathered foam solution that effectively removes impurities. The solution also contains 6 kinds of marine plants which leaves your skin moisturized and radiant after cleansing.