(cover photo from ClozetteINSIDER)

Despite their busy schedules, female K-pop idols never seem to stop shining with their glamorous outfits and beautiful skin. Their unwavering beauty tip? Pore care! Long hours at work, lack of sleep, and heavy makeup is every cause for skin irritation and acne. Despite all that, they manage to keep their skin soft, smooth, and bright. I'm sure many women are envious of their perfect skin and are curious to find out the secret to their beautiful skin. Envy no more because this article will teach you how to achieve their beautiful skin!
No woman is beautiful without hard work, so be sure to follow these steps closely! Also check out the products recommended for each step!
--------------------------
Step 1: Deep Cleansing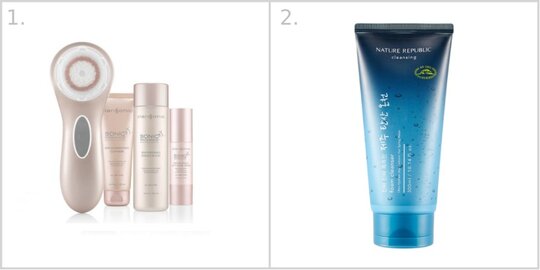 (photos from: Clarisonic , Nature Republic)
Cleansing is a must in all routines but what is more important is how deep the cleansing is. Proper and thorough cleansing is essential in removing skin irritants and dirt which are responsible for aging and troubled skin. We suggest you try these products:
1. Clarisonic Sonic Radiance Brightening Solution Kit: The invention of electronic cleansers was revolutionary. The Clarisonic Sonic Radiance Brightening Solution Kit is a great range that brings cleansing up a notch by cleansing even deep into your pores and thoroughly removing all the impurities built up during the day. The kit consists of the Illuminating Cleanser, Essence Boost and Activator Serum. The best thing about it is that It comes in a dreamy, stunning colour of metallic rose pink! Overall, it is a great range for brightening and maintaining moisture.
2. Nature Republic Ultra Hydrate Jeju Carbonic Hot Spring Water Foam Cleanser: This cleanser contains carbonic hot spring water from Jeju resulting to an easily-lathered foam solution that effectively removes impurities. The solution also contains 6 kinds of marine plants which leaves your skin moisturized and radiant after cleansing.
Step 2: Moisturize, moisturize, moisturize!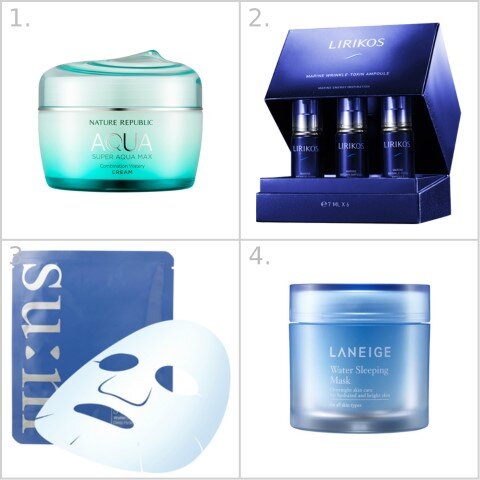 (Photos from: Nature Republic, Amorepacific Mall, Su:m 37, Laneige)

One of women's biggest skin concern is their drying skin. When your skin lacks moisture, it could lead to wrinkles, uneven skin tone,and trouble spots. Dry skin also affects the finish of your base makeup, causing your skin to appear patchy. Deep cleansing strips-off the natural moisture of your skin, hence you must be sure to re-moisturize your skin to keep it from drying. Also, use products that are a right fit for your skin, because using unsuitable products can cause negative results. We suggest:
1. Nature Republic Super Aqua Max Moisture Cream: This cream is famed as the "SNSD Taeyeon Cream", It contains deep ocean water from Kona, Hawaii and 34 different types of sea plants. It is great for its light texture and intensive moisturizing effects that helps keepmoisture for up to 72 hours.
2. Lirikos Marine Wrinkle Ampule: It is great to include wrinkle prevention in your moisturizing regime. Try the Lirikos Marine Wrinkle Ampule as it boasts to smooth even the finest lines on your face.
3. Su:m 37 Waterfull Deep Hydrating Gel Mask: Made from the sap of fermented bamboo, the mask provides intense moisture that instantly recharges tired and dry skin. The gel type mask sticks perfectly on the face leaving no gaps, allowing the whole face to be moisturized.
4. Laneige Water Sleeping Pack: The new and improved Laneige water sleeping pack includes the Sleeptox Technology and Moisture Wrap that repairs and moisturises your face while you sleep. The product also boasts of keeping your skin in good condition despite sleeping for less than 8 hours.
Step 3: Sun care

(photo from: Source: Dior, Shiseido, Amore Pacific Mall)
Sun care is the most essential step of a makeup routine, especially with the rising temperatures as we approach the prime of summer. Regardless of rain or shine, UV rays are always around us and we need to protect our skin from these harmful rays and the effects of sunburn. You can use these products:
1. Dior One Essential City Defense: The newest addition to Dior's One Essential Range, the One Essential City Defense is a powerful sunscreen which features SPF 50! It is said to be able to block 98% of UVB rays while forming a protective veil over the skin's surface, guarding it from the penetration of pollutants and skin irritants. It is great even for users with sensitive skin as the product;s formula neutralizes any contaminants on the face. It also has anti-aging and brightening properties, and also doubles up as a great makeup base primer.
2. Shiseido ANESSA Perfect Essence UV Spray: This limited edition aerosol sunscreen from the famed Japanese sunscreen line ANESSA by Shiseido is a quick and good protection for your face, body, and scalp. The formula is extremely lightweight, transparent, and micro-fine which gives an even and fast-drying application. It boasts of their patented SuperVeil-UV 360 technology which not only gives you great protection, but also a sweatproof and waterproof formula that can also double up as a makeup base.
3. Verite Multi Cushion LX: The improved formula of the DX version is a BB cushion with all-in-one properties of whitening, coverage, and sun protection. The new formula has amazing coverage of both aging lines and skin imperfections. The SPF 50+ formula is sweat proof and long lasting-- a great cushion for the season. Despite its great coverage, it is non-drying and maintains moisture all day long. It also serves as a good makeup base.
Step 4: Change your lifestyle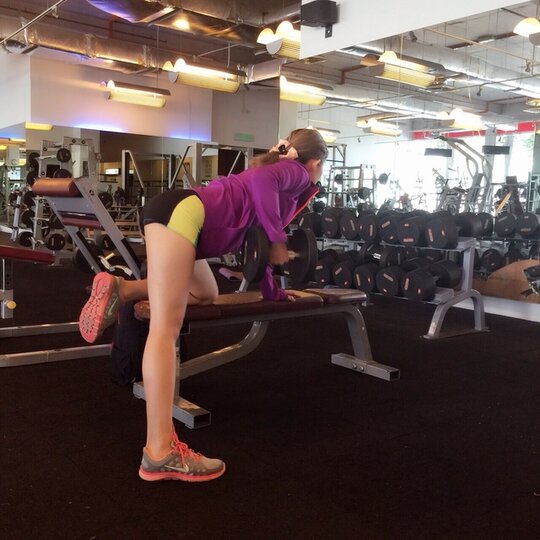 Lastly, all efforts will be wasted if you maintain bad habits in your daily lifestyle. Make sure to drink more than 2 liters of water every day. Consume it bit by bit rather than chugging it down all in one shot. Try to get light walking done daily and if possible exercise for at least 30 minutes each day. Stretch your body throughout the day to relieve your tense muscles and get your blood circulating well. Last but not the least, make sure to get enough sleep every night. Unlike idols, you have the luxury of time to sleep. Your body rejuvenates at a prime time of 10pm to 2am so if you can, get to dreamland during those hours. Sleep is undoubtedly the best natural remedy to beautiful skin and good health!
What's your go-to Korean skin care brand? Let us know in the comment box below!