Blazers are one of the few things that you should have in your closet as it is a timeless staple that adds dimension, structure, and at times a pop of colour to your outfit. It's a must-have item that can quickly turn an outfit from casual to chic in an instant! Just throw it over a plain-Jane look and you're good to go for the day's activities.
So if you're feeling a little bit dull with "normal" looking OOTDs, the best solution is to add a blazer (and maybe a few accessories) to twist your look from casual to chic.
To help you out, here are some looks from our lovely Fashion Community that are great blazer OOTD inspirations.
--------------------------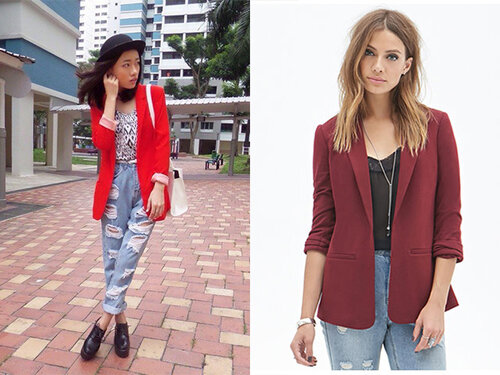 Clozette Ambassador, cassansaurusanaesi, is looking super bad-ass in this distressed denim pants + top + red blazer combo. Folding the sleeves of the blazer rather than wearing it as it is adds a casual vibe to the look. And we also love how the red colour pops in contrast to the rest of her monochrome outfit. If you're not a fan of bright colours, opt for a darked shade like this marsala-hued blazer from Forever 21.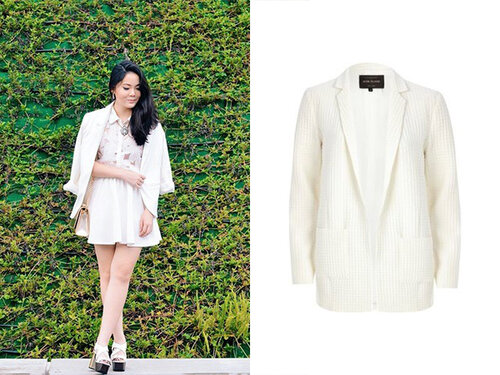 We just adore this play on white by HLRYYS . Her look is both super dainty and polished. Wearing a white blazer over an all-white outfit can be quite a challenge as an all-white ensemble may make you look too washed out. What you should remember is to then play with the textures and prints. For example, if your top is made of lighter fabrics like silk, add another dimension to the look by topping it off with a textured blazer like this one from River Island.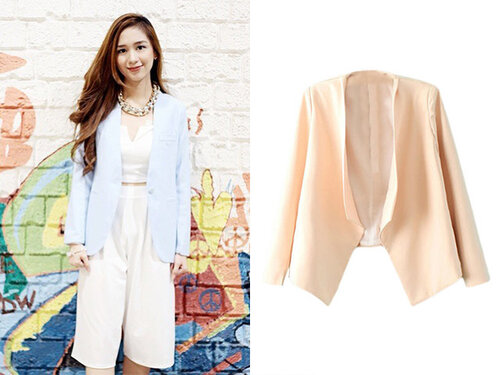 Look pastel pretty just like Clozette Ambassador, chinobcena! A sweet, all-white outfit can be given a little boost by simply adding a pastel-coloured blazer. If you're the certain type of gal that just adores pastel, then this blazer by Romwe is your best bet. It won't just make you look chic, it will also make you look dainty, sweet, and oh-so-girly!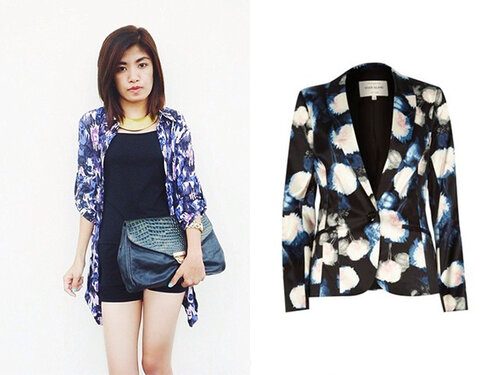 Glam up a casual outfit with a floral-print blazer as seen on AprilNunez. Floral-printed clothes come in many shapes and sizes, including blazers. It brightens up any look with its bold and graphic floral prints, perfect for those who wants to complement their outfit with an eye-catching statement piece. This floral print blazer by River Island would look great over a classic tank top and jeans ensemble and paired with nude pumps.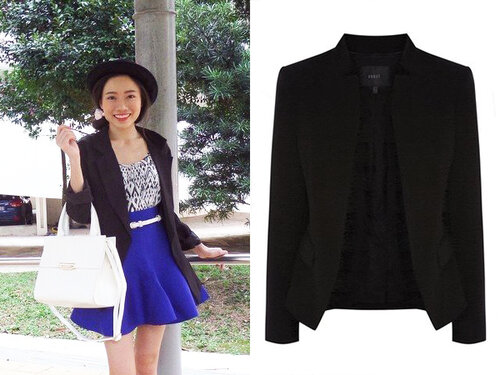 Another look from our Clozette Ambassador, cassansaurusanaesi, is one where she uses a black blazer to complement her skirt's structured shape. While we love our coloured and printed blazers, a long black blazer is still the ultimate closet staple because black looks good on everything! A long blazer such as this one from Coast is good to pair with almost anything because it effortlessly converts any outfit to something chic and sophisticated.
So how will you be styling your blazer? Which casual chic look will we see from you? Snap and share with our Fashion Community!
Click here for more blazers to choose from!