Gone are the days when you have to wait for months for a letter or a telegram just to say 'I miss you' or 'I love you'. With the help of SMS or SNS, quickly chatting with your S.O. has become significantly easier, no matter the distance or time you both are in.
So for the month of hearts, we decided to sneak into six couples' private conversations to see how they exchange funny and heartfelt anecdotes, as bridged by technology.
Andy & Becks, both 29 years old
Together for 12 years
Becks shared, "Because of our line of work (we don't hold desk-bound jobs), most of the time, we text each other to 'report' on our whereabouts. One interesting thing about us is that we use the smiley or couple-type emojis quite a lot. If one of us stops using the smiley emoji at one point, it usually means that we're unhappy with the other (or that we're just very, very busy). At the end of the day, we'd prefer to chat face-to-face instead."
"Because of his line of work, I can never be sure about what time he'll be home. This conversation happened over the weekend when he had to work at the last minute — again — even though we already had prior plans," Becks recalled. "He apologised and though I was a little upset, I still made a joke about using his supplementary credit card when I go shopping later. P.s. it wasn't exactly a joke."
Jorj and Youghp, 28 and 31 years old

Together for seven years


"We both work from home so our conversations mostly happen in person," Jorj said. "He's naturally a quiet person. I'm quite the introvert as well, but I'm most comfortable talking to him so I, for the lack of a more apt term, bug him all the time with stories and anecdotes."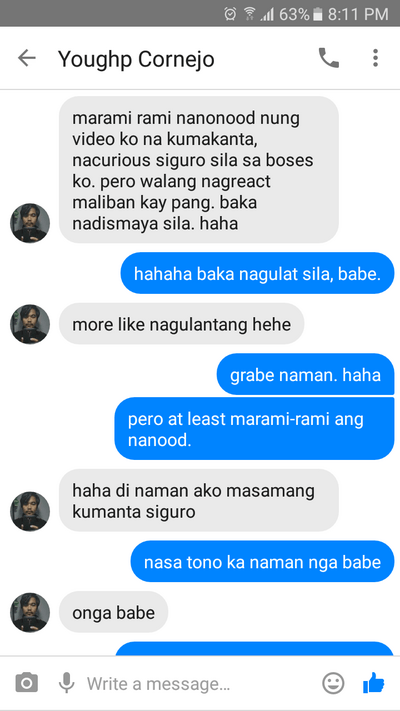 Youghp: Lots of people watched the video of me singing; maybe they got curious. But only Dad reacted. Maybe they got dismayed.
Jorj: Maybe they were surprised to hear your voice, babe.
Y: More like shocked hehe
J: Oh my! But at least many people watched.
Y: I don't think I sound that bad.
J: Yes, at least you're in tune.
Sharing a love for music, Youghp often shares videos of him playing the guitar and Jorj is always quick to show support by sharing a clip on her IG story or FB feed. One time, Youghp decided to sing-along as he played and was quick to note that while a lot of people viewed his video, no one reacted and commented on the post except for his father. He and Jorj joked that people were probably shocked — and disappointed— to hear his singing voice. But in a very supportive manner, they came to a conclusion that there's nothing wrong with him singing as long as he's in tune.

Kersie & Kenneth, 45 and 46 years old

Together for 18 years
When asked about their relationship, Kersie said, "Kenneth is generally a quiet person but is most talkative when he's with me. We always have lots to talk about — life, work, kids, family, exercise, even social media. With three young kids, it's not easy to find time for each other like before. When we get home from work, kids will be fighting to talk to us so our own conversations always take a back seat. That's why our dinner date every Friday evening is precious to me. It's a time when just the two of us can catch up on everything and anything, like when we first met, when all we cared about is us, even if it's just for that two hours a week."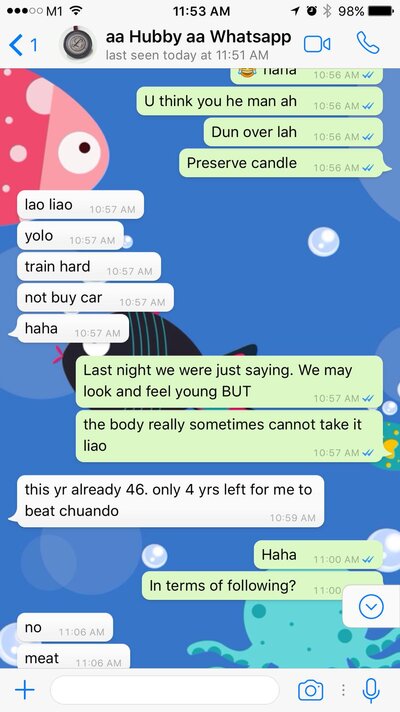 A quick banter about how life is moving so fast, Kenneth's joke about keeping up with Chuando Tan — a 51-year-old photographer who stunned the world with his 'late 20s' youthful physique — definitely shows that funny bones will keep the relationship lively and aflame after many years.

Cassandra & David, 24 and 26 years old

Together for seven months
Cassandra shared, "We both are pretty conversational as we both know communication plays a very important role in the relationship. How else are we supposed to know what each other is thinking if no one asks or speaks up? If there is something that seems to be bothering the other, whether big or small, we will just bring it up to avoid miscommunication."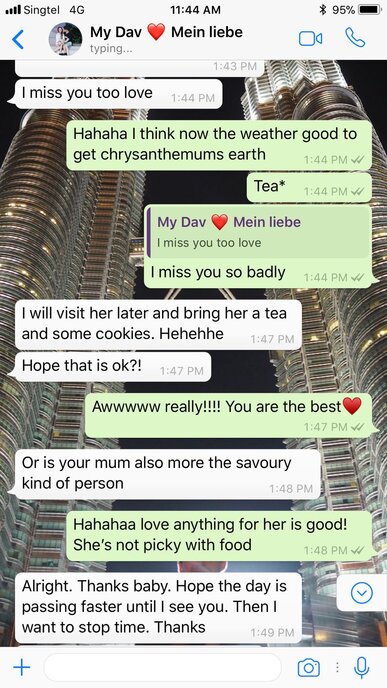 "This was a convo that happened when David told me he was gonna get something for my mum to eat at work cause my mum's part-time job is close to his workplace. He cares enough to get her something despite his busy schedule so I thought it was really sweet of him to show that he cares about the people around me, too," Cassandra said.
Ryan & Sara, both 24 years old

Together for four years

"While we use WhatsApp quite a bit, we don't usually send very long messages because we have certain days within the week where we would usually see each other in person. When we meet, Ryan would generally be the quieter one while I would be the one initiating conversations," said Sara.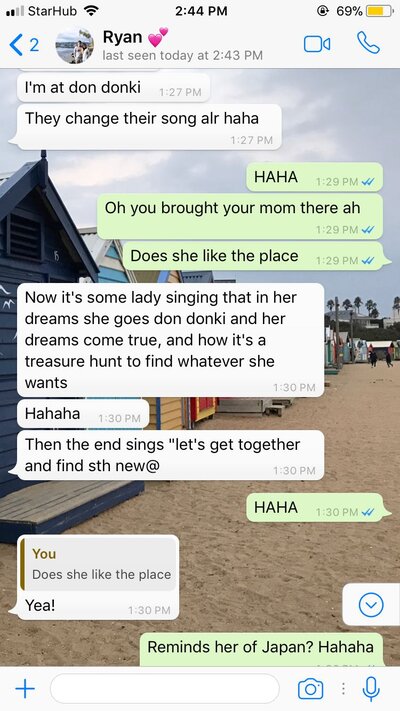 Showing the beauty of instant messaging, Ryan was quick to share what the funny scenario he's experiencing real time, making it possible to keep Sara updated whenever and wherever he finds something amusing that he's sure will also make her smile.
Ruby & Ding, both 50 years old
Together for 32 years
Being together for more than half their lives, they are each other's ultimate companion. From their conversations about their college days to silly banter from everyday life, one thing they also have a knack for is out-meme-ing each other on social media — and in real life.
Ding: Tomorrow, I swear, hon. Come with me.
Ruby: Told you we can sleep there!
It's been months since the first time Ruby told Ding to register at their condo's gym but because of his busy schedule — and desire to just relax during the weekends — it has become a running joke in the family. One day, Ruby sent this photo of showing someone sleeping on a treadmill to prove that you can nap while exercising!

Planning out your V-day outfit to knock the socks off of your S.O.? Check out our top tips on nailing that 14 Feb OOTD!