If taking that OOTD shot on a white wall, or while walking the cobblestone pathway or lounging at a nearby café is beginning to be all too common on your social site feeds, fret not! The awesome structure that is the National Gallery at 1 Saint Andrew's Road has finally opened its door.
You not only enjoy the massive collection of different artworks but also bask in the beauty of the different sections of the building. So here are 6 reasons why we think it's worth a visit--plus points for all the awesome OOTD shots you can capture throughout your visit.
--------------------------
Out of This World
One can go straight to the fifth floor and see the garden gallery for some nature themed photos. It also has a great view of the Singapore Supreme Court and its UFO-like top floor.
It's all in the Lighting

What's a gallery without the dramatic lighting? Whether you just want to take in the beauty of each work of art and be snapped doing it or you want to be the center of attention, by all means find your perfect angle. You are a work of art, you deserve that spotlight!
Historical Vibe

With columns akin to Grecian ancient structures, the National Gallery's façade is perfect to achieve those goddess-like or theatrical shots.
A Touch of Drama

One can also enjoy a short and literal drama courtesy of the performers on the gallery's roving performances.
Art and More

According to the
National Gallery's website
they house more than 8000 works from the 19th and 20th centuries in all media including painting, sculpture, printmaking, protography and video. So if you've finally nailed that OOTD shot or just want to learn more about the different types of art they exhibit, you can head down to the second floor and check the interactive screen where you can find different information on a certain art piece.
Singapore Film Festival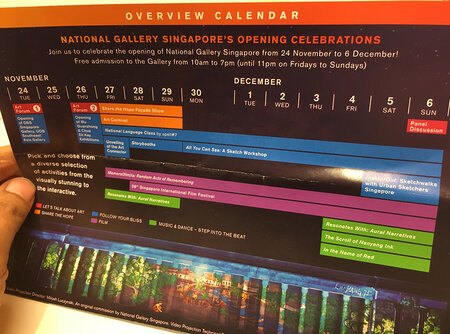 And if you've done your rounds of the building or just feel like watching a good movie, then you can also head down to the Gallery's City Hall wing and enjoy this year's run of the Singapore Film Festival. You can visit their
site
or
Sistic
for more information.
--------------------------
Have you been to The National Gallery in Singapore? Share your experience with us in the comments below!
Want to know more about Sarah? Follow her here!