(cover photo from maybelinesim)

Social media is a wonderful source to get the latest fashion and beauty tips. And the latest trend to sweep the industry is
Snapchat
where everything is shared to you real-time! Not only do you get to have the lowdown on the latest trends as it happens, but you also get a peek of what it is like to live the life of a style/fashion/makeup blogger – it can't get any more personal than this!
So if you haven't caught on the Snapchat bug, the best way to start and immerse yourself in the app is to follow these snapchatters for a start!
-------------------------
Chriselle Lim
Get the dibs on how Californian entrepreneur
@chrisellelim
juggles changing outfits between fashion shows, travelling the world, styling outfits and being a mom. Her life can't get any more exciting than this.
She's such an avid user of Snapchat that Snapchat even made her her own filter for NYFW!

As a bonus you can also check out Chriselle's handy dandy petite blonde personal photographer, Karen, on her snapchat
@karenrosalie
!
Aimee Song
Get to know how this style influencer lives her day as Aimee and as songofstyle. Also, find out how much she loves avocadoes on her account @songofstyle.


Also follow her partner in crime cum sister, Dani Song, on
@handsomedani
.
Andrea Chong
Relate to someone closer to home with Singapore's very own influencer, Andrea Chong! She'll make you jealous with her life of travelling the world, being lovey-dovey with her boyfriend, and getting dolled up for photoshoots.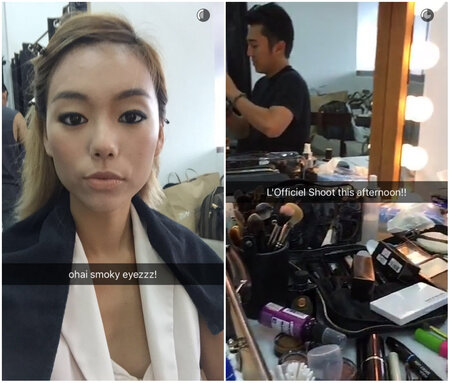 Catch her snapchatting at
@dreachong
!
Irene Kim
Want to know what it is like to live your life as a rainbow haired model? Follow Irene on her colourful and funky life on her account
@ireneisgood
and get zoned in to all the fabulous outfits a model wears.

Maybelline New York & Sephora USA
Get a sneak peek into makeup trends and also get first hand updates on what new products will be coming out. From Maybelline's snapstory from NYFW, we know that we can expect a new mascara soon and a new highlighter stick which will be out at the end of this year. Impress your friends with your makeup insider information from
@maybelline
!

Need even more makeup news? Hang around for Sephora's updates on
@sephorasnaps
where they spring you with surprises and product previews!
--------------------------
Who do you recommend we follow next? Share your list of favourite snapchatters in the comments below!