Like any self-respecting beauty junkie, we own a fragrance library lined with delightfully scented products. It's true; it is chicken soup for the beauty soul. From bath soaps and lotions (lots of them) to
eau de toilette
and
eau de parfum
(countless), we bask in a lasting scent that adds that extra aromatic punch to our beauty look.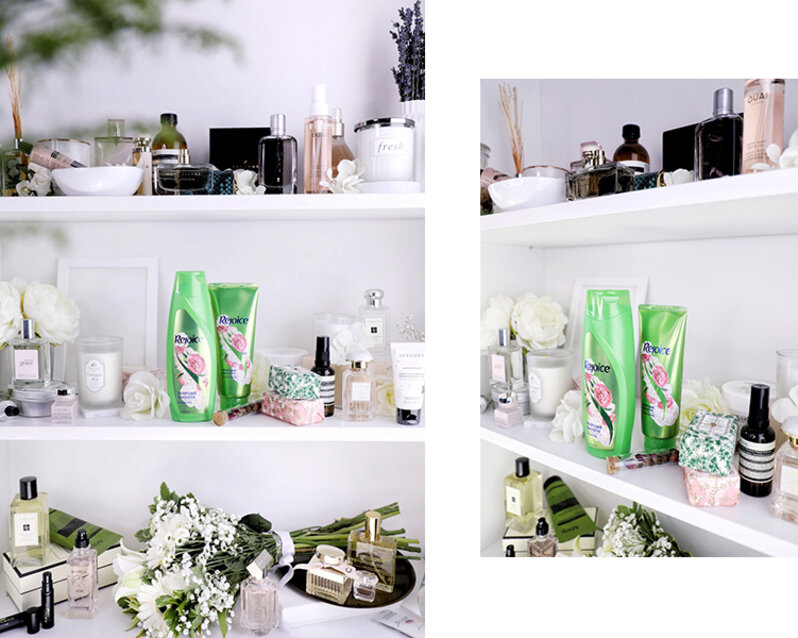 This season, our library is a garden fiesta that teases the fresh-floral fragrance lover in all of us. Filled with a bevy of scented candles, body lotions, room mists, shampoo and conditioner, we only wished we could carry this fragrance library everywhere we go. Because seriously, don't you wish you could smell amazing all the time?
That is why we religiously read up on beauty hacks that can make us smell better, stronger and for longer. You're probably familiar with that age-old tale of spritzing your perfume in your hair to make its scent linger longer. It works — except the alcohol content in your perfume can really dry your tresses out. That's definitely not going to make for a pretty sight. So when we heard about the
Rejoice Perfume series
, we were charmed. Up it goes onto our fragrance library!