For every season, there is a corresponding 'signature' makeup look – how spring is all about bright colours and pastels; while winter is about dewy skin and red lips, and so on – that most of us follow.

If you think that this year's Fall/Winter beauty trends will revert back to berry lips and flawless, matte skin, you are in for a surprise as what we found backstage at Manila Fashion Festival F/W 16 was the opposite. Hint, hint, there were a lot of natural, glowing skin!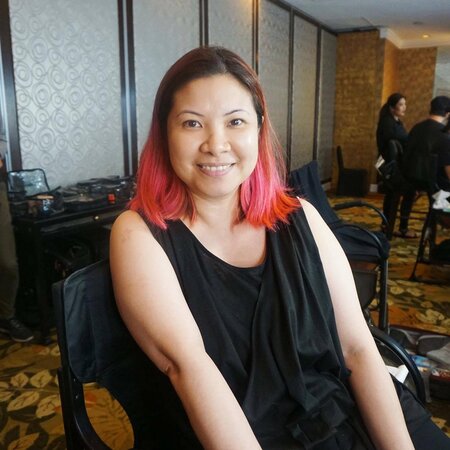 So in our quest to stay ahead in our beauty game (and help you in yours, too), we sat down with head makeup artist for MAC cosmetics
Al De Leon
during Day 1 of the 4-day affair for a quick beauty chat; and got her two cents on her beauty predictions, favourite looks, and more!
--------------------------

What makeup looks are we going to see [for day 1 of MFF]?
To me, there are 2 interesting looks – 1 of
Cheetah Rivera
's violet smoky eye with glitter; and
Anthony Ramirez
's dark, Egyptian-inspired cat eye.
What are the makeup products you used to create the looks?
To create the dewy skin that will be seen in tonight's show, we used a lot of the
Face and Body
and
Studio Waterweight
foundations because they both automatically give you dewy skin. As for skincare, I like to use the
Prep + Prime Moisture Infusion Serum
and
Lightful C Marine-Bright Formula Softening Lotion
.
If you were to translate the violet smoky eyes and the extreme cat eye in real life, how would you advise people to recreate it?
For Cheetah Rivera's violet smoky eye and glitter, I'd probably skip the glitter and try silver eyeliner on the lower lashline and the inner corner of the eyes. You have to try it! It will brighten up your eyes and it's a good mix with violet.
And for Anthony Ramirez's look, there's nothing wrong with having a cat eye look. But I wouldn't apply it as big and as saturated as Anthony would have it on stage.
What's your favourite makeup trend for Fall/Winter 2016?
I think it will have to be bare skin – bare, healthy, glowy-looking skin – that we will actually see a lot of in MFF.
Which makeup trend would you want to "disappear" for Fall/Winter 2016?
I wouldn't want it to disappear but it's not requested for this season – contouring. Some designers specifically ask to not have contouring. But with Cheetah Rivera's we will see some contouring on the cheeks.