Who doesn't like trying out the latest hair trends? They're fun, creative, and often you find a new 'do to rock! But it's hard to experiment with different hair looks if you don't have the perfect base i.e. frizzy hair.
Luckily,
TRESemmé
released their latest haircare range,
Keratin Smooth
, last 28th September at
The Picasso Boutique
to specifically make hair smoother, shinier, and softer and make it easier for you to create salon-gorgeous styles in the comfort of your own home.
Packed with keratin to lock hair into place and fight frizz and dryness, this new hair care collection will keep locks smoother and sleek for longer periods of time.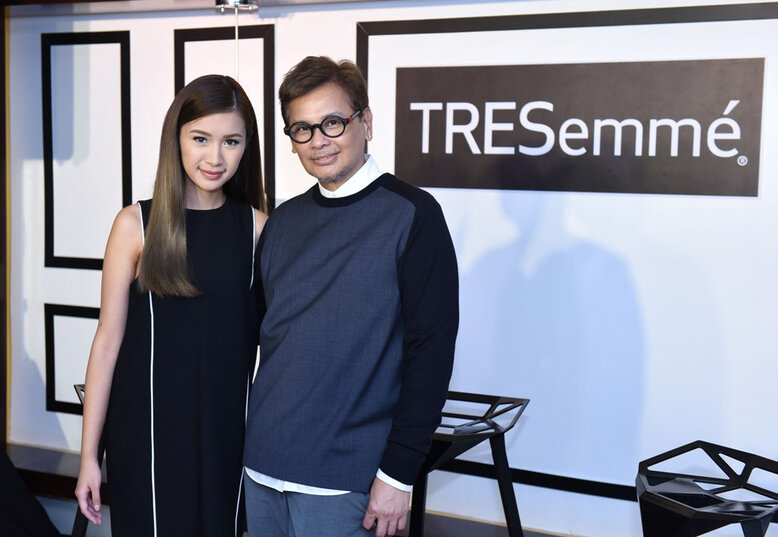 Salon expert and hair professional Henri Calayag with resident TRESetter and fashion and lifestyle blogger

Tricia Gosingtian
So while we were at The Picasso Boutique, we got to quickly chat with the brand's newest salon expert and hair professional,
Henri Calayag
. And of course, we wanted to get his two cents on hair tips, all the way to his favourite hairstyles.
Keep reading below to get to know this legendary hair stylist!
--------------------------
Throughout your 36-year career, what's the most difficult "hair problem" you've encountered?
[I'm very thankful] that keratin was there before rebonding. Because rebonding was so [popular] that no hairdresser could pull off a good job… -- there would always be minor [damages done to the hair] since it's really filled with hard chemicals and there's no silhouette in it. It's really dead flat.
What do you think people constantly do to their hair that damages it without them even knowing?

It's constant ironing and subjecting it to blow drying, because sometimes when you do it yourself you don't practise doing it at a certain distance.

What would you suggest they do instead to minimise damage to their hair?
Well, there's keratin to take care of that. So from the [TRESemme] shampoo and conditioner, it already has keratin in it. But then to extend [the effects], my personal favourite is the hair mask. It's concentrated…and if you want to style [your hair after] with a flat iron, it has thermal technology built in which will prevent you from using too much heat.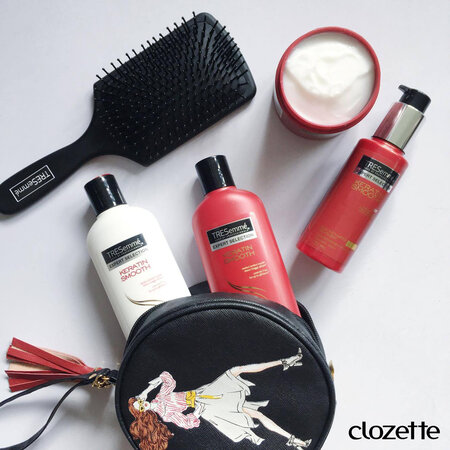 Do you have any hair tips for beginners who want to start styling their own hair?
First, use the
TRESemmé Keratin Smooth Shampoo
and
Conditioner
to thoroughly cleanse your hair and scalp and lock it into place. For even better maintenance, treat it to a weekly mask with the
Keratin Smooth Treatment Mask
. It intensely replenishes each strand and makes sure you control your frizz! Seal it in using the
Heat Activated Treatment
, and if you're styling it for a special day, spritz on the
Flat Iron Spray
to add another layer of protection.
Which hairstyle do you think is suitable for every one?
Medium length hair. This is the new length now because if you see anything longer than this, you'll immediately think, "Oh that is so 5 years ago." But then anything above it is so 2 years ago.
--------------------------
The TRESemmé Keratin Smooth collection is now available in all department stores, drugstores, and supermarkets in the Philippines.