We've all heard or read about a day in the life of an editor. From sprinting between meetings and events, to rushing to meet never-ending deadlines, every day is always a race against time. It's never typical, but that's why I love it – all that action, the adrenaline rush, and staying in the know of the latest launches. A day in the life of an editor is not bad at all.
But in the midst of it comes the pressure and stress. In this society, we are always teetering towards a go-go-go mentality, often misconstruing the meaning of being well. At Clozette, we never scratch the surface and tell you that it's all about looking good on the outside. We embrace getting active, indulging on skin food, and taking time off for ourselves.
With that, I want to give you a glimpse into my weekend – where I take the opportunity to log off and bring you through what eating well, living well, and being well mean to me.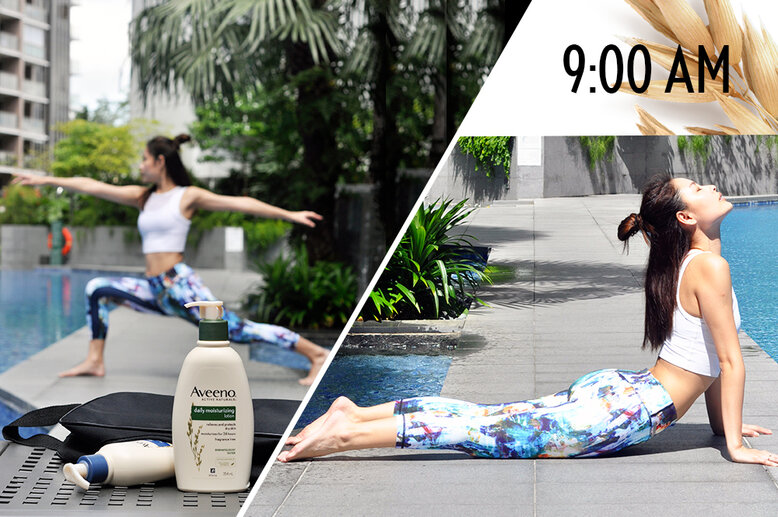 I'm an early riser, even during the weekends. Since I have little time to exercise on weekdays, I reserve my weekend mornings for a good workout. I also get to enjoy the quietness before the weekend crowd starts streaming in.
It's difficult to understand why people often neglect the skin on their body. Whether indoors or outdoors, I make sure I keep my skin nourished and protected from my face right down to my toes. Other than my sunscreen, the
Aveeno® Daily Moisturizing Lotion
has also become an important part of my morning routine. Its fast-absorbing, non-greasy formula ensures that I stay comfortable even when I'm sweating it out.
Created with ACTIVE NATURALS® Colloidal Oatmeal, it helps to lock in moisture and deliver a layer of protection against radicals. Clinically proven to relieve dry skin, it is also non-comedogenic and fragrance-free – a.k.a. this moisturising lotion will not clog pores and interfere with your signature fragrance as you go about your day.