We all set goals for various aspects of our lives; but sometimes, the feeling of being overwhelmed and demotivated can happen at times due to the pressure of keeping up with our hectic lifestyle and routines. When this happens, we turn to our fitness inspirations--women who inspire us to take our health and fitness level seriously despite the roadblocks we may face in life.
While we can also achieve our fitness goals with Clarins Body Lift Cellulite Control and Body Shaping Cream Slimming Duo to achieve a made-to-measure silhouette, it's still best to pair that with a good exercise routine.
If you're on the lookout for a new fitness inspiration to add to your list, look no further as we chat with Linora Low in this special Clozette feature! Known for her energetic and bubbly personality, Linora is the host of one of Malaysia's top radio shows and a fitness inspiration to thousands of people. So we got her to talk about some of her secrets to achieving #FitnessGoals.
--------------------------
Lately, the social media sphere is swamped with #fitspiration and #fitnessgoals hashtags. You are successful not only in your career but also known for your love for fitness. What would you say is your "secret" to maintaining a healthy lifestyle?
Getting enough of rest, eating a balanced meal filled with big portions of vegetables, remaining active even if it is for an hour, stretching, and learning how to unwind to keep yourself mentally sane.
Do you have any fitness goals for yourself? If so, what are they? Was it difficult in the beginning?
My original goal was to achieve a leaner body and get my abs. However, I have learnt that a goal that is based on solely aesthetic is not practical as it requires a lot of discipline. This can get depressing as you have to restrict your food intake and control your diet.
I believe a fitness goal should never just be about looking good. Looking physically pleasing is the product of having a healthy lifestyle. My fitness goal now is to take good care of myself. I live by the motto of
1 body, 1 life
. You will not be able to achieve what you set out to do in your life if you are not healthy.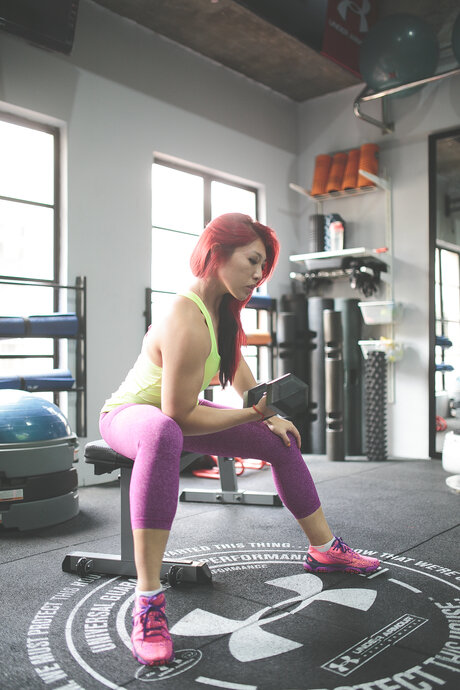 What keeps you motivated in terms of sticking to your fitness routine?
Wanting to achieve my goals in life requires my health to be at its peak. I know that if my body is strong and healthy, I will be able to function well and attain the goals that I have set for myself. This motivates me to keep fit.

What are the usual misconceptions about keeping fit? Other than that, what are your tips to those who are looking to get into a healthier and fit lifestyle?
It seems like a lot of people think that it is difficult and expensive to be healthy. A lot of the people I have spoken to have the impression that healthy food is bland, boring, and will cost an arm and a leg. A bowl of salad could be expensive if you order from a restaurant. However, it will be cheaper if you are willing to buy your own ingredients and learn on how to make your own chicken salad.
I am touching a little more on food as it is 70% of what you eat and 30% exercise. Anyone can work out for an hour but what you put in your body for the next 23 hours is usually the hardest to control and it is especially tough in Malaysia, a country that loves to eat.
--------------------------