It's no secret that clean beauty is taking over skincare and makeup isles. But did you know that it's also making its way into haircare territory? And the good news is that one of the leading hair-focused clean beauty brands, Act+Acre, just launched in Singapore via Sephora.
Last week, we had the pleasure of trying out their products at Kemistry Salon. The brand offers three main products: Cold Processed® Scalp Detox, Cold Processed® Hair Cleanse and Cold Processed® Hair Conditioner. Called "The Essential Trio", these items contain powerful botanicals, vitamins, antioxidants and fatty acids for optimal scalp health and a healthy, strong and luscious mane. According to Act+Acre, it doesn't matter what your hair type is, you can surely benefit from using these items. Naturally, we were excited to give these promising products a whirl.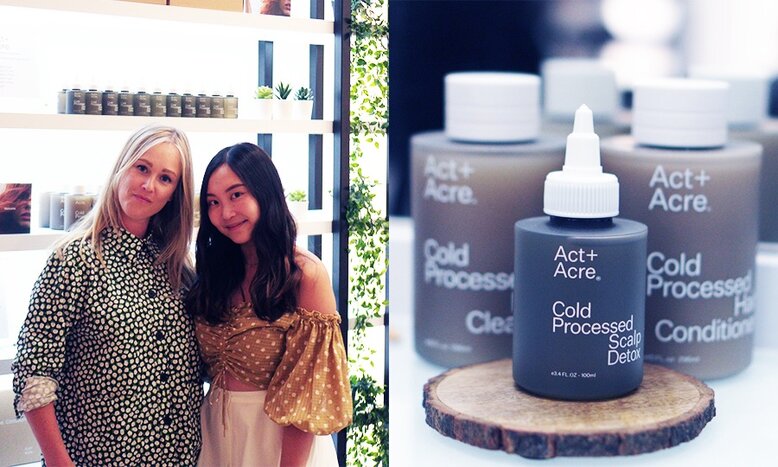 (Left - Sabrina from #TeamClozette with Act+Acre founder Helen Reavey; Right - Act+Acre The Essential Trio)
First, we were treated to a pre-cleanse using Cold Processed® Scalp Detox. With anti-bacterial and anti-fungal properties, this will help remove build-up, nourish, detox and balance the scalp. It was massaged onto the scalp and left for 15-20 min. Next, our hair was rinsed off using Cold Processed® Hair Cleanse and nourished with Cold Processed® Hair Conditioner, which helps lock in moisture. These products, which can also be used for an intensive detox, are recommended to be used weekly for best results. After completing the three-step process, we felt like our scalp was instantly refreshed and — wait for it — not dry at all despite having to do a double-cleanse. What could be their secret ingredient?
It turns out that, while all ingredients used are of premium quality, thus, making them essential to the formulation, the secret lies in the way they are processed. Founder Helen Reavey (who is also the hairstylist of Alicia Key and Harry Styles), explains more about the Cold Processed®, saying, "It's the process of using cold water and high pressure to blend essential oil and other ingredients. This ensures that the active ingredients remain fresh and highly potent — just as nature intended."
Awesome, right? If you're interested in knowing more about the brand, you may check out their website here. But if you're looking to buy already, you can purchase online or visit Sephora ION Singapore.
(Cover photo from: @actandacre)