Fashion Week is never just about the shows; it's about the memories you make as well. Which is why when you get invited to a fashion event as grand and glamorous as KL Fashion Week, do you just head over to the shows you want to watch and call it a day? No, you explore the city, you meet new people, and of course, you make new friends.
As the winners of our
#ClozettexAirAsia Stylish Asia Photo Contest
,
Dianna Yong
and
Weeting Chua
were in for a weekend they would never forget. Because aside from winning passes to watch the
AirAsia show
, they also got to bring their BFFs along, stayed at the luxurious
Ritz-Carlton Hotel
for free, bonded with the Clozette team, and explored the great city of Kuala Lumpur!
With that in mind, we chatted with Dianna and Weeting and got them talking about their favourite fashion designers from all the shows they watched, scoop on how they chose their outfits for each day, and the mini adventures they had in the city. So keep reading below for their exclusive interview!
--------------------------
So tell us a little bit about yourself!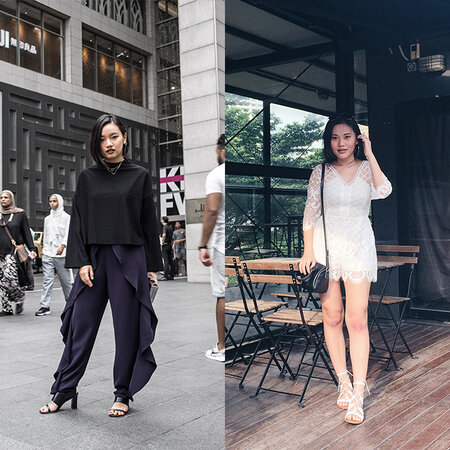 Dianna:
I moved back to Kuala Lumpur almost a year ago hoping to start a new chapter. I currently work for an app as an Image Analyst, blog on the side, and am starting my own contemporary womenswear line,
Sayang Clothing
. When work is also play, it's great knowing that you can turn your passion into a career.
Weeting:
I love dressing up, it makes me feel good and confident about myself. Traveling is another thing I really enjoy. I have taken about 5 trips this year and still looking forward to my next one!
--------------------------
When you found out your were going to KLFW with your BFF, what immediately went through your mind?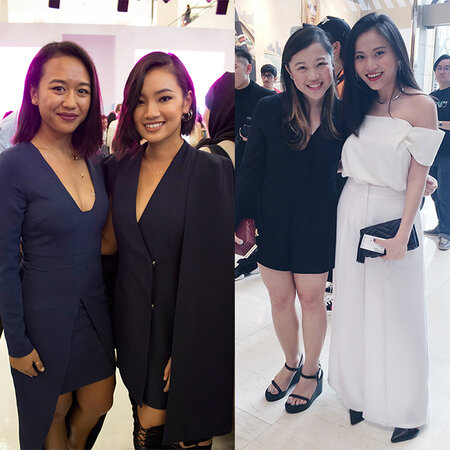 Dianna:
I was over the moon. I participated in the contest not really having any expectations, so it came as a complete shock. I was incredibly grateful for the opportunity.
Weeting:
Elated! I remember me going "Oh my God, oh my God, is it really me?". I couldn't believe how lucky I was, [and am] really grateful for this opportunity. Of course, I then started planning my outfits.
--------------------------
For the AirAsia show, which designer's collection instantly caught your attention?
Dianna:
I thought Ryan Alexander did an amazing job representing Malaysia with his all-white pieces. The sharp construction and shapes were executed perfectly – strong, powerful pieces!
Weeting:
I like Stefanie Amanda's collection [because it's] edgy, clean, and [with beautiful] lace details.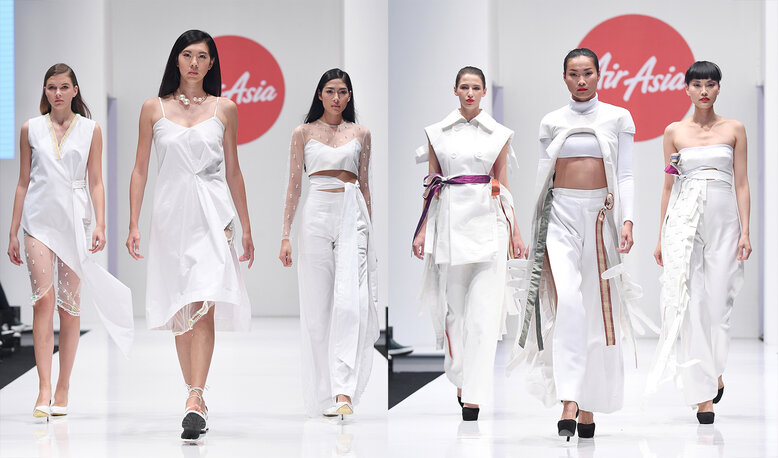 Stefanie Amanda's collection (left); Ryan Alexander's collection (right)
Were there any specific looks from the AirAsia segment that you would love to wear in real life?

Dianna:
Stefanie Amanda from Singapore resonated with my own personal style the most. I loved that the pieces had dainty sheer elements, yet paired with more structured ruching at the same time. It gives a subtle twist on the classic feminine silhouette.
Weeting:
I totally see myself wearing Thai winner,
Anuruq Jaidee's collection
. They were very practical and I am digging the hem details and cut.
--------------------------
Let's talk about your outfits during the shows because they were gorgeous! How did you choose them?
Dianna:
I try to be as authentic as possible whenever I put together an outfit for myself. And by authentic, I mean staying true to your stylistic choices, but never sacrificing comfort – which is why I never wear uncomfortable heels!
I wanted my outfits for Fashion Week to be minimal and focused more on the structure of the garments and dainty details. I knew the event would be held at Pavilion, so I kept the urban, city-chic vibe in mind.
Weeting:
I decided to wear something long that covered my knees as I fell a few weeks ago and the scars were horrible. [With that] in mind, I started to browse Instagram for inspiration and looked through my wardrobe. I try to wear something flattering in both pictures and real life as I expected lots of photo taking.
--------------------------
Besides attending the fashion show, were there other interesting and unique things you did in KL?
Dianna:
The most exciting discovery was the personal interactions and connections I made during the week. It was inspiring being surrounded by people in the industry and to meet those who made the week possible. My highlight was meeting Andrew (from Andrews Models), who was incredibly gracious and appreciated that he took five minutes to meet and have a chat with me.
And of course, having met everyone from the Clozette team. Scott did an amazing job accommodating Sofia and I (and our tardiness). Being sat next to Kersie over dinner and picking her brain on how Clozette came about was incredibly motivating. It is always a pleasure connecting with other women in the business.
Weeting:
We spent our free day exploring KL and chanced upon this cafe,
VCR
. They have really good food (and lighting for pictures). We made friends with...Dianna and her BFF, Sofia. Dianna and I had quite a bit in common which is rather amusing (ex. how we tried to put our hands into that food picture). We met the people from Clozette team as well and they were great hosts! It was nice meeting people with common interests.
--------------------------
We heard your rooms got upgraded at the Ritz-Carlton! How did you find your stay there?
Dianna:
It was amazing! Sofia and I truly felt pampered like queens. The level of hospitality was top notch and it made getting ready for all these events that much more fun (I mean, have you seen the bathrooms? Marble interior #goals.)
Weeting:
Absolutely awesome, [and I] especially love the bathroom. I spent so much time in bed, it was too comfortable. We even requested for a late check-out! The service was impeccable, we had our personal butler, free pressing services, and more. We were taking pictures at the pool and one staff offered to take pictures for us.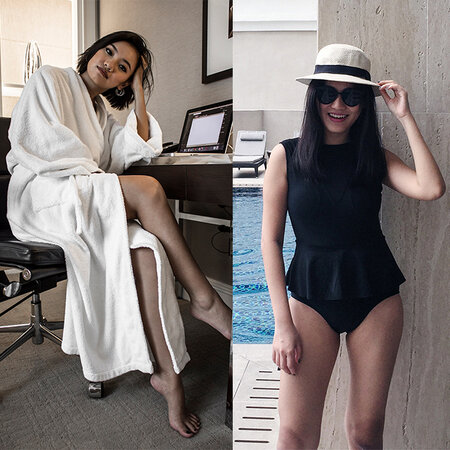 How would you best describe that weekend?
Dianna:
Whirlwind – in the best way possible.
Weeting:
It was definitely an insightful experience, being exposed to the fashion industry was quite an eye opener. Apart from it being my first Fashion Week, it was a mini vacation and a great bonding session for my friend and I. Thank you Clozette Team and Air Asia for this wonderful giveaway.
--------------------------
To read more of our coverage of #KLFWRTW2016, click here!