Just one look at Ana Castro's fashion illustrations and it's hard not to be in awe of them. They're detailed, yet undone; complex, yet simple; and eccentric and beautiful. Her talent for effortlessly combining pastels with bold hues, and turning them into sleek, "sketch-like" drawings is unlike any other artistic work we've seen.
Known to her followers and fans as
"In a takeaway cup"
, Ana explains that her brand and drawings aim "to catch that 'rush' feeling with a style that looks fresh, quick, easy to do, and up to date with the latest trends and fashion runway looks." And she succeeds as each of her creations has the ability to instantly draw (no pun intended) in anyone who lays eyes on them.
So in an effort to get to know this on-the-rise fashion illustrator, we spoke to Ana and got her talking about her passion for art and fashion, the story behind her unique brand name, the best part about her job, and people she would like to collaborate with!
--------------------------
Tell us a bit about yourself — did you study art, when you were younger? Or was there someone who encouraged you to pursue it?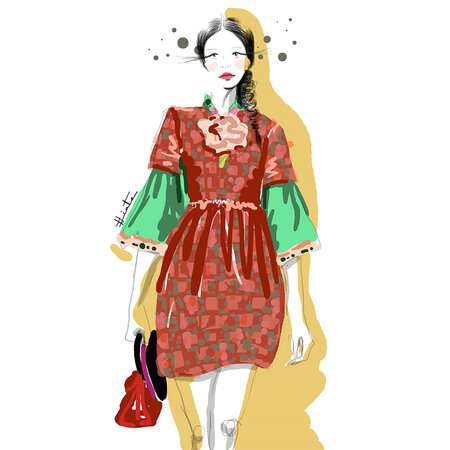 I studied Architecture, but I've been painting since I was a child and I've done several Art courses such as painting, fashion illustration, and life drawing. I've always loved the good vibe of an art class, so I try to keep doing it from time to time to freshen up and learn new skills.
I would say I draw when I'm inspired, otherwise, I find it very difficult. When I don't have any idea in mind, I prefer to spend that time checking books, magazines, photography, etc. The inspiration will come eventually.
Actually, my partner has been the one encouraging me to draw every day. He is my number 1 supporter and fan. He always says "Oooh, this is so pretty!", which makes me laugh because he doesn't understand fashion too much, but he tries very hard to!
Was there a specific moment in your life when you realised that fashion illustration was the type of art you wanted to do?

I've always loved painting the human body. The woman figure, in particular, is my favourite. I love drawing its feminine features, the different face expressions, and body shapes.

My love for fashion came later in my teens when I discovered fashion magazines. After that, sketching fashion has been the joy of my days. A perfect day involves having coffee in a quiet cafe with good music, a magazine, a pen, and my notebook! I don't need anything else.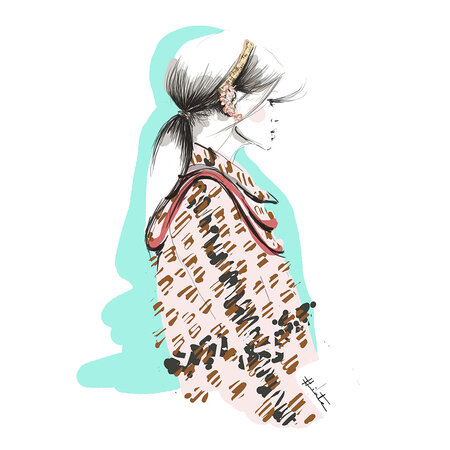 What attracted you to creating fashion/beauty illustrations?
Being able to work in my two passions (Fashion and Art) and being inspired every day by amazing fashion designers, outstanding photographers, unbelievable magazine editorials and beautiful people. There is so much talent in the fashion industry!
Your brand name — In a takeaway cup — is interesting and unique. What's the story behind it?

It's related to the 'rush' culture we live in today. Everything has to be quick and ready to take instantly. It also happens in the current fashion industry. There are no seasonal collections any more and the trends are changing constantly.

With my illustrations, I try to catch that 'rush' feeling with a style that looks fresh, quick, easy to do, and up to date with the latest trends and fashion runway looks.

In a nutshell, how would you describe your illustrations?

Quick sketchy style with a splash of colour, rosy cheeks, and extra long fluttery lashes.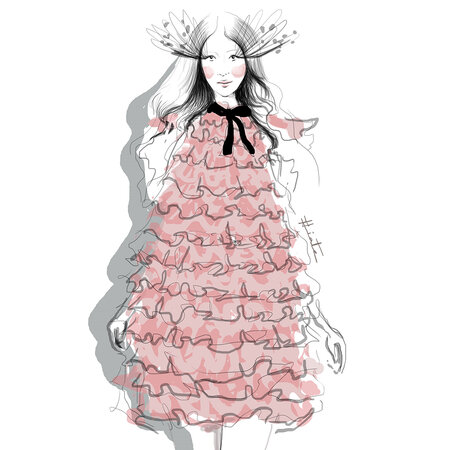 Which artists do you admire, and who would you like to collaborate with in the future?
This is a difficult question because there are too many! I tend to love those painters who study the human figure. To enumerate some, I was so impressed the first time I saw
"Venus at her Mirror"
of
Diego Velazquez
, or any of
Edgar Degas
' work and his
ballerinas
. Currently, I follow lots of illustrators and new artists too, such as the Spanish
Conrad Roset
or the French
Garance Doré
.
Although, of course, I would love to collaborate with big fashion names like
Chanel
or
Valentino
, or with fashion magazines like
Vogue
or
Harper's BAZAAR
. I do enjoy every collaboration I've been doing so far – new start-ups and designers full of energy and new challenges, who trust me and my illustrations to market their products. We are at the same level and it makes me feel proud of every small step that we achieve together.
What would you say is the best and most challenging parts about being an artist?

The best part, but also the most challenging, is being able to work in your passion. While it's very rewarding, it's also difficult to put a price on your work and make a business of it.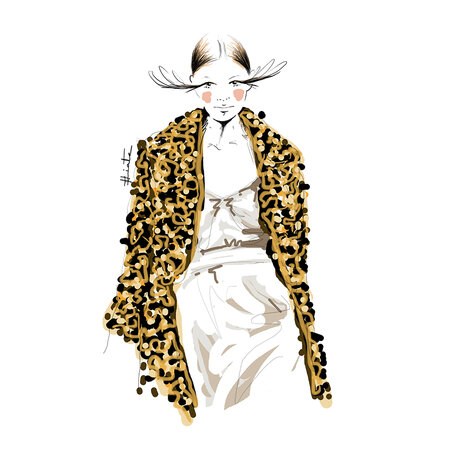 Do you have any advice for all the aspiring fashion illustrators, and in extension, artists, out there?
If you are an artist, you will keep doing what you like no matter what the circumstances are. If you're a budding fashion illustrator, my advice would be to watch as much fashion as you can, and try to be selective and decide (by yourself) which collection is worth drawing. When you draw what inspires you, your personal style will be reflected in your art, and the result will be better and unique!