It's not easy to find peace and tranquility amidst the chaos of our daily hustle, what more in a city where everywhere is buzzing with energy. So what happens when we need a break and time is not on our side? When we only have less than 24 hours to keep calm, then carry on? Good news: rest and relaxation is totally achievable – and you don't even need to go far to "get away from it all". PS: Keep reading to find an exclusive promo just for you!
Nestled in the heart of the bustling Singapore city – at
Suntec City
Tower 2, to be exact - is
Calla Spa
, an all-day lifestyle spa that marries luxury and wellness into one glorious 10,000 square feet haven.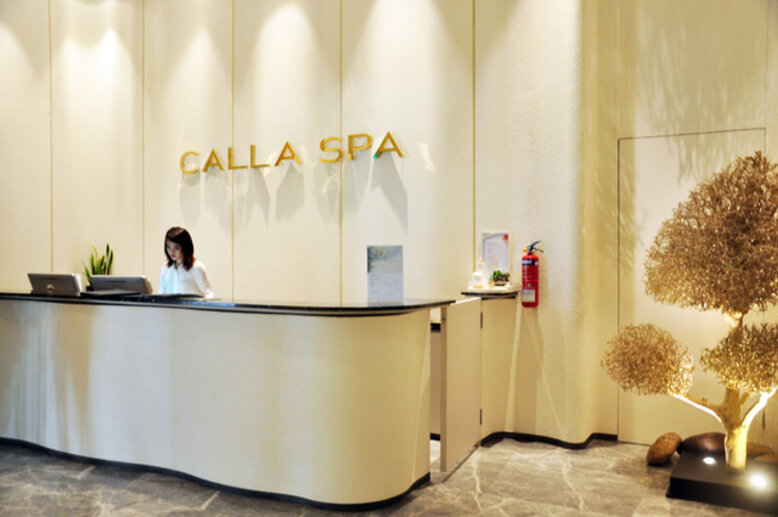 Reception
How fortunate it is then that Calla Spa is located near Suntec City's North Atrium, where we held our
Clozette Style Party
last month. There was no better way to treat our runway stars to some R&R to get them well-rested prior to that evening's fashion show. They certainly enjoyed their time at Calla Spa – and now we're happy to report that it's our turn to indulge in some pampering!
Venturing beyond the mere offering of spa treatment services, Calla Spa provides everything you need for an out-of-this-world relaxing experience – from an all-you-can-eat
bistro
(we'll have 10 servings of those waffles, please!), to a cosy lounge area where you can take an undisturbed nap or catch up on your favourite movies. Just select your preferred spa treatment that ranges from the signature Calla massage, to the aromatherapy hair treatment and foot reflexology – or simply pay a pocket-friendly rate of
SGD98
, sans spa service – and you'll get to utilise all facilities from 10AM to 11PM.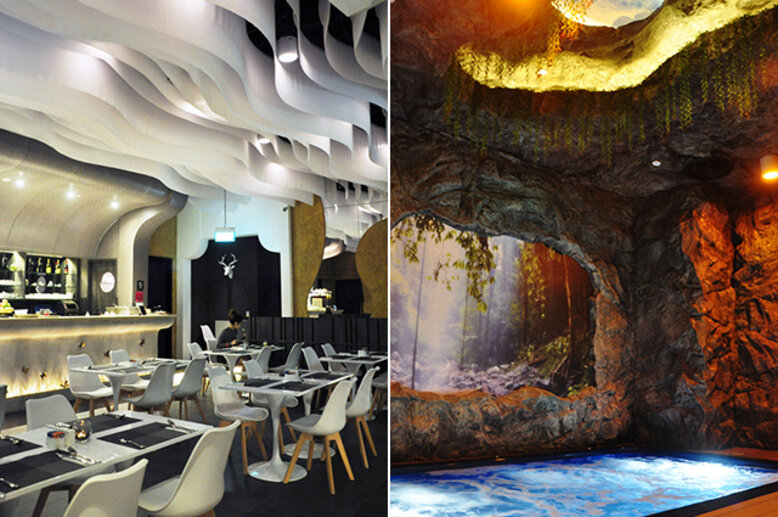 White Forest Bistro (left); Mineral Pool (right)
Step into the premise and you'll be instantly transported into a paradisiacal forest. Every part of Calla Spa – from the walls to the ceiling – is meticulously decorated with the alluring elements of nature. Think rainforest canopies, waterfalls, and the likes. Combine this with state-of-the-art facilities such as the mineral pools, and made-to-measure sofa beds and chairs – you'll be sure to get the best out of your wellness spa experience.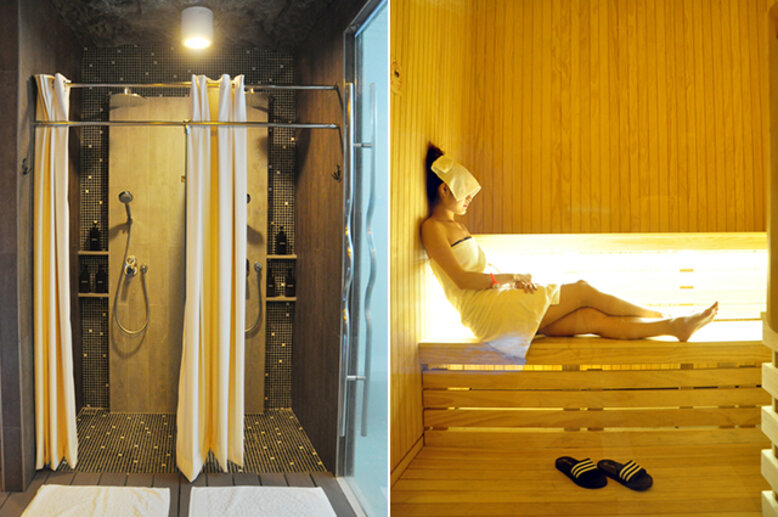 Shower facilities (left); Sauna room (right)
We started off with a light lunch at the White Forest Bistro before our spa session. The menu changes weekly so you'll never get tired of the food selections. A sauna, steam, and a hot dip at the mineral pool to help us loosen up those muscles ensued. Forget the chlorine-packed pool, the mineral pools at Calla Spa contain mineral water that is filled using a newly upgraded system with the latest NASA ionisation oxidising system. Fancy!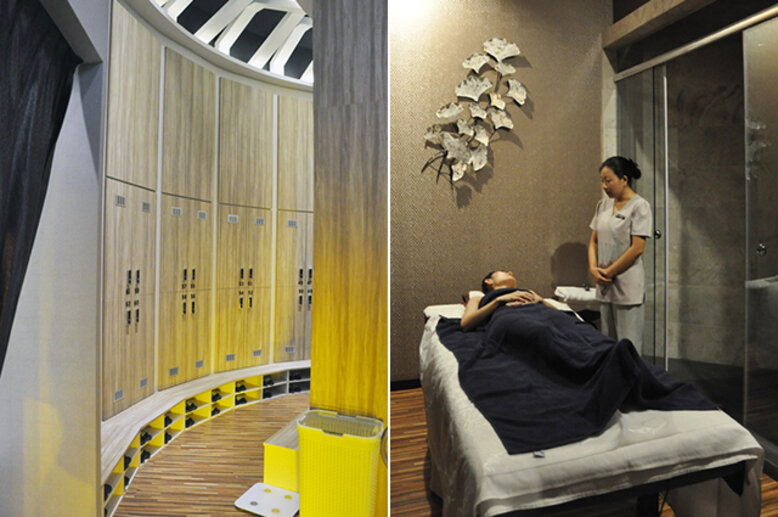 Dressing room (left); Spa treatment room (right)
By the time our treatments began, we were in full relaxation mode. We were whisked off to our respective treatment rooms, where I tried the
Fruity Delights De-Aging Wrap
(75 minutes for SGD228), a body wrap that uses a sweet-smelling blend of papayas and pineapples, enhanced with Crème Fraiche natural butter and vitamin A, to condition the body. My companion, on the other hand, tried the
Skin Resonance Treatment
(60 minutes for SGD228), a soothing facial crafted to calm, repair and rebuild skin's resilience against external radicals. No surprises there – we slept like babies on our heated customised beds throughout our respective session.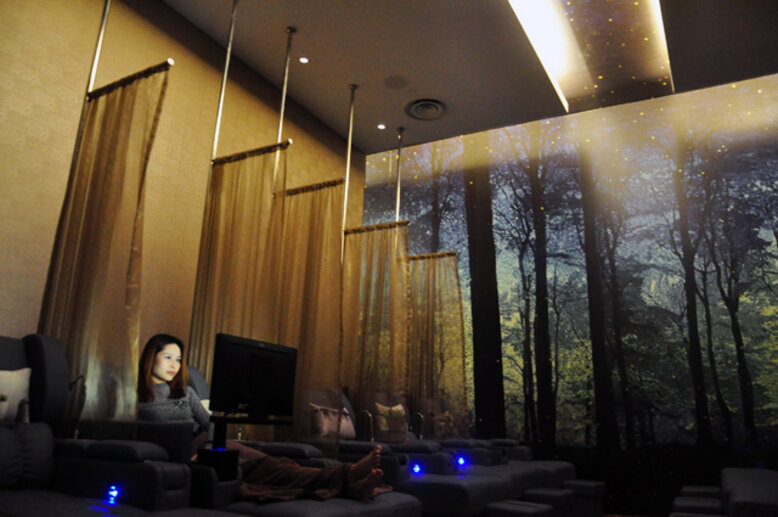 Relaxation lounge
Rejuvenated, we retreated into the relaxation lounge to kick back and unwind for the rest of the day. Think super-comfy reclining sofa chair and a personal touch-screen monitor where you can play games, watch movies, or surf the Internet. Needless to say, we almost couldn't bear to leave!
Here's a tip: everything is provided for, so there is no need to bring anything except your makeup and skincare products. But if you feel a little self-conscious or don't like the idea of disposable undergarments, feel free to bring your bikini along to enjoy the facilities.
--------------------------
*T&Cs: Promotion is only applicable to first time customers. Prices are inclusive of GST. Advanced booking is required. Choose between choice of Oriental, Deep tissue, Aromatherapy and Calla Signature treatment