This April, we talk to #WomenWhoDared to take a different path to strive for change on their own terms. Be inspired by their stories of strength and empowerment that all started with one courageous leap forward.

Alvynna Joseph, known as missalvy online, admits to no longer being a stranger to the pressures of being in the public eye. With around 96,000 followers in total from her Instagram account and YouTube channel, her life as a content creator is pretty much set for everyone to see. But she wasn't prepared for what would follow after documenting her cosmetic surgery story in these platforms. Ahead, her realisations on today's perceptions of going under the knife and what it's like to challenge today's norms on decision-making when it comes to beauty.
Changing perspectives
"I've always wanted to fix my nose since I was 15 years old. But I didn't really hate how I looked before I got my surgery done," Alvynna shares. "After the procedures, I felt really weird especially during the recovery stage because I didn't look like myself at all. However, after the swelling went down, I felt really satisfied and happy about how I looked because I don't look so far off from my old face — which I loved, by the way."
Contrary to popular belief, it's not always self-loathing that's the root of getting cosmetic surgery, according to Alvynna. For her, it was a yearning for self-improvement.

The decision to get a procedure takes at least 200 per cent of one's resolve, says Alvynna. So in sharing her story, she hopes that a change would spark in how people perceive cosmetic surgery. She also wishes that people who undergo cosmetic surgery finally get the respect they deserve and feel freer to be honest about their choices and decisions.
While her audience is generally supportive of her honesty, it's not everyone's cup of tea. Harsh comments also pour in. While she used to delete some of them, she eventually just let things be and used the harsh words as motivation to keep talking about the issue. A good thing resulted in her effort: a conversation on living your truth in a conservative society.
Opening up the narrative in Malaysia

Despite her courageous attempt to widely open this dialogue in Malaysia, Alvynna acknowledges that it is and will continue to be a challenge. For one, she knows people who hide their history of cosmetic surgery for fear of backlash. "Malaysia is still on the conservative side" when it comes to this issue, making it hard to break through long-established beliefs about the topic, she adds.
However, as she continues to release content about her experience, she's seeing more positive reactions — not by a huge margin, but still a good start — which inspires her to speak out more.
Alvynna visits a Malaysian university to get the opinion of others on cosmetic surgery
"I don't feel the need to hide it because either way, people would eventually find out about the truth. Even prior to thinking about getting it, I never thought of cosmetic surgery as a bad thing. If you wanna look better, why not, right? I remind myself that I did this for me and my own happiness, not for someone else's."
Now, Alvynna aims to challenge the root cause of the criticisms not for her personal benefit, but for those who are afraid to speak out because of fear of rejection. What started as simply sharing her story has become a learning process and an opportunity to raise the bar in creating content that helps people.
Sending a bigger message
Getting the job done is just one facet of her identity and should not be her defining factor, Alvynna says. Her intention is not to convince people to get cosmetic surgery but rather encourage them to try something new or something they've been meaning to try despite strong opposition, preconceived societal beliefs or haters on the internet.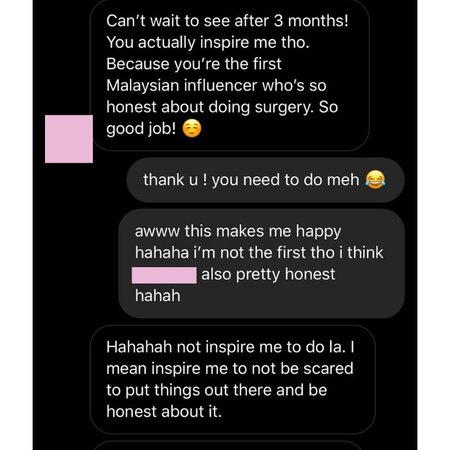 While people in Malaysia may still not be ready for bigger changes and conversations on the matter, Alvynna wishes to continue sparking change in her own small way. People can say what they will about her experience. But what's important for her is that she knows that, at the end of the day, it's not just about vanity or superficiality. To those who share similar sentiments, fears, and doubts, she knows they're hearing her message loud and clear — and that's what matters.