Working full-time, being a part-time model, and a part-time blogger seems like a mouthful, but our Clozette Ambassador from Malaysia
GraceMyu
does it flawlessly. Imagine going to events, collaborating with brands, going to shoots, and reporting to your office daily. To add to that, she is a fashion and beauty girl with a double degree in Mass Communication and Psychology.That's what makes us admire her--she knows what she wants and makes it happen.
Get to know her even more, right from what inspires her, to how she juggles all three passions in her life. Let
GraceMyu
provide you your daily dose of inspiration!
--------------------------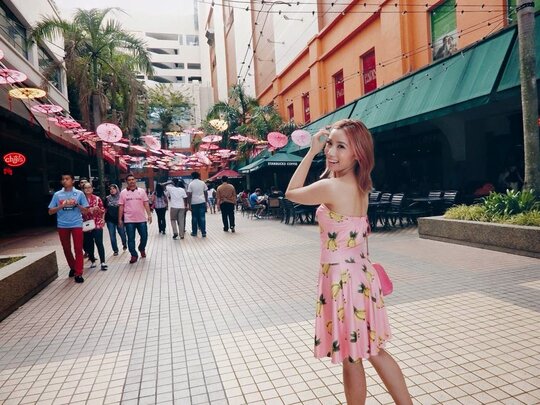 How did you get started in the Beauty​ & Fashion Industry? Were you always interested in ​makeup,​skincare, and ​dressing up?
I grew up reading Cleo & Female magazines and I have always penned "journalist" in my ambition column. I buy magazines almost every month (because the Internet we had was limited on content on fashion and beauty back then). I went to college majoring in Mass Communication and graduated with both Mass Communication and Psychology degress. Even in college I have contributed for various media such as Tongue in Chic, The Star, The Sun, MYC! magazine, Campus Plus, etc. So I guess blogging came naturally for me as I enjoy sharing new found info with my girlfriends! I spend most of my allowance (like 80%!) on makeup and clothes. (you can consider me a hoarder). But ever since I started going to the gym about 2 years ago, I have tried to balance out by spending on fitness stuff.
​You're an employee, blogger, and model. What are the challenges of balancing 3 all at the same time?

Some people still think I am still studying but truth is I have graduated about 5 years now. I have a full-time job in the digital industry, and I am so blessed because my employer encourages me to continue pursuing blogging and modelling! Of course, work comes first so next it's about finding time to fit in the other two :)
Who are your​ style and beauty inspirations?​

For style I enjoy Eugenie Grey from America and Suki from Hong Kong. For beauty I really like Vivian Vo-Farmer from US and My Women Stuff from Malaysia!
​How do you describe your style and do you have a signature look?
I used to wear lots of dresses at one point of my life, but now I wear more pants because I feel they elongate my short legs. I'm currently channelling more monochrome outfits with gold and pink accessories and gadgets. I am still experimenting with a lot of styles so you can say I'm a chameleon when it comes to fashion.
​We saw that Benefit threw a party for you, how was that experience?

Super stoked 'til today! Benefit Cosmetics Malaysia were soooooooo nice, they threw me the whole party -- food, drinks, emcee, makeup workshop, music, balloons, cake ,and goodie bags for my guests! Also, WOWSOME (formerly known as WOWBOOTH) were so accommodating. They provided the photo printing service for the event too! I managed to get all my guests to dress up in pink and white, everything was perfect.
W​hat do you love most about being a blogger and a model?
Getting to work with brands you love! Seriously, the satisfaction levels are off the hook! I am so blessed to work with my all-time favourite makeup and fashion brands and it always, always make my day!
Any tips for our community who ​want to be a blogger and model like you?

Be passionate in what you do and strive to produce good content. That's what I am trying to do everyday too! Also, be nice to other fellow bloggers and models instead of treating them as a threat because you will eventually need to work with them as we are all in the same industry!
​
Do you have any fashion and beauty tips to share for the season?
This isn't new, but I'm still very much into the Korean trend for dual tone lips & ombre lips!
--------------------------