When it comes to style, we can't help but look up to our ever-fashionable Clozette Ambassadors who have continued to blow us away with their fashion and creativity. And since we wanted to know more about the personalities behind these lovely faces, we sat down with our Clozette Ambassadors from Singapore, Malaysia, and The Philippines for our first instalment of our Ambassador Style Talk.
We gathered Christy (SG), Charis (MY), and Gela (PH) and got them talking about their style, what got them started in fashion blogging, and share their tips for budding fashionistas out there.
Read on and get to know the personalities behind these fashion stand-outs! >>
--------------------------

http://www.clozette.co/christyfrisbee
How would you describe your Style

Honestly? I would call myself a Closet Chameleon. I don't have a fixed style as you can tell from my OOTDs because I really believe in being comfortable throughout the day. My outfits are determined by the agenda of each day! Since I work full time now, I treasure my weekends because that's when you can expect to see flashes of Street Style or Effortlessly Chic outfits come to life on my platforms. And just a note, I'm a sucker for anything Black or White!
How has your style evolved through the years?
I guess it has always been about channelling my personality into an every day look back when I was in school. Nothing too crazy, thanks to the school's code of conduct. But during University, I loved experimenting with Prints - dresses, pj pants, cropped tops... You name it! But that was a short lived interest as I naturally gravitated back to monochrome. I told you it was my favourite!
What inspired you to get into fashion blogging (or in your case Instagramming)?
I never knew I would start - it just happened! Ultimately I love creating memories and I love fashion! So what better way than to create a visual log of everything I love? I realise I probably am the only Singaporean Ambassador that is only using Instagram as a influencing platform, but I do feel a picture tells a thousand words and I take pride in making each photo that goes up a well taken one. My IG style is definitely all about contrasting colours unlike others who prefer a more over-exposed look!
Do you have a process you follow when taking your OOTD shots?
Most of the time, I don't really like to get someone to take my photo because I'm pretty shy (people who don't really know me think I'm pretty sociable and all but I do have a shy side okay!). So I usually just put my phone or camera on timer and prop it up somewhere. The most hilarious time was when I bumped into a friend and all that I could work with as a tripod was a dustbin. You can guess where this is going can't you. And with regards to how I approach OOTDs, I'm a spontaneous kind of lady. I just take an OOTD when I want to take it. If I'm in a lift and I suddenly feel like stepping out at a random floor to get an OOTD done then by all means, I will. I think that's my take on life as a whole. Sometimes things so simple can prove to be the most amazing experience. We all need to stop and appreciate the smallest things.
Favourite item in your closet right now?
I just got back from Bangkok and I bought 3 snapbacks that are AMAZING. I love wearing my cap backwards (And have a soft spot for guys who wear it that way too!) so most definitely love all three of them because I love to express my inner swag (HAHA!). And I can't leave my house without a watch. My favourite watch at the moment gets featured on my Instagram again and again cos it's just THAT perfect (some friends have already been expressing interest!)
Any style tips for aspiring fashionistas out there?
I think my tip would be to just be yourself. I see so many people try to copy each other and blindly following 'What's cool' in the scene but when you do this you lose the meaning of being YOU. If you want to wear clashing prints, go ahead. No one is stopping you and no one has the right to stop you. It's your life, your body, your style, and your decision! It's always great to see people express themselves. That's diversity and I appreciate it very much!
Where can we find more of you?
What's the best thing about being a Clozette Ambassador?
Being a Clozette Ambassador is something I'm very grateful for because it's always fantastic to work with a platform that believes in their cause and has a clear goal they are headed towards. I like how there's effort in everything I see with regards to Clozette - from
Tea Parties
to
Clozette-Instagram hashtag
system and even the upcoming Halloween Contest*! The people who run the platform are really friendly and passionate and I'm definitely looking forward to future activities I can get involved with!
*Editor's Note: Watch out for that next week!
http://www.clozette.co/charisow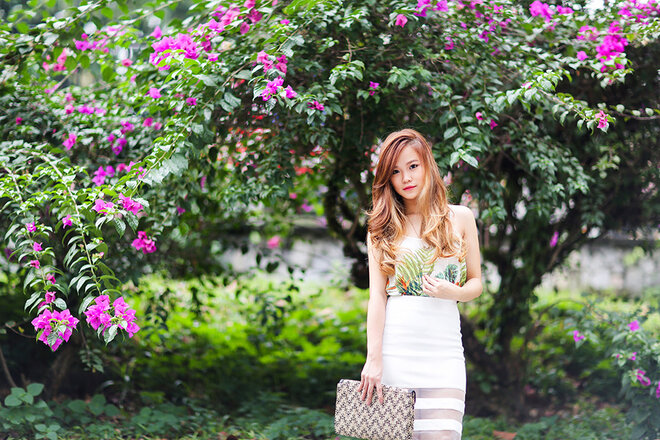 How would you describe your Style

To be honest, I don't really have a "set" style. I am pretty much open to any fashion trends out there. Fashion is all about expressing yourself - generally, your mood and personality. In my opinion, as long as what I am wearing successfully conveys that, I am totally cool with that! But, I do have instances where I find myself gravitating towards wearing pieces that are chic yet casual and feminine.
How has your style evolved through the years?
Trends come and go - and I have to admit, my style has definitely changed drastically over the past few years. From a person was obsessed with baggy/flared pants and sneakers to a skinny jeans and heels advocate, from low waist to high waist, from a person who is afraid to experiment with colours to a person who has to have a pop of colour in an outfit... Yup, I have to say I am a changed woman! At the end of the day, I just wear whatever makes me feel comfortable, confident, and sexy. That's what matters most to me!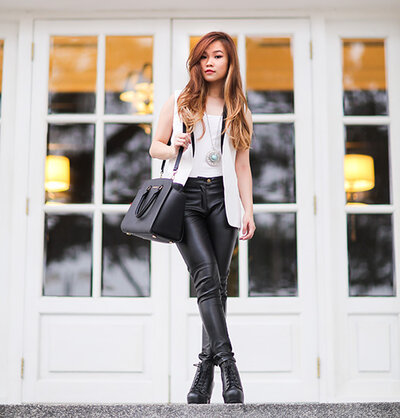 What inspired you to get into fashion blogging and eventually venturing into Youtube?
Besides singing, dancing and acting, ever since I was a kid, fashion has always had a special place in my heart. Get this - I even pretended to be a fashion designer back then and "personalised" my Barbie dolls' clothes by cutting them and adding all sorts of weird materials on them. I thought it was a brilliant idea while it drove my mom nuts. As I grew older, I wanted to share with the world what fashion meant to me and started a little blog. Then, in the recent years, I have developed an interest for video editing and what do you get when you combine fashion and video editing? BAM! That was the moment when I decided to make "charisowTV" on Youtube. It's a channel where viewers can have a glimpse of my life as well as all things beauty and fashion-related!
Do you have a process you follow when taking your OOTD shots and videos?
Due to the unforgiving weather here in Malaysia, I usually have to plan my photoshoots and videoshoots - time, date, location, photographer/videographer, hair and makeup etc. However, there are instances where I take spur-of-the-moment shots (eg. when the lighting is beautiful or when I am wearing something that matches the location well).
Favourite item in your closet right now?
My knitted sweater from H&M. It is SOOOOO COMFY! *snuggles*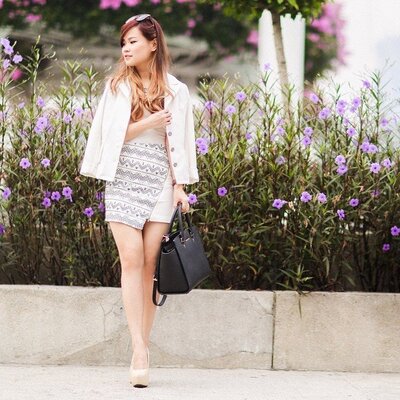 Any style tips for aspiring fashionistas out there?
Pursue it for passion, never for fame or wealth. I know many fashionistas out there struggle with this. Well, to be honest, I, myself too. As much as we love fashion, sometimes, we get side-tracked with all these expectations to be, you know, popular and rich. Although these are bonuses, we should NEVER EVER let it cloud our passion. Do it with a passion and purpose. The day I decided to ignore these expectations and focus on what really matters, my life was never the same again.
Where can we find more of you?
What's the best thing about being a Clozette Ambassador?
To be able to expand my reach and share beauty and fashion tips with women who come from different backgrounds all across the world AND who have similar interests as me!
http://www.clozette.co/GelaMunoz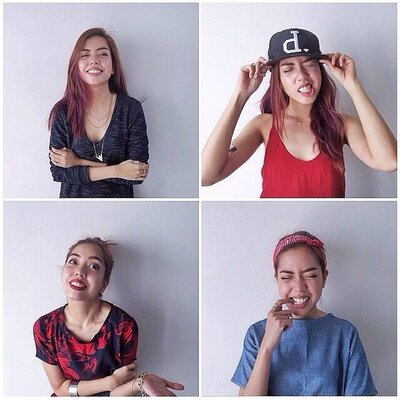 How would you describe your Style?
I used to describe my style formula as "mix one part hippie chic and two parts rockstar". Although I still find that evident in my daily sartorial choices, I'm beginning to find that it's more of how I would probably describe myself in a short phrase. My style lately is anything I think a cool girl would wear – effortless basics, white, leather, and a whole lot of confidence.
How has your style evolved through the years?
I guess when I was younger, I was still trying to find THE style for me, so that involved a lot of fashion soul searching and a lot (I mean A LOT) of fashion faux pas. It was during my 4th year in college that I truly knew what kind of clothes I wanted to wear and realized the utmost importance of silhouettes. Fast forward to today, I just really want to share closets with Rachel Bilson, Olivia Lopez, Vanessa Hudgens, Martine Cajucom, and Cher Horowitz.
What inspired you to get into fashion blogging?
I never really planned on becoming a fashion blogger, for sure it crossed my mind a few times in college, but I just didn't think it would be part of my path. It was after Lookbook.nu's invitation to join their site and as well as my family and friends' encouragement that inspired me to rethink things. I'm glad that it did become part of God's plan for me – my life has never been the same since.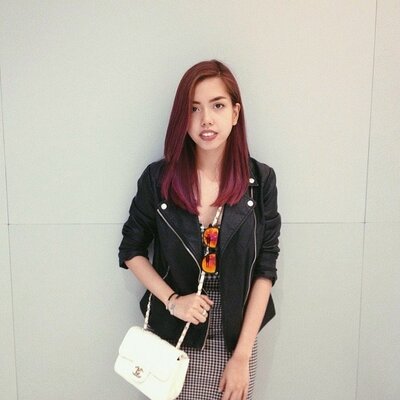 Do you have a process you follow when taking your OOTD shots?
My friend Jon has always been my go to OOTD photographer – he takes the best shots! We'd just meet up wherever's most convenient for the both of us and shoot my OOTD where it seems fit. One time we shot outside a convenience store because I felt like eating some ice cream! If he isn't free, I'd ask my brother, my friend Paolo, or my officemate! I'm really blessed to have such supportive family and friends when it comes to my blogging life. Oh! Add my Dad to my roster of trustworthy OOTD photographers, he volunteered to take all my OOTDs last summer while we were on vacation.
Favourite item in your closet right now?
My rugged Chanel backpack! My godmother brought it home from one of her out of the country trips and I have not parted with it since. It goes with everything (in my opinion) and it makes me feel like a kid again, wearing a backpack everywhere I go!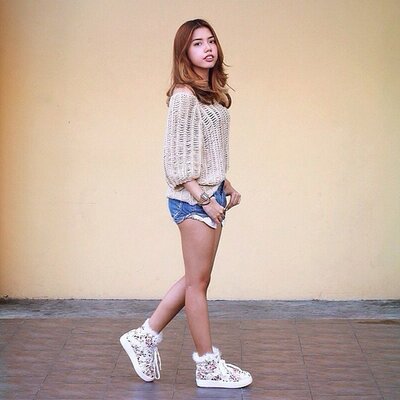 Any style tips for aspiring fashionistas out there?
Wear what you want and wear it with confidence! Fashion is fun and an expression of who you are – don't be afraid to take risks (even if it means committing some serious fashion faux pas) and be yourself!
Where can we find more of you?
What's the best thing about being a Clozette Ambassador?
The best thing about being a Clozette Ambassador is getting to meet and finding out about other fellow fashionable gals all over Asia! It's amazing to see how fashion, style, and beauty is progressing and evolving everywhere – just by checking out Clozette's website!