Think of your favourite skincare product. We bet sunscreen isn't the first thing that comes to mind, although it definitely should be. But we get that – sunscreen can be hard to love. Some of them are sticky, heavy and messy to apply. But what if we tell you that we've found a couple you'll not only love to wear but also love the skin-caring benefits of. The Anessa Perfect UV Sunscreen Mild Milk SPF 50+ PA++++ and Anessa Essence UV Sunscreen Mild Milk SPF 35 PA +++ are mild and gentle on the skin. But more than that their benefits pack a punch. Watch the video above, then keep reading to find out why you'll love them.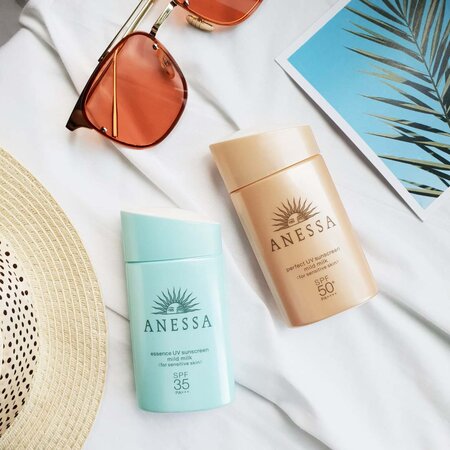 Nourishing protection
When we say they are mild, we mean they're gentle enough to use even on a baby's skin (from one year and up). These new offerings from Japan's (and very soon, your) favourite brand contain ingredients that were dermatologically tested to be delicate enough for your sensitive skin. The two variants are also perfect for different skin types: the Perfect UV Sunscreen Mild Milk is great for someone who has normal to combination skin, while the Essence UV Sunscreen Mild Milk is hydrating for those with dry skin.