Marvel Studios' latest work "Antman" will be released in Japan on Friday, August 31. "Antman" (2015) depicts a different kind of hero one with a height of 1.5cm, a criminal record, and currently unemployed. The title role of Antman, Scott Lang, is played by Paul Rudd, who captivated the world with a human touch. He has a strong presence not only in comedies but also in serious works, and he has embodied a familiar hero in this work, following "Antman" and MCU work "Captain America: Civil War" ​​(2016).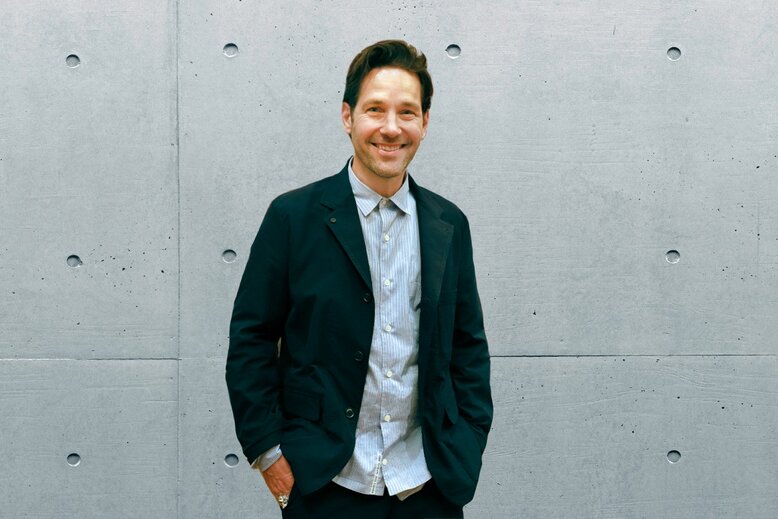 Paul came to Japan for the promotion of "Antman & Wasp". We had a solo interview where we asked him about particulars in this screenplay, working with his co-stars, and changes in his personal life.
How did your life change when you met Antman?
I have a 13-year-old son and an 8-year-old daughter, but "Antman" was the first time for children to watch a movie I was appearing on. I'm glad that I'm proud of playing Antman. Not only my children but also children from all over the world knew me and now they are called "Antman!" When walking around the city.
What is the evaluation of the children of the sequel "Antman & Wasp"?
OK! It looks like they liked it very much. The two of them joined the world premiere with me. My daughter was the first to participate but dressed up with an "ant" pin. My son also put "ants" on his tennis shoes.
It was an unforgettable memory that I was able to participate in my preview with my family. In the Rudd family, "ants" are very important in everyday life (laughs).
In your previous work, you worked out to make a role and made a macho body. Do you still continue that?
Now it's part of everyday life. I think workouts are a matter of mind, not a sudden start and a sudden stop. You can't learn it unless you make it a habit of everyday life. The reason that made me realize that was Antman.
You are also in charge of the script following this work. Do you have any particular scenes in this screenplay?
When Antman infiltrated her daughter's school, there was a scene where the size adjustment of the height went wrong, but in a way, it was a scene that symbolizes the atmosphere of this work. Sometimes hero suits don't work well, and sometimes things don't go as planned. Even if you are a hero, everything doesn't work. There is humour there.
Do things from "Captain America: Civil War" influence this story?
From the first "Antman", various events happened during this second work, and "Civil War" is one of them. So we worked on what happened to Antman in the meantime, and then happened to other characters such as Dr. Hank Pim (who developed Antman's suit) and his daughter Hope Van Dyne (Wasp) I had to imagine what would happen.
So the movie first deals with the aftermath of Scott going to Germany and fighting Civil War, and how it affects the story. Once we have dealt with these matters, we will rush into a story that can be understood and engrossed without having to watch "Civil War," a story that can be realized as a single movie.
How will the relationship between Antman and Wasp change in this work?
We have discovered each other's strengths as a team working together. At the beginning, we are not very good. I was in trouble with them because I fought in Germany ("Captain America: Civil War").
They lived inconspicuously for a long time, but because of me, everyone noticed them and their lives became difficult. So we are not together at the beginning. It's finally beginning to feel good throughout the story of this work, and it feels good for each other.
Do you enjoy working with Evangeline Lilly who plays Wasp?
She is funny, she is a very talented and fun person. She enjoys everything. Jumping with someone who enjoys fighting in the crazy world of this movie is a very enjoyable experience. I love working with her.
You must have done a lot of ad-libs in the field, but did she give you a good ad-lib?
Of course. Definitely. But we don't ad lib as much as people think. There were a lot of people doing along the script that they wrote.
What is your approach to working with director Payton Reed?
Since Payton participated in the previous work, we all about what type of movie we want to make, how important laughter is, and how important it is to create something original in this genre. I agree.
We are always looking for something that is very fun, but also has a touching part, something that visually admire people, but that is funny.
What kind of movie do we want to make? As for that, we always feel the same. Thanks to that, I can trust and trust as an actor, and I trust that he will grasp what he wants.
This year, the MCU work "Avengers: Infinity War" (2018) will be released, and "Avengers 4" will be released next year. We think Antman will be a big part of future MCU work, but do you feel the pressure?
I don't know the answer to that question. That's probably what Kevin Feigi (general producer, Marvel Studios president) knows (laughs). We don't know everything what is happening. People may assume that we know exactly what will happen in the future, but that is not the case. I know a little. But just a little.
GLAM has a lot of female users. Which scene do you want women to pay attention to?
This is not necessarily the scene that GLAM readers want to pay attention to, and what we are proud of is that a lot of strong women have appeared in the MCU work, but for the first time the name of a female hero The film was named "Wasp" and the strong characters in the play are all women.
The character that will be our enemy is also very excited to be a very strong woman, and I am very proud to be involved in such a work as an actor. I really want you to check that out.
You will be 50 years old next year. Do you have anything new that you want to challenge other than continuing with Antman?
I like to change a lot of things. This role of Antman-Scott Lang was very exciting because it was the first genre that I played, and I want to continue writing things.
In acting, comedy movies are becoming more and more important, so I want to do more serious dramas in the future. However, I'm the type that entrusts myself to the flow. Outside of work, I want to spend time with my family and travel to see and learn more about the world.
Finally, please tell me what a "GLAM (attractive and happy)" moment is for you.
When children start laughing, they are the happiest and happy! The kids are always laughing well. You know, this is a little nuance, but my wife sent me my daughter's video this morning (show me a video of my daughter). This was the beginning of a great day.
There are many more! (Show me a picture of the restaurant name) This is a picture of the restaurant I like the most. It's a Japanese restaurant called "OSAKA". I'm quite biased, but I love Japanese food. I'm going to Osaka (the event for this work will be held), so I wonder if I'll make it there (laugh).
This interview first appeared on Glam Japan.