For the second instalment of our Artists Behind Artists series, we had a chit-chat with Anna En, one of the most notable celebrity stylists and makeup artists in Singapore. She has worked with numerous brands and personalities for advertising (both in TVCs and print ads) and events.
Let's take a peek into the life of Anna En and learn about her beginnings, inspirations and daily routine.
Fashionable Even From The Start
From an early age, Anna already had the penchant for fashion and styling. She started sewing and experimenting with different hairstyles at just six years old. As a young girl, she looked up to notable celebrities for style inspiration. She shares, "My biggest inspirations were Eva Longoria, Beyoncé, Sofia Vergara and Jessica Alba. Eva Longoria was styled by Robert Verdi then. And there were so many looks put together for Eva by Robert that complimented petite frames. It led me to believe that there was a universe of possibilities for petite ladies to dress in style. It was significant for me as someone who got teased a lot for my height."
Daily Life Of A Stylist



Anna shares that the preparation for a shoot can greatly vary. "It can range from three weeks to even just two days before the actual shoot, depending on the scale of the project," she says. "The preparation involves a lot of coordination with other people. I attend meetings with clients, directors and producers to understand their requests and expectations for the shoot. Then after that, I would go on a massive wardrobe sourcing. For almost the whole day, I will dash in and out of numerous stores just to make sure I scanned through all the options. After extensive amount of sourcing, I might even end up sewing some custom-made wardrobe personally."
Anna jokes that if you see a tiny person running around, drowning in shopping bags with a measuring tape draped around the neck, that could very possibly be her.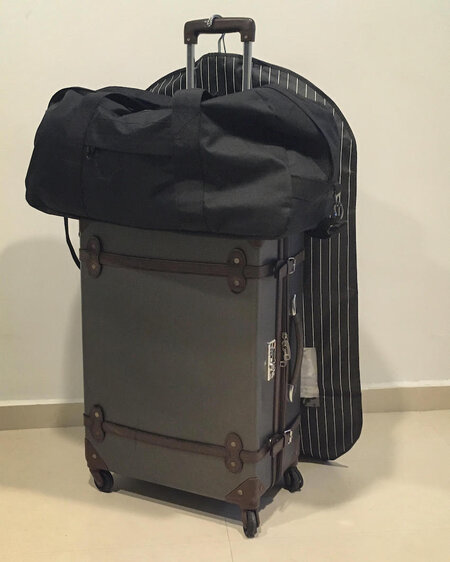 Anna's styling arsenal
And the hustle doesn't stop there. She says, "After that, I'll meet up with the talents for fitting of the clothes, and then I'll quickly alter anything before the shoot. I usually steam all the clothes, hang them and pack my bags the evening before the shoot so I can make sure that everything is there"
On a shoot day, Anna makes sure to arrive early at the location to set up her wardrobe station and start steaming some outfits that got wrinkled during her travel. Once the talents arrive, she starts with the hair and makeup, and styling. Anna says, "During the shoot, I'm always on standby to make sure that the talent looks impeccable at all times. After the shoot, I wrap up my things and do clothing returns to stores if necessary."
Personal Favourites
Anna En with Michael Bolton


Speaking of her favourite projects, Anna says, "One of my favourites is a recent one, an upcoming TV show on StarWorld called Bolt of Talent. I was hired to direct all fashion and style aspects of the show and to be the personal makeup artist for Hollywood music legend, Michael Bolton. Because of this, I was able to tour four different countries in just a month."
With all her success as a stylist, we wondered what the constant challenges she faces are. Anna shares that the biggest challenge is to gain the trust of your fellow artist.
She says, "To gain their trust, I have to understand the artist's comfort zone and preferences in their style. I have to be a good listener and be sensitive to their requests." As for clients, Anna believes that work ethics and consistent great results and even small things like punctuality are what helps her maintain a good reputation.
Clozette Must-Haves And A Takeaway From Anna
You know that we won't pass up on the opportunity to ask a renowned stylist about her Clozette must-haves. For Anna, they're waist belts, leather jackets, perfume, stilettoes and a foolproof eyeliner.
"For a stylist, relevance and communication is key," she shares. "Being aware of the latest trends and deciphering whether it is a passing trend or a breakthrough idea. And of course, never underestimate the value of work ethics."
(Cover photo from: @anna_en)
Read our interview with Filipino celebrity stylist Aisa Ipac, too!