In this time and age, we're increasingly conscious about what we put in our body and on our skin. A healthy lifestyle is no longer just about, well, a healthy lifestyle. From inner wellbeing to outer beauty, staying healthy has become a modern way of living. And we can't say we're complaining!
Keeping to a daily wellness routine is not a complex formula. Sometimes, all you need to do is to look to nature's greatest (and purest). Here's what is in our radar right now: oats — and
Aveeno®'s Daily Moisturising Sheer Hydration Lotion
.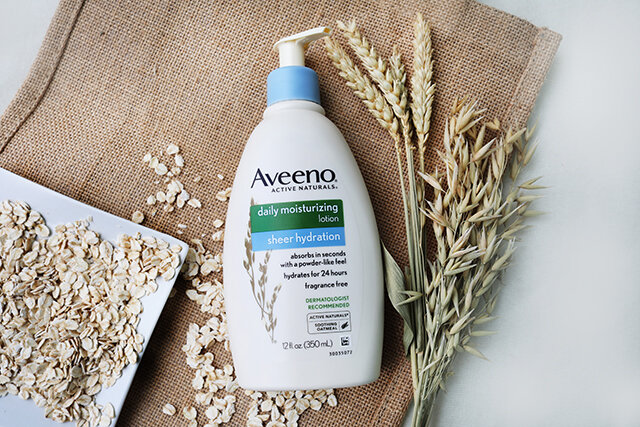 Find out why you should incorporate oats into your daily routine, then give your ingredient list a check to see if you have this nutritional powerhouse in your products. As for us? We're reaching out for our Aveeno® moisturiser with seven other digital influencers.


It's a super-food
This seemingly unassuming ingredient sure packs some serious nutrients. Filled with essential minerals and vitamins, oats offer a well-balanced diet that nourishes your body with the much-needed magnesium, manganese, potassium and zinc content.
It's a natural exfoliant




When applied topically, oatmeal makes for an excellent all-natural scrub. With its moderately rough texture, it exfoliates away dead skin cells while soothing problem skin issues such as bug bites and poison oak — all thanks to its anti-inflammatory, anti-oxidant and anti-itch benefits.
It's a toasty warmer
If you're feeling a little over the edge lately, cosy up with a cup of oat straw tea. Derived from oat stalks and leaves, this traditional herbal remedy is a known calm-down drink that will keep you relaxed and soothe your stress away.
It's your skincare must-have
We know by now that oats pretty much boast the total package. Aside from being a wholesome ingredient in our diet, it's a nourishing ingredient in our beauty regimen, too. Touted as the number one natural ingredient most trusted and recommended by dermatologists to improve dry skin health, oats are suitable even for the most sensitive and delicate skin — including babies' skin. Now, that says a lot!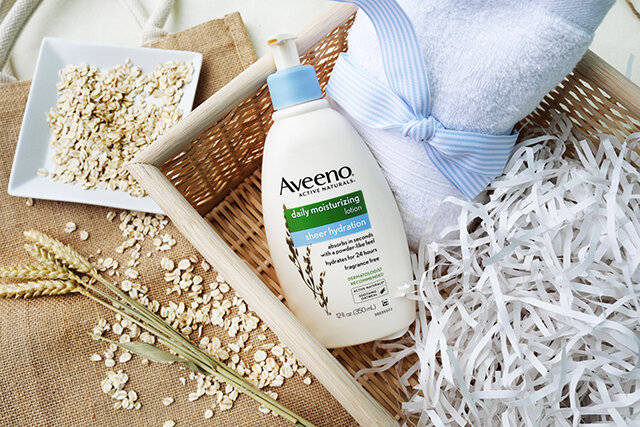 It's not a far cry to say that oats are a skincare must-have, that's why the
Aveeno® Daily Moisturising Sheer Hydration Lotion
should be in your body care routine. It doesn't just minimise your skin's exposure to unnecessary chemicals, it embraces your skin with nature's touch. Made with the exclusive Active Naturals Colloidal Oatmeal formula, this lotion works to provide a protective layer that locks in moisture for ultimate hydration.
For all-day moisturising comfort, pick up the Daily Moisturising Sheer Hydration Lotion. Its fragrance-free, non-greasy, lightweight texture absorbs right into your skin for an astonishing 24-hour hydration and protection.
Read on as seven digital influencers share their #AveenoTouchMoments.






"Having eczema prone skin that's easily triggered by dust, heat and even stress, I'm blessed to have Aveeno Sheer Hydration help tide me through this dusty time at my new place. Formulated with Active Naturals® Colloidal Oatmeal, its feather light texture absorbs super quickly into my skin without the slightest bit of greasiness — so important with all the moving and unpacking in our humid weather."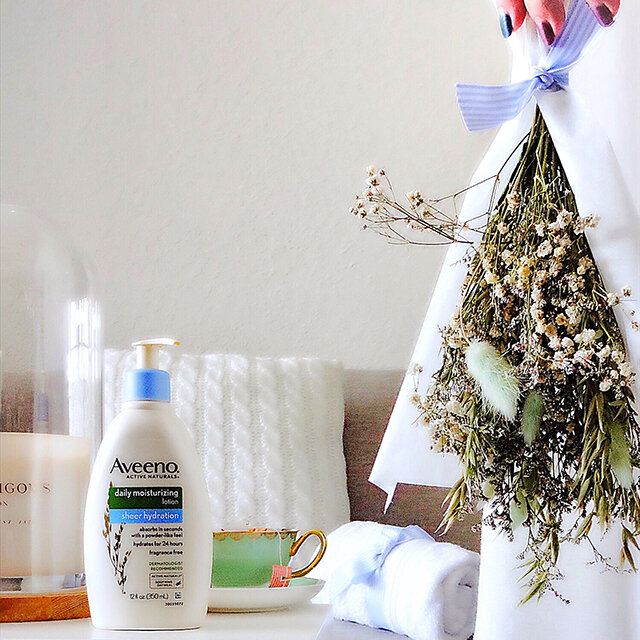 "Our hot & humid weather shouldn't keep us from hydrating our skin especially when it's non-greasy and sticky like the new Aveeno® Sheer Hydration Moisturizing Lotion. In fact, it turns feather-light powdery within minutes. Such comfort, truly impressive!
Dermatologist-recommended, fragrance free & made from naturally active colloidal oatmeal, I use it after shower day and night, rain or shine!"




"Love, love cuddling my little bear after our fav bath-time together! I have recently discovered Aveeno Sheer Hydration and started applying it to hydrate my skin. I usually rush to prep Stry but thanks to this fuss-free process, my skin is kept soft and hydrated the entire day. I especially love how smooth and powdery my skin feels after each application with this lotion being non-greasy! Also, the formula is absorbed into my skin within seconds.
This brand is one of my faves due to its natural ingredients with formula being dermatologist-recommended and fragrance-free! A must have treat especially after any bath or run under the sun. Taking care of our skin is important as when we look and feel good, we will be able to care better for our kids!"




"Came across Aveeno's new Sheer Hydrating range and have been using their Daily Moisturising Lotion ever since. It goes on feather-light, nourishing and protects the skin from environmental aggressors. Best part of all? It is sheer so you don't have to worry about the thick creamy texture, and it lasts for a good 24 hours! Formulated with Active Naturals® Colloidal Oatmeal, the exclusive formula is dermatologist-recommended, non-greasy and fragrance-free too! No surprises that it won 2 years in a row in the Best of Beauty section in 2015 and 2016 by Allure Magazine."




"I have a confession to make — I always pay lesser attention to body care as compared to skincare. Reason being, I hate the greasy sticky feeling whenever I apply a body moisturiser. Don't you agree? If you get what I mean, consider Aveeno® Sheer Hydration Moisturizing Lotion — it's non-greasy, has a feather-light texture and is also suitable for sensitive skin! I love to use it on particularly dry areas like my elbows, ankles and knee caps. After all, keeping your body moisturised is essential in this crazy hot weather in Singapore!"




"I'm always so busy that I don't have enough time to take good care of my skin. Do you feel that way too? I know it's a must to moisturise the body but it's so tough to find a good body lotion that does not leave a sticky feel even in this climate. When you find a body lotion that leaves your skin smooth and velvety without the icky sticky feel, you know you gotta keep it. Recently, I've been so motivated to moisturise my skin with the Aveeno® Sheer Hydration Moisturizing Lotion because it absorbs literally in seconds, giving a smooth, hydrated touch to my skin! Well, when you've found the one, you know you're never letting go!"




"Life's simple pleasures. The Aveeno Sheer Hydration Lotion is light in texture, allowing it to be absorbed into my skin pretty quickly. It leaves my skin feeling smooth, hydrated without the usual greasy feel. Love it!"
The Aveeno® Daily Moisturising Sheer Hydration Lotion is available at Lazada.sg.