ABCs are not just for reading, writing and speaking — they're also for knowing what works best for your skin. Think (vitamins) A, B, C (E and K) — it's time to get acquainted with the Alphabet Approach. Simply put, if you have a skin goal, there's a vitamin for that. Ready to learn more? With the help of ​Avène A-Oxitive series​, memorise your skincare alphabet for healthy, beautiful skin.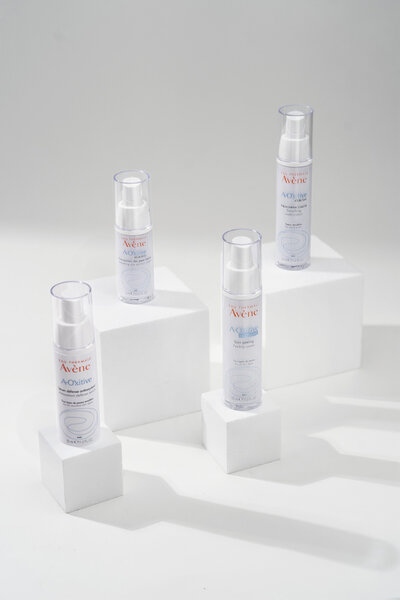 Vitamin A
You've already probably heard of vitamin A — most commonly found in foods such as carrots, sweet potato and spinach — as great for the eyes. But it's just as great for the skin. Coincidentally, vitamin A in skincare targets problems that start with the same letter — ageing and acne. If these are your concerns, the vitamin A derivative retinol (and its pals, retinal, retinoic acid and more) is your new best friend. Products with this ingredient stimulate collagen production, increase cell turnover and fade pigmentation.
One thing to note when dealing with Vitamin A, though, is that they are quite potent and some products that contain it can be a bit harsh. So it's important to go for something that can give the same effect but is incredibly gentle.
Try this
: ​The ​
Avène A-Oxitive Smoothing Eye Contour Cream
​ has a Renewing Complex that has vitamin A in the form of Retinaldehyde and ProVitamin E that evens out skin's texture and fights off free radicals while being mild on the skin. You can also count on the​
Avène A-Oxitive Peeling Cream
​, a fragrance-free night cream to help reveal good complexion. It regenerates the skin through a peeling effect that's equivalent to three peel sessions. The best part? It's so gentle, you can use it daily.
Vitamin B
Looking to boost your skin's hydration and elasticity? Go for Vitamin B. It's a great antioxidant that helps treat signs of ageing and calm sensitive skin. Among the more common types of vitamin B used for the skin topically are vitamin B3 or niacinamide (reduces inflammation and fights signs of skin ageing such as wrinkles and fine lines), vitamin B5 or pantothenic acid (a humectant that keeps skin moisturised) and vitamin B12 or cobalamin (encourages wound healing and helps cell regeneration). You can also opt to get vitamin B by eating eggs, rice, mushrooms, peanuts and tuna — all of which are great for keeping your skin, nails and hair strong and healthy.
Vitamin C

When we think of vitamin C, we immediately go to images of eating refreshing fruits like oranges, lemons, papaya and kiwi. Well, that counts in a way because vitamin C keeps you fresh — yes, just like your favourite fruit. Since it's an antioxidant, it helps improve the skin's collagen production, reduces sun damage and softens wrinkles. The result? A fresher complexion.
Try this
:​ If your skin's feeling a little dull, look to the ​
Avène A-Oxitive Antioxidant Defense Serum
​. Think of it as vitamin C with amplified benefits. It's packed with Antioxidant Shield Complex with provitamins C & E that will help to give you the boost of radiance you need. Plus, it has GP4G, a cell energiser that strengthens your skin's ability to protect itself from damage. Bright, clear and resilient skin? Yes, please.
Vitamin E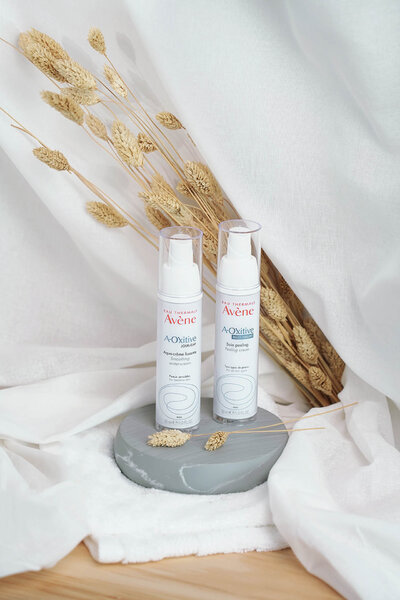 Juicy, super-hydrated skin? You can count on vitamin E to give you that. It can also help reduce fine lines and wrinkles and help to protect your skin against UV rays. Vitamin E is also great for healing scars and burns, strengthening the skin barrier function, and soothe and help calm the skin.
Try this
: ​If you want a dose of this skin-loving vitamin and start saying hello to smooth and supple skin, the ​
Avène A-Oxitive Smoothing Water Cream
is the one to go for. It's a hydrating water cream that not only moisturises your skin but also protects it from the harmful effects of pollution, thanks to its Antioxidant Shield Complex that contains provitamins C & E. The
Avène A-Oxitive Peeling Cream
is enriched with vitamin E, too — so you can reveal healthy radiance coupled with hydration. Amp up the benefits by adding vitamin E-rich nuts, seeds and leafy greens to your diet.
Vitamin K

Yes, it exists and it's good. While you may not hear much about vitamin K when it comes to your skin, knowing about it certainly helps because it can be your go-to for warding off various skin woes. First, it helps with discolouration and speeds up the healing of bruises. It's also great for regulating blood sugar, which in turn helps prevent premature ageing and boost your collagen and elastin production. You can count on it to help firm up, hydrate and smoothen your skin. Get ahold of it in dark leafy greens — think kale and spinach for skin that looks young and refreshed.
Looking to up your skincare game? It's as easy as learning your ABCs.