Style is not always about the price tag. From thrifting to clothing rentals, this month, we'll be exploring popular money-saving tips and practices that will help us look good for less.
Imagine yourself having a weekend stroll at the mall. You chance upon this wonderful piece on a mannequin in a store's display. Your heart starts to beat just a tad bit faster and you smile widely in delight — you've totally fallen in love with it and you must definitely have it. Familiar? Of course, everyone has probably experienced this thrill of shopping at least once in their life. The automatic course of action for most of us is to go ahead and purchase. Still, what we covet don't always match our initial expectations. And later on, when we finally get to use it, that's only when buyer's remorse hits and we realise that the fashionable piece we wanted might not be for us at all.
Living in style shouldn't be costly, but it hurts us and our pockets when these unfortunate shopping experiences occur. Ahead, six women spill the deets on the piece they regret buying and give us tips on how we can avoid buyer's remorse and save money once and for all.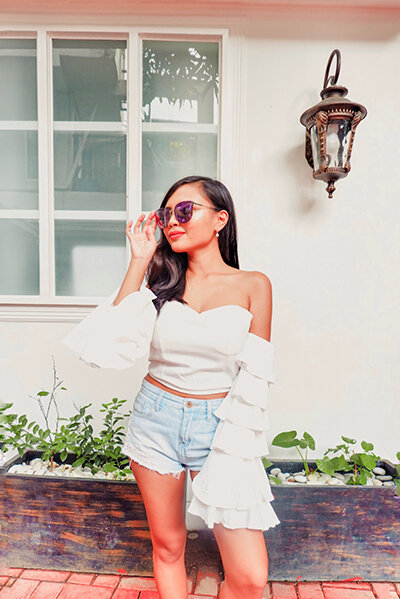 Bella wearing her white elephant-sleeved top
"This elephant-sleeved top would have to be my most regrettable purchase to date. I bought this at a local bazaar and it looked so good on the mannequin. I was in a rush then and I needed a top to complete my look for a photoshoot, so I didn't bother trying it on first. But when I wore it, despite getting compliments because of it, I was secretly sulking 'cause the top did not make me feel confident. It wasn't a perfect fit and I badly needed double sided-tapes just to make it work on me. I'm grateful for this experience because it taught me to never avoid the fitting room. What looks great on a mannequin might not look good on me. Since then, I always try on any item I think about buying."
Left: Nicole (Photo from: @nicolechangmin); Right: Nicole wearing the denim bodycon dress
"I wanted to do a YouTube review on Aliexpress clothes to see whether we'll be getting good quality items for the affordable price we are paying. I got this bodycon denim dress as it looked very flattering on the model and in the store's pictures, but when I received it, the material felt cheap and the dress felt like it could get torn at any moment. I ended up giving the denim dress away to someone who thought it looked nice.
Because of that, I learned not to purchase items based on site images. They're usually inaccurate because the items can look fabulous on the model because of photo editing or maybe they really just have a stunning body. When buying online, consider a lot of factors before purchasing. Ask yourself, for example, do I really need this piece in my closet? Do I already have something similar? How timeless is this piece? Always look out for the measurements and have a measuring tape on standby when shopping online. Lastly, check out if there are reviews from real buying customers to make your shopping experience even better."
"I got this dress from an online shop because I liked the look of it and I needed a dress for my birthday. However, when it came, it didn't fit. The quality was slightly off and it also wasn't as luxurious a piece as it was in the picture. So it wouldn't go to waste, I tried to wear it out but I wasn't comfortable with it. Eventually, I just donated it. So, when buying from online shops, I've learnt to not always believe the pictures. It's best to do a little more research into the brand and pieces before spending."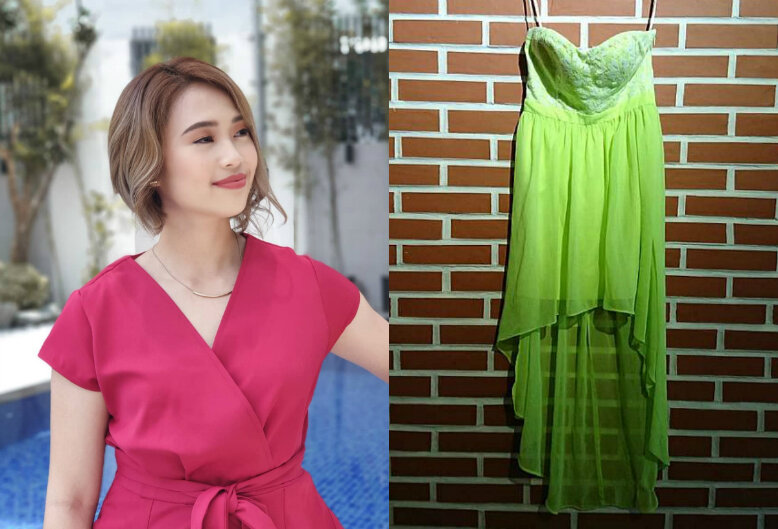 Left: Jho (Photo from: @jhodesaga); Right: Jho's neon dress
"I got this high-low dress a few years ago. At that time, I was deeply obsessed with blinding neon colours. So if an item that has those colours sparks my interest, I'd nudge my mum to buy it. To be honest, it took me years to figure out what to do with it. I was constantly saving it, believing I could wear it for an event. Hopefully, a neon-themed party would happen, but none of my friends never had that motif. So I ended up trying to sell it on Carousell, but no one ever bought it.
I was young and back then, I felt like whatever I set my eyes on will make meaning once I have it on my hands. It was just that later on when I got a bit older that I realised that it's important to have better buying decisions in life — especially because I have no more extra space in my room."
"The one piece that I regret buying was this pink bag. I wanted to use it as a school bag back then but what was I thinking? It just ended up sitting in my wardrobe! I regret getting it in the large size because I am petite and it just doesn't look right on me on most days. It is still sitting in my wardrobe after all these years and I am still thinking of how to use it. Lesson learnt for me: I will never buy a huge bag with tiny handles ever."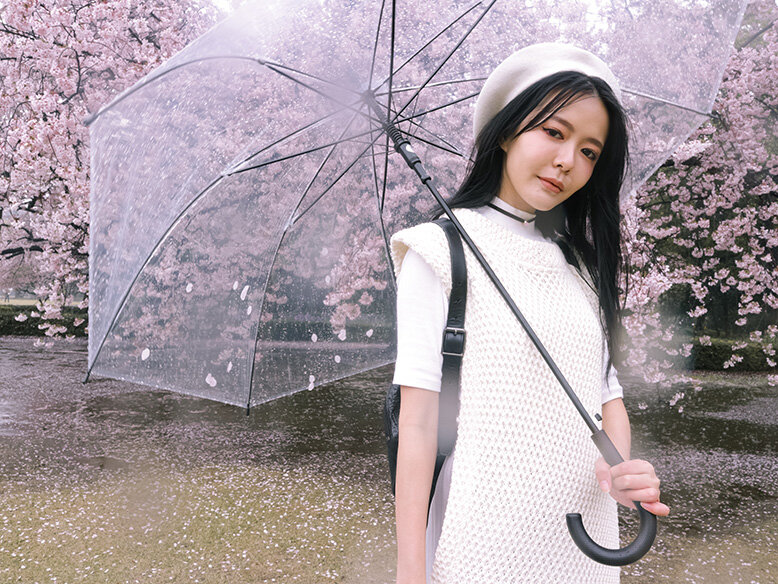 Lumi wearing her white knit top
"I was attracted to the knit pattern of the top and it was the perfect off-white cream colour that I love. Apart from my liking knitwear clothing, the other funny reason why I actually bought it was because I was cold in the mall, so basically, I was drawn to its warmth. On top of that, it was on sale, so there was no need to consider if I must have it because it's cheap, pretty and feels comfortable. I regretted it later on though when I realised that I couldn't wear it anywhere in Malaysia without feeling too warm for the weather since the material was rather thick. It was only worn once when I brought it to Japan during spring.
Since then, it has just been hanging in my closet. It didn't even catch anyone's attention when I sold it with my other pre-loved clothes due to its unflattering boxy silhouette. I've given up trying to sell it, and I've now re-purposed it into a furniture décor since it can pass off looking like a knitted rug. Learned my lesson to never impulsively purchase even if it's on sale."
Can relate? Buyer's remorse is a perennial problem for most fashion mavens. Fashion should be fun, but a little mindfulness when purchasing counts.