We've all fallen guilty to not giving our feet the attention they deserve. They carry us — literally — everywhere we need to go. Which means they also get tired, calloused and beaten up from all the (leg) work (pun intended). The skin on our feet is also naturally dry. And since we use our feet a lot and sometimes just can't resist a good pair of heels, we end up getting cracked heels. If you're a stockings wearer, this means the constant rubbing with cracked heels can wear your pairs out faster. But even if you don't wear stockings often, it's no secret that cracked heels can be uncomfortable (not to mention annoying). So it's important to refresh your feet by removing dead, dry skin and reveal its natural softness. How? Meet Baby Foot.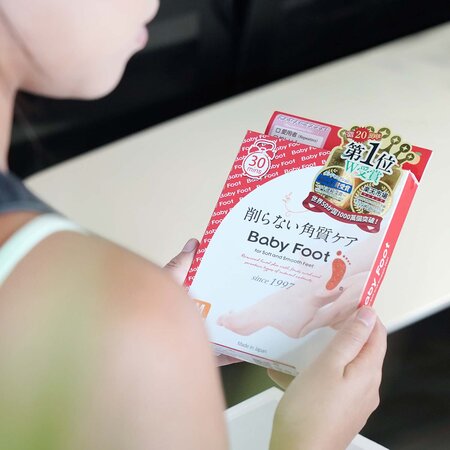 We've all coveted skin that's as smooth as a baby's. But did you know that you can achieve it not just for your face but also your feet? Baby Foot is a peeling mask that exfoliates and removes the dry, cracked skin on the feet — this reveals smooth, renewed skin!
It's made with natural ingredients — 17 to be exact — so your skin peels thoroughly but gently. Aside from exfoliating, these ingredients also deliver nourishing benefits. You'll feel at ease with Horsetail Herb, Watercress, Sage, Clematis, Apple, Meadowsweet, Burdock Root, Orange, Tea Plant, Chameleon, Bladderwrack, Chamomile, Lemon, Soapwort, Ivy, Camel Grass and Grapefruit as the stars of this product.
Aside from giving you soft skin, it also helps deal with foot odour by removing dead skin that's a thriving ground for bacteria. The fun part? It's easy to use — no need for scrubbing or scraping, and you don't need to do it often. Do it twice a year, and you're good. If your cracked heels are more serious, though, it's safe to bump up the use at once every two months. Soak your feet in warm water first. Then, simply slip your feet into the gel packs and leave them on for 30 minutes before rinsing the product off. Within three to five days, your feet's skin will peel off to reveal something softer and smoother — just like a baby's.
Baby Foot is available on Tokyoninki and at all SaSa and Watsons stores in Malaysia.
Get a chance to try Baby Foot. Join our giveaway below!