Tattoos have held various meanings and significance. When the practice started could not be pinpointed, but the term was said to have rooted from the Polynesian tatau or tatu meaning 'to strike', 'to puncture' or 'to mark the skin'. From this, the body modification practice has since bloomed into three categories: purely decorative, symbolic and pictorial — all of which play a massive role not just in history but also in social perceptions of beauty and fashion through the years.
However, the stigma associated with tattooing is definitely challenging to overcome because of its use in Russian espionage, Japanese yakuzas (organised gangs) and prison culture, in general. Even when it became mainstream during the '60s when Hollywood celebrities started getting inked, people still couldn't shake off the negative notions that have been tied to the practice.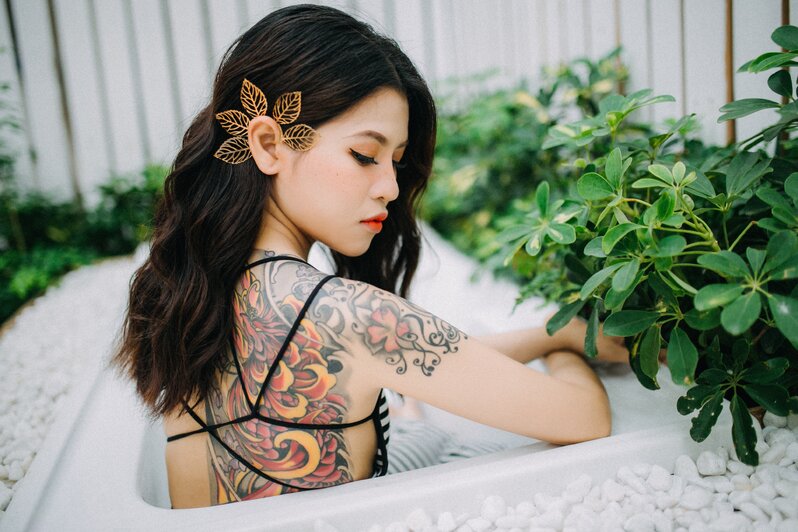 Thankfully, with all the diversity and inclusivity being campaigned for in today's beauty and fashion industries, the call for erasing the stigma against tattooing is moving forward. Movements have also been created inspired by it. Project Semi-colon is one of the most popular, symbolising a stand for the importance of mental health.
If you're reading this article, chances are you're either deciding to get your next tattoo or you're considering to get inked but are still on a crossroads. Whatever the sitch is, you know we got your back! Here's a roundup of celebrity inks that will solve your tattoo envy.
Emilia Clarke's dragons
The Mother of Dragons decided to commemorate Game of Thrones, the show that skyrocketed her to fame, in the form of three dragon silhouettes inked on her wrist. If you're a pop culture geek who's thinking of another addition to your inspired skin art, you may want to take notes from Clarke's chosen design.
Selena Gomez's symbolic friendship '4'
While everyone's gossiping about Gomez's emotional state during Justin Bieber and Hailey Baldwin's engagement, the 26-year-old decided to subtlely let everyone know that she's more empowered than ever by getting matching tattoos with her BFFs. The minimalistic number '4' placed in different parts of their bodies — Gomez out hers on the arm — symbolises that, through thick and thin, heartbreaks and successes, the four of them withstood and will withstand obstacles together forever. Cheesy but sweet, don't you think? We're sure it left you wanting to call your BFFs for a group tat session, too.
Rihanna's henna style and traditional Polynesian hand tattoo
If you're looking for a more in-your-face and story-laced ink to add to your canvas, why not have something like Queen Rih? The one on Rihanna's hand was done using the Maori Ta Moko 'stick and poke' method during her tour in New Zealand. On her other hand, she has a tattoo inspired by Egyptian and Indian henna designs that often symbolise religious ceremonies, festivals and other suchoccasions.
Lucy Hale's lightbulb
This one may look random at first but the detailed lightbulb image inked just above the actress' elbow is her reminder to everyone that we should all 'be the light'. Simple yet symbolic, she also joked that she needed to apologise to her mum for yet another addition to her skin ink collection. If you're getting inked against your parents' will (especially since Asian parents are more conservative), then you might as well get one that has the same inspiring message as Hale's, right?
Demi Lovato's 'Stay Strong' permanent wristlets
As an advocate for body positivity and mental health, it's no secret that Lovato has faced challenges, some she continues to battle with at present. And with her celeb status, media scrutiny surely does not make things easier. But the 26-year-old who has a history with self-harm made a bold move to put the words 'stay' on one wrist and 'strong' on the other to serve as a reminder and a personal pick-me-up when things are getting tough. Tattoos, with their permanence, are often great ways to keep ourselves committed to something, and these inks on Demi that tethers her to the beauty of staying strong definitely proved that.
Lea Michele's musical notes
Just like her Glee character Rachel Berry, Michele's life is all about music. We can't blame her because the girl's got an insane vocal range! To express her passion for her craft, getting minimalistic tats that look gracefully elegant on her shoulder blade is something that we appreciate. This is our inspiration if we're going for inks that summarise our personality as a whole.
Not ready for something as permanent as a tattoo? Try these empowering Disney-inspired makeup looks instead.