When you think of
Asia's Next Top Model
, the first thing that comes to mind is a group of aspiring models battling it out to claim the coveted title. But for fashion and beauty enthusiasts, the lure of the show goes beyond that. It not only gives us a behind-the-scenes look at what it takes to be a model; but also a peek into what it takes to create an editorial shoot -- from the creative direction of each shoot, sartorial choices, and down to the makeup look.
So who better to chat with about makeup than Nigel Stanislaus, the Makeup Director for #AsNTM4. Because behind all the glamour of the editorial shoots is the artistic choice of selecting a makeup look that'll transform the model to fully embody the vision and mood of the shoot.
We got Nigel chatting about what it's like to work on the show, who he's rooting for this season, his editorial process for shoots, and of course share some of his makeup tips perfect for our part of the world.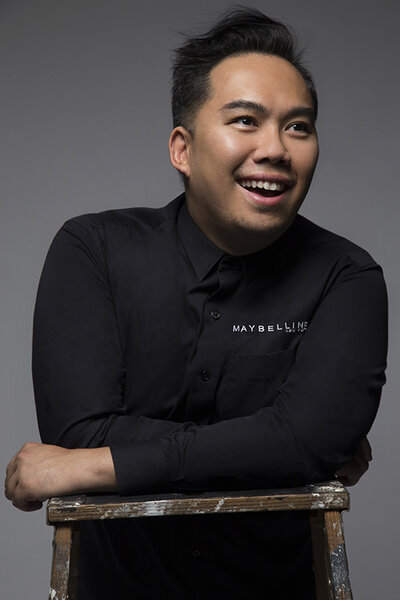 Born and raised in Singapore, Nigel studied graphic and fashion design in Singapore, Melbourne, and New York City. He currently resides in New York City, dividing his time between Asia, Australia, and USA. His exquisite work and passion for creativity led him to becoming the first Maybelline NY makeup artist in Australia in 2009 and is revered to be amongst the top makeup directors of the Australian industry.
From backstage, photo shoots, and advertising spreads, Nigel has worked on prestige editorials seen in the pages of L'Officiel, Elle, Marie Claire, Harpers Bazaar, Grazia, and GQ. His celebrity clients include Olivia Newton-John, Agyness Deynn, Kelly Osborne, Mel B, Peaches Geldof, Hilary Duff, Ruby Rose, Natalie Gruzlewski, Sophie Monk, the Veronicas, and the original supermodels Linda Evangelista and Cindy Crawford; and of course Maybelline NY spokesmodels, Erin Wasson and Kemp Muhl.
Scroll down to read our full interview feature!
You're the Makeup Director for this season's Asia's Next Top Model. Can you share what your experience has been like on the show?
This is my second instalment after being on Australia's Next Top Model. This time I have more experience and I have more guts to stand up for what I believe the brand deserves to be. Asian women amaze me. I left Singapore for more than a decade and now that I am back, I find it so refreshing to experience this culture again. Also, with my particular panel of judges, I worked a lot with famed photographer
Yu Tsai
and
Patricia Field
along with the lovely Cindy Bishop, It was a very fun day of filming.
Everyone's going to want me to ask this...so who are you personally rooting for in the show?
Wow – a loaded question already?! Ha. To be honest, this has been the strongest bunch of girls yet for this show. Different judges from different disciplines look for different qualities. For me its about finding our Maybelline 'IT' girl to Make It Happen. Faces like May, Patricia, Aldilia & Tawan have really beautiful features that I would be proud of to show the world. The international fashion scene needs to showcase more beautiful soft inspirational faces.
Okay moving on from the show before we hint at any spoilers -- what's your creative process like when planning for an editorial shoot? Can you share more about what goes into every shoot that you work on, from planning the look to execution.
It is about a journey. I get sent vision boards on what has been in the editor's minds. The next step is for me to meet them on the already commenced creative journey and complete it with them using beautiful colours to paint faces with. An experienced makeup artist knows when to have a makeup blow out and when to have quiet moments. You need to understand balance and how far to stretch your creativity. Not every note in a song is a screaming note.
Looking at the trends this year, what should we look out for in 2016? Is there a particular colour palette or texture or style that you see emerging as the look of the year?
It was all about brows and a bold lip at Fashion week over a creamy velvety foundation. Most of the NYFW shows and the Australia Fashion week spotted that.
The Maybelline brand is very relatable to girls around the world. It has a wide range that's perfect for both every day makeup and the more bold, daring looks worthy of the runway and editorial spreads. If you could hand-pick 5 items from Maybelline that every girl needs in their collection to create a wide range of looks, what would they be?
Vivid Matte Liquid Lipstick, Fashion Brow pencil, Nudes Shadow Palette, White Superfresh UV Foundation Powder, and Hyper Sharp Liners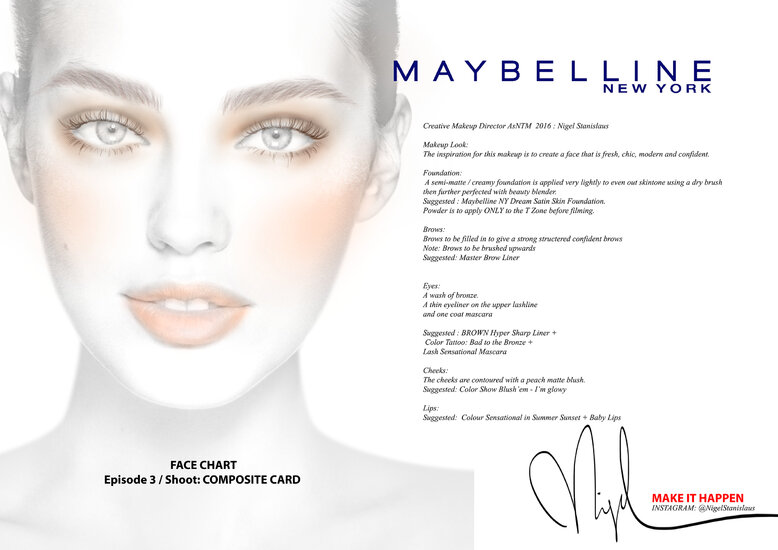 Now, let's talk about your celebrity makeup experience. What's the most common request you get from your celebrity clients?
Everyone is different because they all look different. Coco Rocha & Olivia Newton John loves mascara on eyes, Scary Spice aka Mel B is obsessed with contouring, Ruby Rose loves eyebrows, Erin Wasson loves a nude lipgloss and Patricia Field just lets me have a go and paint whatever I want!
What do you usually notice first when working on a client and w
hat's your philosophy when it comes to selecting which features to highlight or conceal--is it about picking their best/standout feature and adjusting the rest of the makeup to complement that?
I look at their overall face shape and decide which features I want to highlight and which parts I want to conceal. My usual 4 go-to areas are cheekbones and cupid's bows, then it's the bridge of the nose and the inner corner of the eyes. With Western features, I usually contour and sculpt the face to bring out the most alluring looks.
What I have found with Asian features is that to get that same result, I would only highlight the face and leave out sculpting. This is because Asian faces have a flatter plane. Overall, you just need to know how to appreciate and work with what you've got.
So when it comes getting the face all made up, what's the most important thing makeup enthusiasts should never forget? Please share some makeup tips for everyone looking to up their makeup-game.
In Asia, I noticed a lot of women are obsessed with all sorts of creams. When I do my makeup, I choose one product, it could be a primer with UV protection. Remember, lots of girls complain about panda eyes even when the use a waterproof mascara. The reason is that the oils of the eye creams break down the product thus causing a dislodge. Its waterproof, not oil proof! Also, spend some time doing a beautiful brows, and dare to try a beautiful strong lip. It gives you instant glamour.
And finally, what's that one thing that you think may surprise people about the beauty industry?
People and even my relatives think that I lead a glamorous life and that my job is easy. They check in on my social media and think so. The truth is that it is really hard work and that you feel you are on an upclimb the whole time because you need to fight for it. I get to rest mostly on intercontinental plane flights and airports and hotels. I live out of a suitcase the whole year over NYC, Australia and Asia. Despite traveling in a friendly group sometimes you do get tired and homesick!
--------------------------
Catch Asia's Next Top Model Season 4 on StarWorld every Wednesday at 9pm.