Women's relationships are like a growing beauty stash. In the beginning, it's quite hard to find your perfect fit, but as you learn and grow and sometimes even experiment, you slowly build on your holy grails and find yourself sticking with them for life. And while you might cringe at the thought of memories of you post-breakout and pre-brows-on-fleek a couple of years back, knowing that you and your gal pals have gone through those awkward beauty moments together makes the memories somehow precious and laughable. So now, as adults who have evolved both inside and out and have discovered your beauty journey together, add on to your giftees' growing vanity — and bond — by giving them the perfect skincare presents that fit their current lifestyle.


For the girl boss: a spa experience they can take at home
The Body Shop At-Home Facial Mask Experience, price unavailable
We all have that friend who always seems like she has it all together. But hey, as friends, we need to remind them that they need to relax, too! Being a girl boss often leads to tired-looking skin, so much needed pampering is necessary. In consideration of your girl boss pal's busy schedule, make them take the spa experience at home during the holiday break with this gift set from The Body Shop.


For the stress bunny: a get-back-your-glow kit
Kiehl's Let It Glow Kit, SGD179/~USD130
Sometimes, because of conflicting schedules, it's really hard to get together with your best gals. But even when you get a chance to head out on a coffee date, there's always that one friend you just can't secure some time with. They're always out and about chasing deadlines and running from place to place that when you get to see them, their skin reflects all the stress they have gone through — prominent dark spots, dehydrated skin and maybe even age lines. So in support of your friend's always-on-the-go lifestyle, make sure she still looks her best despite the pressures of her 9 to 5 by recommending a complete routine like this Let It Glow Set from Kiehl's to bring hydration and rejuvenation to her fatigue-damaged skin in the form of the perfect package for the holidays.


For the night owl: a 'skin waker' gift set
Drunk Elephant The Big Reveal Kit, USD88 (drunkelephant.com)
The resident insomniac, this friend is the reason why you're up chatting and gossiping at some nights. And while there are days when you wish you could channel their sleepless energy, one thing you couldn't pass up on noticing is their dull-looking skin and vampiric dark circles caused by their lack of zzzs. So while you can't entirely control their sleeping habits, make sure you help them bring back some life into their skin with this rejuvenating kit from Drunk Elephant.
For the daily commuter: a quick but effective kit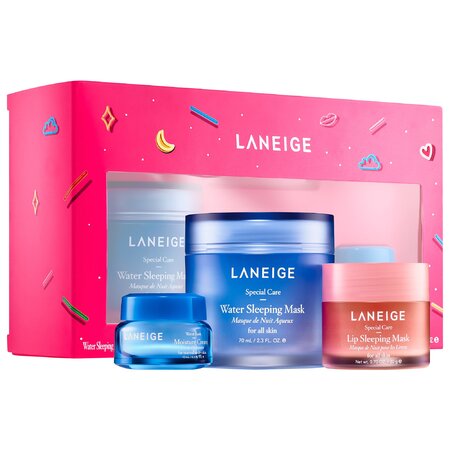 Laneige Sleep & Glow Set, USD39 (sephora.com)
The one who always chronicles random anecdotes from her daily commute on social media, this friend is the one who knows public transport like an expert. And given the pollutants her skin horks down on the daily, she's that friend who's prone to intense and massive breakouts. With this, finding the compromise between her skincare needs and the physiological call of her body to just rest as soon as she survives the daily traffic is a must. The Laneige Sleep & Glow Set allows her to hit those two birds.
For the makeup maven: a prime-and-prep bundle
Tatcha Skincare For Makeup Lovers Obento Box, USD64 (sephora.com)
The beauty sister in your circle, this gal may be your go-to when it comes to makeup trends and product recommendations. But it's still a wonder why skincare seems like a whole new world to this friend (for those who are wondering, yes, they exist!). You're always persuading them that skincare is just as exciting as makeup but they just wouldn't budge, so take the opportunity of the holidays to gift them with a kit like this Tatcha Skincare For Makeup Lovers Obento Box to get them started on their journey. Trust us, the gorgeous packaging is a great start to entice them to begin their skincare regimen.
Are your friends more style-driven? Here are the perfect fashion gift ideas to fit their personalities.