A new year means new plans, new beginnings, and of course, makeovers. And for those of us who feel like January flew by so fast that we weren't able to make the changes we hoped for, thankfully, the Lunar New Year gives us a great do-over opportunity. Along with our own routines, wardrobes, and overall lifestyle getting a revamp, our favourite beauty picks are also heading that route. Ahead, check out how your favourite products got a Lunar New Year makeover.
Hourglass Ambient® Lighting Blush in Vivid Flush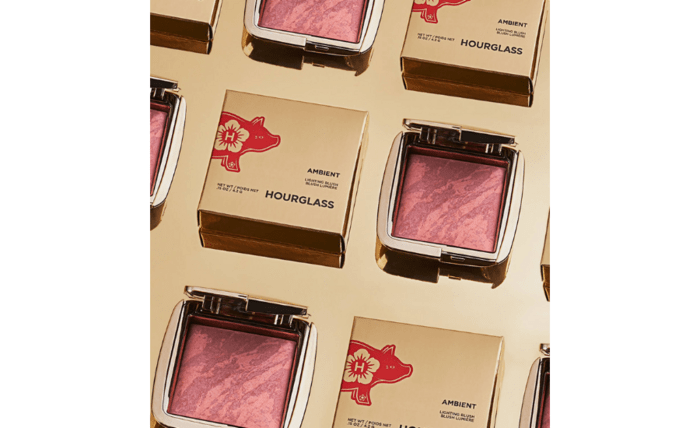 SGD67
We all know that festivities are equal to a lot of visitations and photo-taking opportunities. So having the perfect luminous flush to make you look fresh and radiant is just what you need. That's where the re-dressed Hourglass Ambient® Lighting Blush comes in. Its signature bronze box is redesigned with a red boar for the Year Of The Earth Pig and comes in a limited-edition Vivid Flush shade created by brand founder Carisa Janes for total wearability, just for the occasion.
Benefit Cosmetics You're A Lucky Star - Happiness Set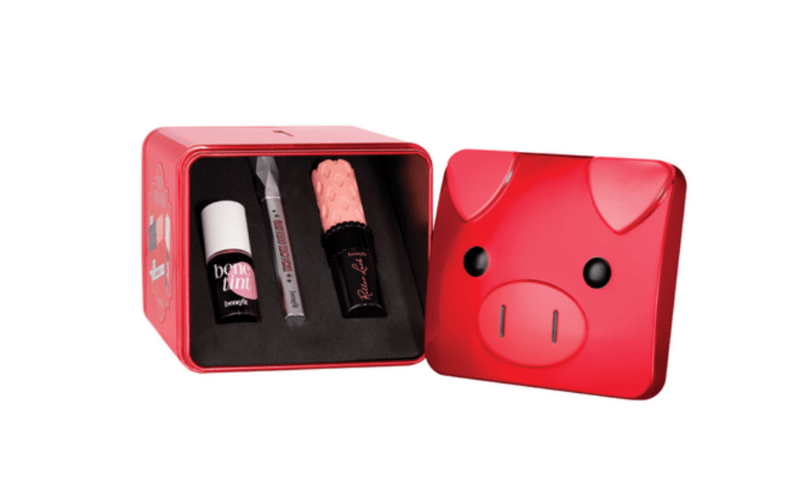 SGD54
Go ham (pun intended) on your Benefit favourites with this adorably packaged You're A Lucky Star - Happiness Set. Stuffed with the brand's bestsellers, namely the Goof Proof Brown Pencil, the Roller Lash, and the Benetint lip and cheek stain in mini sizes, it's the perfect gift to spread some beauty luck to your best gals or maybe even yourself!
Beautyblender Chinese New Year 2019 kit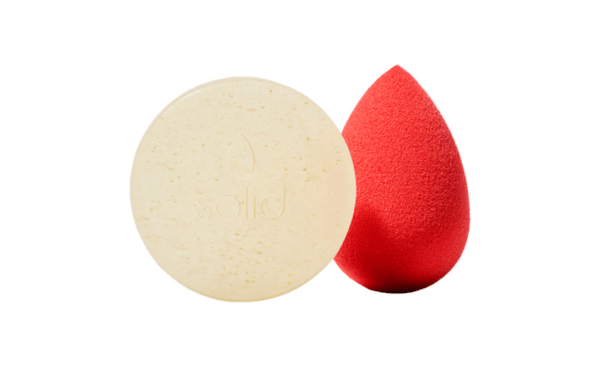 SGD49
Offered in its iconic original sponge and a 1 oz. solid blendercleanser®, the Beautyblender's Chinese New Year 2019 kit will definitely have you saying goodbye to streaks on your base for good. The combination of brash red and gold gives the perfect prosperity colours to go with your beauty routine for the rest of the year.
Becca Shimmering Skin Perfector™ Pressed Highlighter Year Of The Pig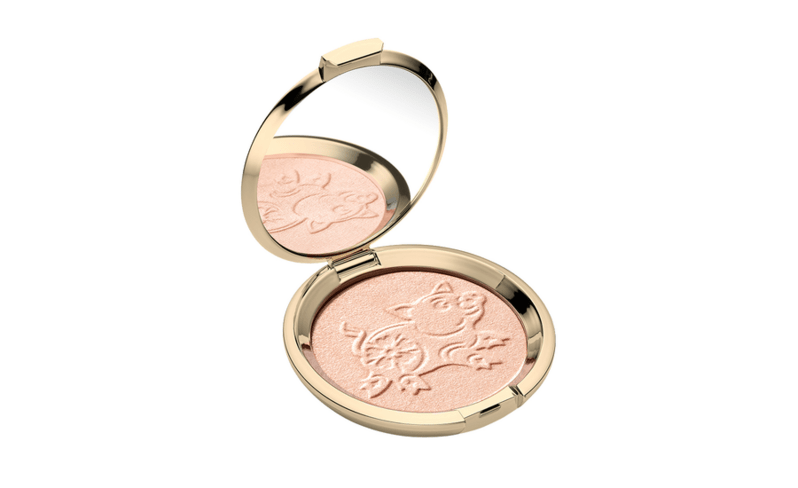 USD58
What better way to attract luck for CNY than to shine like gold? Pack on the glow with this collectable Becca Shimmering Skin Perfector™ Pressed Highlighter, Year of the Pig edition. The irresistible pig imprint and showoff-worthy limited-edition gold compact is just an add-on to the already gorgeous and flattering peachy shade of this pick.
Sunday Riley Lunar New Year kit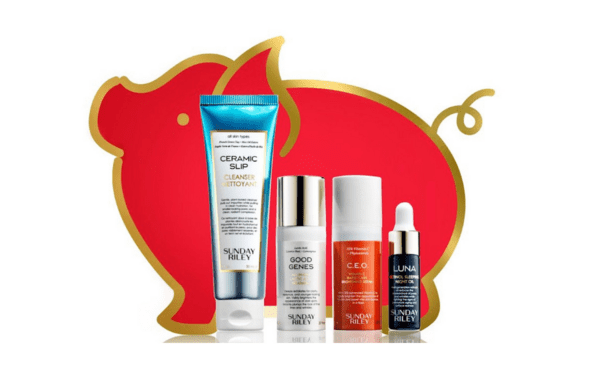 SGD79

With the traces of cool weather still upon us from the holidays come tired and dry looking skin. And since January happened like a flash, there's just no time to recover. So what do you say about hitting the reset button this February with Sunday Riley's Lunar New Year kit. Get your hands on the Ceramic Slip Cleanser, Luna Sleeping Night Oil, Good Genes All-In-One Lactic Acid Treatment, and the C.E.O. Rapid Flash Brightening Serum perfectly curated in a red and gold CNY packaging to have you greeting the Earth Pig's year with healthier skin. P.S. While you're at it, give our review of these brand favourites a read!
Givenchy Prisme Libre Powder – Mousseline Pastel n°1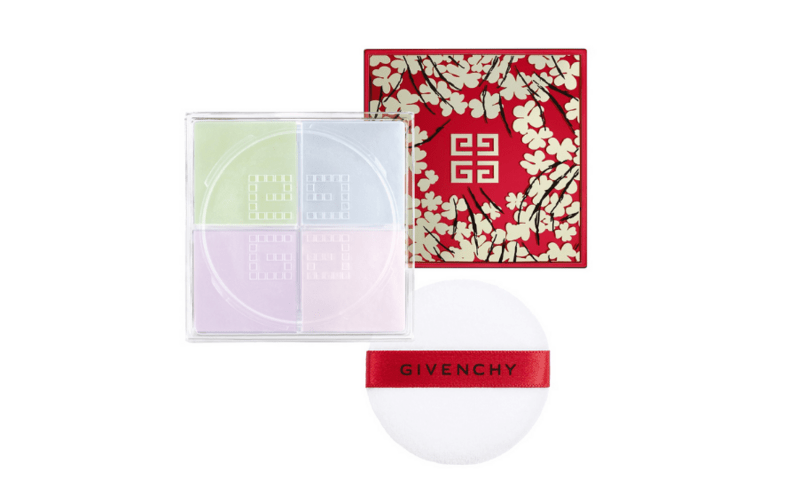 SGD100
Make sure your makeup look is at its best by adding a touch of Givenchy into your beauty routine. This loose powder combines four complementary pastel shades that are perfect for colour correcting, mattifying, and refreshing your look for a flawless finish that'll last through the busy day. Plus, it's worth mentioning that just in time for the festivities, it got a great makeover with its cover lid dressed in an exclusive red and gold clover pattern that will add a hint of flair to your vanity.
Glamglow Gravitymud™ Firming Treatment Gold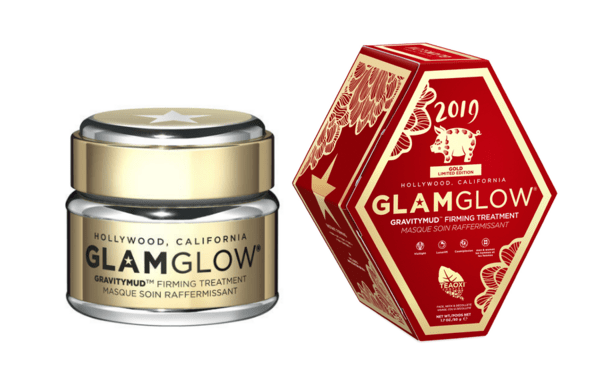 SGD80

Have you seen our scoop on whether or not Glamglow masks deserve a place in your beauty routine? Well, add this one to your beauty picks because it got a limited edition glow-up just for CNY. Now offered in a gold jar enclosed within an equally beautiful illustrated box, this will definitely add a feel of luxury to your next at-home pampering session.
LANEIGE Chinese New Year Collection
Hold on to your hats K-beauty lovers as LANEIGE strips away its typical pastel shades and dons a fiery shade of red just for the Lunar New Year. From single-packaged favourites like the Perfect Renew Renegerator (SGD88), BB Anti-Aging Cushion (SGD62) and Silk Intense Lipstick (SGD36), to beauty bundles like the Perfect Renew Set (SGD284), Moisture Set (SGD199) and Red Makeup Set (SGD91-98), we have to admit that while we love LANEIGE's soft colours, this limited edition curation definitely gives the products a sexier appeal.
Complete your festive look with these stylish pieces.