As skincare enthusiasts, we always go the extra mile for our skin — from trying out the latest products to undergoing the trendiest treatments. There's a hyped facial that promises to give you toned and lifted facial skin — just like your muscles would be if you would go to the gym — and we're definitely intrigued. However, it, of course, requires a skilled esthetician to do. During this period of social distancing, having the option to do it at home is more desirable. It's a good thing we found an alternative. You don't need heavy lifting to do it either — just plant power with the
belif Age Knockdown
.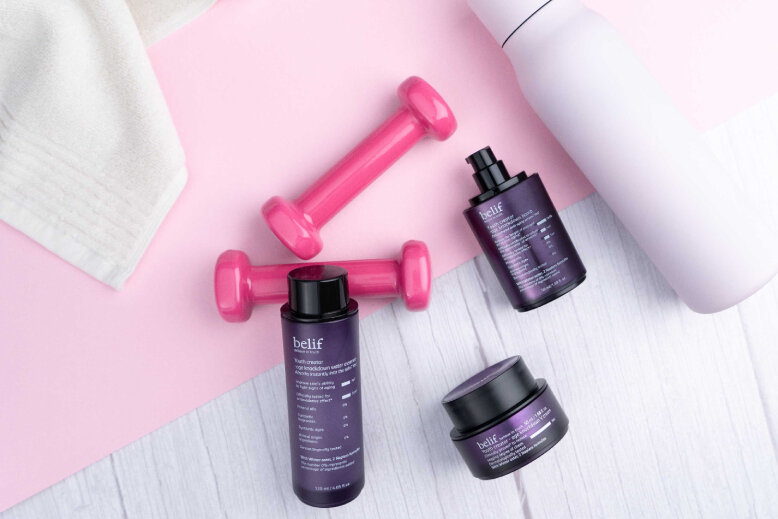 Beef up with benefits from belief
belif wants you to pursue and "believe" in the ultimate and optimal truth for your skin. Created in 2010, the brand was borne out of the need for "true herbal cosmetics" that are real, simple and sincere. Simply put, belif exists to help you achieve your skin's best condition through a traditional herbalist approach fortified by the latest in technology.
belif's products are formulated based on the traditional herbal processing methods of Napiers, Scotland's oldest medicinal herb clinic — they're more than 150 years old! Napiers' founder, Duncan Napier, was a herbalist who discovered he could cure his chronic cough with the help of herbs. From then on, he studied herbs thoroughly and produced effective treatments for various conditions — now including our skin woes.

With this philosophy in mind, each of belif's product is made without synthetic preservatives, synthetic dyes, synthetic fragrances, mineral oil and animal origin ingredients. You can also know just what's inside your jar because each product shows the accurate percentage of the true ingredients' concentration — just like how Napiers has been doing it for more than a century— so you get to enjoy and see nothing but truly good stuff for your skin.
One of the best ways to achieve your skin goal is by bulking up its strength even before you get to the ageing stage. Train it to be resilient against external aggressors and damage. Ensure it's always moisturised, renewed, elastic and protected with the belif Age Knockdown range. Below, find out how the products in the range help to lift the skin — without you breaking a sweat.

Warm-up with the Youth Creator Age Knockdown Water Essence
Think of this as a warm-up that preps your skin to absorb more potent products in the next steps of your routine and increases your skin's basic skin strength or resilience against damage. Made with special herbs that moisturise, nourish, firm up and protect the skin, this ensures that your skin is armed and ready.
Apply this lightweight essence as a toner right after you cleanse for anti-ageing benefits, as a pre-essence (after your toner but before your treatment) to boost your skin's hydration and fight off dullness, or as a mask (saturate a cotton pad with it and leave in dryness-prone areas of the face for five to 10 minutes) for intensive hydration in dry areas.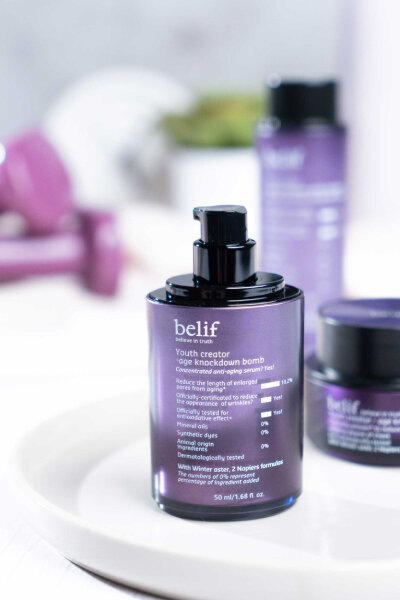 Punch pre-ageing with the Youth Creator Age Knockdown Bomb

Look ageing in the eye and bid it goodbye with the help of this new addition to the cult-favourite belif bomb family. This non-sticky anti-ageing serum helps improve the skin's elasticity, promotes skin firming, and prevents skin warming that leads to premature ageing. It also protects the skin from the harmful effects of urban living. Simply tap (not jab) this in firmly on your skin after your essence or toner and let it do its work. Top tip: keep it in the fridge before using, then immerse yourself in not just its benefits but also a different kind of sensorial experience — a bomb of hydration and nourishment? We say get ready. Put it on before your moisturiser and sunscreen before heading out or before your cream at night.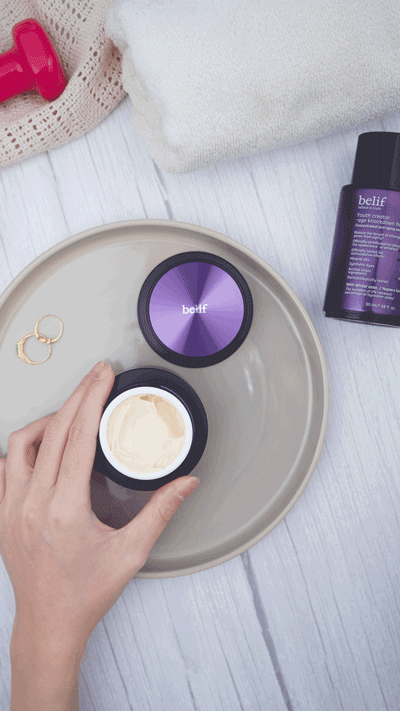 Lift and tone with the Youth Creator Age Knockdown V Cream
Keep your jawlines (and every other part of your face) lifted and toned with this cream that helps improve elasticity and gives an instant improvement on your skin's texture— bye wrinkles and other signs of skin ageing. Spread onto your face and neck and press your palms gently onto your skin to let the product get fully absorbed. You can amp its effects up with a massage too. Give your skin a boost of radiance by doing this: put your thumbs on your temples with your fingers positioned on top of your head and gently press them from the centre of the forehead and release dull-inducing tension. For the coveted V-shape, position your middle and index fingers on your chin — in a v-shape — then glide them upwards. Et voila!
Lifted skin without physical heavy lifting? Sign us up.
Knock out ageing with the belif Age Knockdown range. It's available at selected THE FACE SHOP stores in Malaysia, THE FACE SHOP e-store and belif's flagship store on ZALORA.