It's 7AM, you look in the mirror with misty eyes. You move closer to inspect your skin some more and feel a surge of motivation to get that glow. With all the stressors we face each day — especially during this time — it's inevitable for some unwelcome signs to rear their ugly heads. But we say look at the bright side! You can actually ward these off with the help of hydration.
Yes, you read that right. Stress can cause skin dehydration, so it's best to counter it. Aside from that, skin that lacks hydration tends to get dry and flaky, making its barrier weaker and more susceptible to harmful things — think sensitisation, itchiness and more. We don't want that! To keep the skin healthy, look for a hydrating product that not only gives instant freshness but also provides long-term skin-caring benefits like improving the skin's elasticity — and, of course, giving you that coveted glow amid stressful times.
Give the cult-favourite belif The true cream - aqua bomb (now in a limited edition Jumbo size) a go. Made with belif's philosophy of the naturality, efficacy and honesty, this product, as well as others from the range, are made with nothing but the purest of ingredients. Each one is free of sulfates, phthalates, parabens, synthetic preservatives, synthetic fragrances, synthetic dyes, mineral oils and ingredients of animal origin — giving you true and lasting skincare benefits.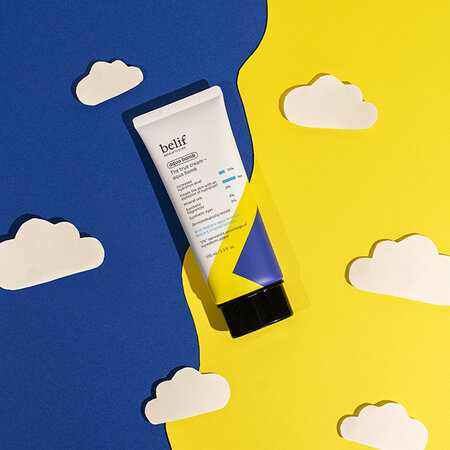 Hydrate for *that* glow

It's a lightweight gel-cream (perfect for Singapore weather and wearing under your masks!) that not only refreshes but also intensely hydrates — it's clinically proven to increase the skin's hydration levels by 70 per cent. The result? Skin that's soft, smooth and supple.
Aside from that, it also contains a unique blend of moisturising Napiers Aqua Formula that combines five different skin-loving ingredients, radiance-giving and anti-trouble Napiers Original formula and antioxidant-rich Lady's mantle for stress-free skin.
On top of that, you can feel at ease indulging in it because it contains no mineral oil, synthetic fragrances, synthetic colours, synthetic preservatives, and animal-derived ingredients.
Then, hike up the hydration when you use the belif The true cream - aqua bomb with other lightweight yet intensely hydrating products from their Bomb range.
Use a gentle cleanser
Say goodbye to all traces of makeup and impurities without stripping your skin of its moisture with the Aqua bomb jelly cleanser. This jelly-to-foam cleanser also contains Napiers Aqua Formula and Lady's Mantle that keep skin healthy and radiant.
Take it up a notch
Give your skin a boost of radiance with the
Aqua bomb refining ampoule serum
and
Aqua bomb brightening ampoule serum
. Both ampoule serums have the hydrating power of the True cream - aqua bomb but amped up with glow-giving benefits. The Brightening Ampoule Serum has antioxidant-rich Herb-Toco formula that helps to reduce pigmentation, inspiring a clearer and more radiant complexion. Meanwhile, the Refining Ampoule Serum contains Serine that gently exfoliates the skin to reveal a healthy, smooth complexion.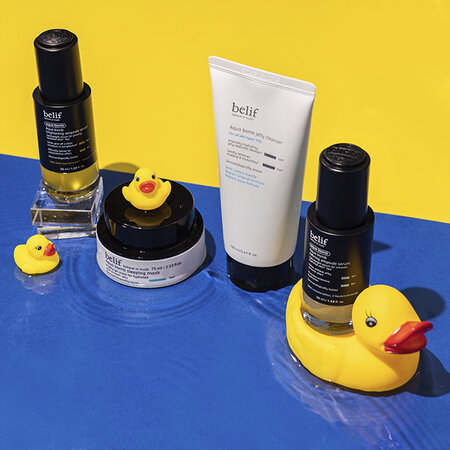 Pamper with extra hydration
Then, cap the night off with the
Aqua bomb sleeping mask
. This mask, which has a jelly-pudding texture, has a memory formula that envelops the skin with intense hydration, so you wake up with healthy and rejuvenated skin — say goodbye to dullness, dryness and fatigue — even during these stressful times.
Sign up for a trial kit of belif's best-selling items and enjoy a series of exciting activities lined up — including deals up to 25 per cent off, giveaways, exclusive bundle sets and more at belif's #AquaBombFestival — here.