Clozetters know that brows truly frame the face. Learning how to do your brows is a skill learned from trial and error, so it's always a great idea to consult a brow expert for some basic do's and don'ts when it comes to your brows. We hopped aboard the
Benefit Cosmetics Singapore
's #BenefitCruisinStyle to learn how to achieve brows on fleek with their newest product, the
Brow Styler
, and catch up with the brand's National Brow Artist
Rochelle Paz
.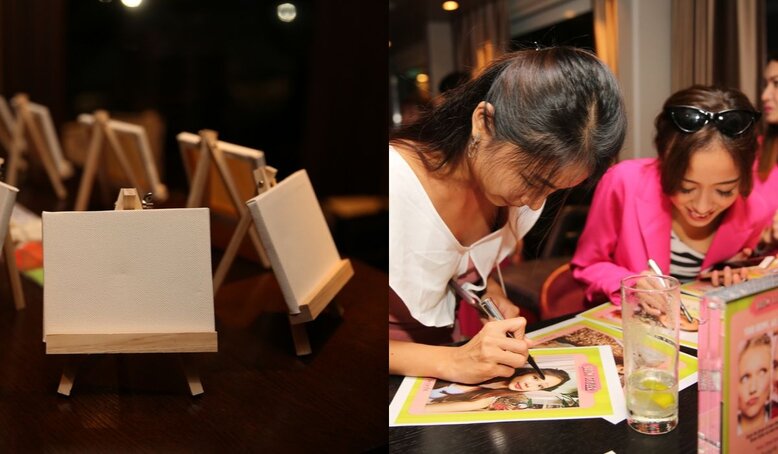 Painting with chalk and filling in our brows with the Brow Styler during the launch party.
The three-day cruise, which happened last 9 to 11 October 2019, began with a Chinese dinner. After dinner, we headed off to Benefit's Biggest Launch Party of the Year! The room was divided into three activity areas relating to the product, which is a two-in-one wax pencil and powder duo. It has a waterproof formula that boasts 18-hour wear and comes in eight shades.
To get to know the product better, we tried painting on canvas using chalk as a medium, showing how the loose filling powder in the Brow Styler helps fill in the gaps in your brows. We were also given pictures of ourselves, which we had to fill in using the new Benefit Brow Styler. Finally, we got to show off and have souvenirs of our Benefit-approved brows at the Photobooth.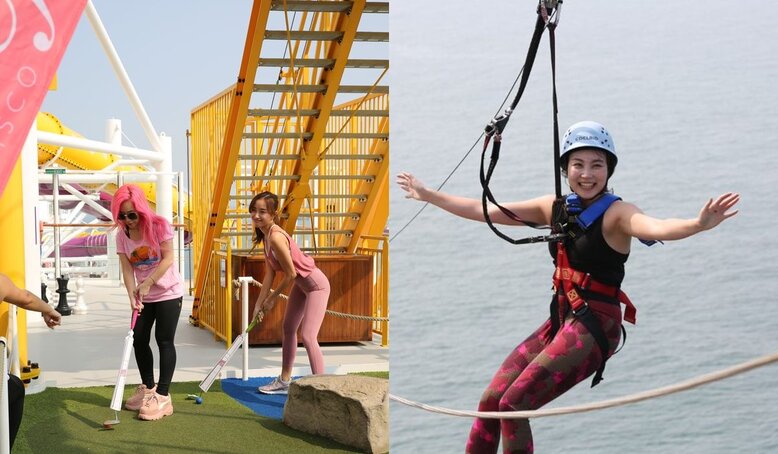 A day filled with fun activities like mini-golf and ziplining!
The second day was Games Day filled with mini-golfing, zip-lining, and Ping-Pong. To cap off the evening, we had a #FriendsWithBenefit dinner. After the delicious meal, a few of us were given the opportunity to talk with Rochelle, one-on-one. Read on to find out top tricks when it comes to doing your brows.
In the age of Insta-brows and K-beauty, what is a major brow mistake that people still do today?
"Drawing super blocky brows at the start of their brows, you know that square-ish kind? They also apply too much product when they start filling in their brows. Just to make it look balanced, they draw a straight line at the front of the brows and then they draw them too close to each other. People do this because they think drawing brows close to each other creates a slimmer-looking nose. But it's actually a misconception. You can still do it, but they need to be faded out and not look blocky."
How do you find the perfect shade of brow product for your brows? Do you match it to your eyebrow hairs to blend in, or your coloured hair, or your skin tone?
"Actually, all of those. For somebody with light-coloured hair, I base it on their brow hair colour and at the same time their skin tone. They're already being so adventurous with their hair colour so I'd just to give them a more natural look to complement their complexion and the hair at the top of their head. I would base it on their original brow hair colour.
For myself, I have light-coloured hair but my brows are pretty dark. So if I'm going to apply a lighter colour brow shade with my black hair, it doesn't look very nice. There's a contrast and you can really see the sparse spots even more. That's why I'm using a shade darker than my hair; in Benefit colours, I use shade 6."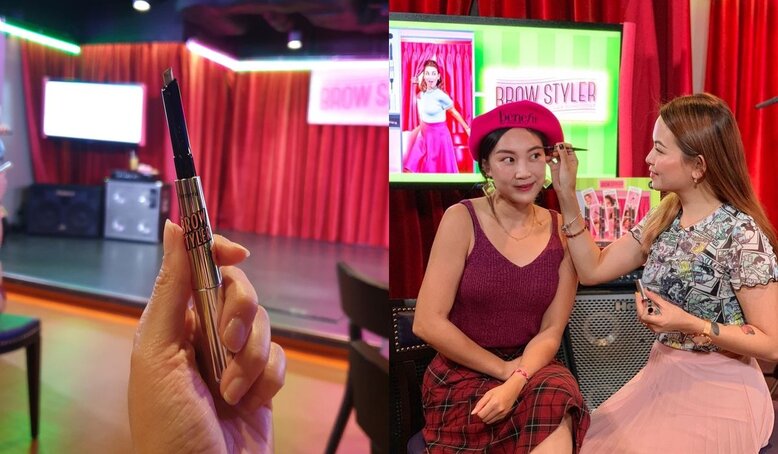 The Brow Styler in action, as shown by Singapore's National Brow Artist, Rochelle Paz.
From straight brows to perfect arches, how do you determine the 'right' brow shape for a Benebabe?
"You can get the right brow shape based on one's original brow shade and then their face shape... It's a case-by-case basis. Say, we have a square face shape, if we're going to have super straight brows, of course they won't look that good. So we could put a little bit of arch. It's really more of customisation."
Pomade vs. pencil vs. powder
—
which is better for Southeast Asia's weather?
"For Singapore's weather, I would go for pomade and pencil as long as the staying power is there. [Use a product with] at least 12-hour wear. It should also be waterproof. For us [in Benefit], most of our products are waterproof and very long-wearing. Priming your brows first also helps, because it will make brow product to stay on longer."
How would you rank eyebrow products?
"Pomade would be first because it's more pigmented. Next would be the pencil and then the powder."
Aside from brows, what makeup/skincare step is your favourite thing to do when getting ready for your day?
"I like applying serum because my skin is dehydrated. The serum tends to get absorbed by your skin faster."
The Benefit Brow Styler is now available in Sephora stores, Sephora.sg, and Benefit boutiques islandwide.