Don't we all crave for that healthy glow of sun-kissed skin all year round, even on the cloudiest of days?
Benefit Cosmetics
recently launched three new additions into the
Hoola Family
at Naumi Hotel's rooftop pool to give a glimpse into what a
Benefit TANtasy
would look like.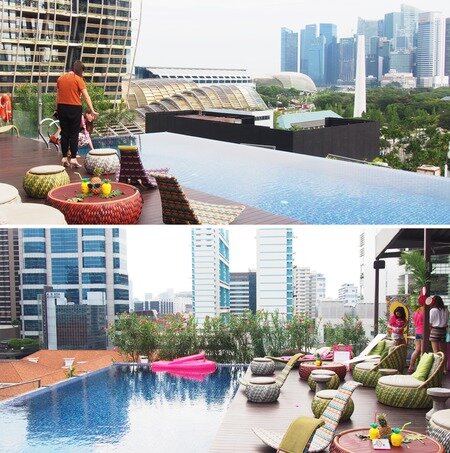 No longer will you have to waste your precious time on the tanning bed. No longer will you have to fret over orange-stained palms. No longer will you have to wreck your brains when making a decision between cute bikinis and ugly tan lines; the new Hoola products have got you covered – allowing you to look effortlessly TANtalizing and glowing (both your face and your body) all day long!
Guests were greeted by huge inflatable floats, comfy poolside chairs, smoothies blended with
VitaCoco
coconut water, as well as light canapés to get us into a carefree, vacation mood. The ever-bubbly Benefit team also demonstrated to us the application methods of the new Hoola products, dropping a few tips to ensure our successful transformation into bronze beauty babes!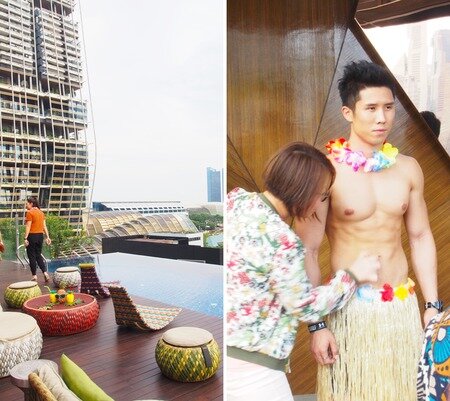 Everyone's heard of
Benefit's Hoola Matte Bronzer
, a cult-favorite in the beauty world. Now, with the new
Dew the Hoola
– a liquid matte bronzer – we can all look slimmer but yet, with no glimmer! The creamy texture of the bronzer melts easily for seamless blending; accompany it with the use of the
Hoola Bronzing & Contouring Brush
and it delivers that all day chiseled look. There is also glycerine in the product, which works to protect your skin from the harsh sun while keeping it supple and smooth.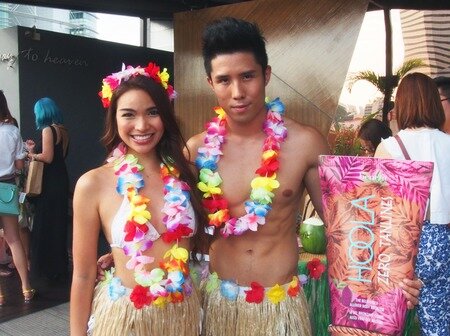 Besides the face, Benefit Cosmetics took bronzing one step further with the launch of the
Hoola Zero Tanline Body Bronzer
. The product has a transfer-resistant, 12-hour long formula that will leave a natural tan through the day! It comes with a sponge applicator at the top of the bottle, allowing easy application without exposing yourself to greasy, orange hands. Its buildable formula makes the product suitable for all skin tones, fair or dark.
Plus, here's a bonus: using the Hoola Zero Tanline Body Bronzer immediately brings you back to the beach and reminds you of a relaxing vacation with its citrusy sandalwood scent. Are you ready to Hoola?
--------------------------
The Benefit Hoola Bronzer Family is available at all Benefit counters in Singapore.