Standing behind the curtains are remarkable women whose roles in shaping the destinies of those in the spotlight are often overlooked. This month, we celebrate them and magnify their brilliance.
Coming across an inspiration that will spring you into action is rare — and for some, it comes from a person; that certain someone, through their own aspirational accomplishments has inspired others, or maybe it's from a loved one who offers honest, reliable advice. Without inspirational figures, dreams would just be imagined and never realised. As such, it's important to spotlight their contributions to the lives they've touched.
Fashion designer Dato' Sri Bernard Chandran (hailed as Malaysia's Prince of Fashion), visual artist Adam Ummar (also known as Univorso), and Clozette's Sales Director Neeraj Chhabra — all of whom were lucky enough to find a life-changing inspiration — share who their idols are.
Datin Sri Mary Lourdes Chandran inspires Dato' Sri Bernard Chandran to be better
Dato' Sri Bernard Chandran can't imagine life without his wife, former international model Datin Sri Mary Lourdes Chandran. He first saw her in a magazine and met her in the flesh when he was just 18 years young and with nothing to show for. "No money, no career, not even a social security," he said. All he had was big dreams for himself as a fashion designer, and he shared these aspirations with his then-future wife. While others may have laughed at him, Datin Sri Mary Lourdes instead encouraged him to pursue his heart's desire. "She's very mature, she was there to listen and encourage," he said. Even now, Dato' Sri Bernard shares that she gives the best advice.
More than his admiration for her elegance, the way she speaks and moves with grace, Dato' Sri Bernard has a lot of respect for how sensible and humble she is. Even as she's surrounded by glitz and glam as a model, she's never chased materialistic goals. "She's a very down-to-earth person. She never looks down on anyone," he said.
Dato' Sri Bernard shares that she's the one who grounds him. As a creative, he has a lot of wild, carefree style ideas but it's his wife who reminds her that clothes are "wearable art" and that brings balance to the work he creates.
"It can be upsetting when some question my creations, but in the end, she pushes me to not be lazy and think deeper and out of my comfort zone," he said. Dato' Sri Bernard admits that it's ultimately what he needs — someone to ground him, to tell him the truth even when he doesn't want to hear it, and nobody does it better than Datin Sri Mary Lourdes. "She's very patient," he said. "When I do something wrong, she doesn't attack me then and there and patiently waits for the right moment to tell me what's wrong. I aspire to be like her and to be more patient."
Dato' Sri Bernard shares that he lives by the best advice his wife gave him: "She always tells me to be patient and don't rush into anything. And that if I fall, it's okay, you can climb again and again. She wants me to be careful but she's not prohibiting me from not pursuing things." Flattery is often wrongly perceived as love, but love doesn't always mean telling you only the nice things. True love means telling the truth to make you realise your mistakes and make you a better person. We can only hope to find the Datin Sri Mary Lourdes to our Dato' Sri Bernard.

Sharina Shahrin paved the way for Adam Ummar
Adam a.k.a. Univorso met fellow artist Sharina for the first time when he was helping her with painting abstract murals at The Hungry Tapir, a quaint vegan resto-bar in Kuala Lumpur.
"While working on the mural with her, I had interesting conversations about art, the role of art in our local community and how art can act as a tool to forge connection amongst everyday people," he said.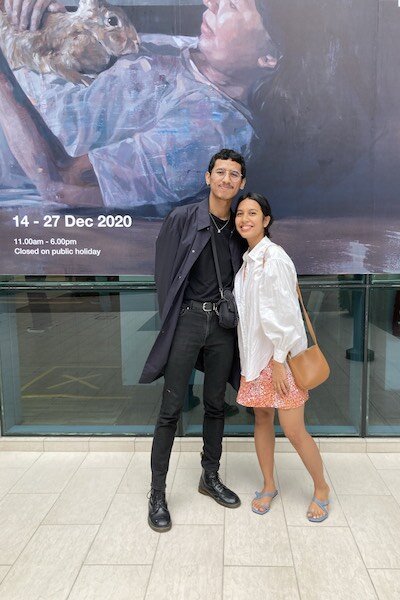 But even before their first meeting, Sharina has already inspired Adam's pursuit of art through the works she posts on Instagram. Full of passion but self-admittedly still clueless about how the art world works, young Adam looked up to Sharina and took cues from her. "Peering through her artistic world through Instagram introduced me to a technicolour abstract realm that piqued my interest. She was very much my creative idol when I was younger. Truth be told I was quite starstruck the first time I met her," Adam said. He especially admired Sharina's inquisitive and intuitive nature which shows in her "otherworldly colour schemes and the way she fuses modern abstract art with our Nusantara heritage."
While others would see budding talents as a threat, Sharina instead supported Adam and was the first person to commission a painting from him. "That helped me build my confidence and was my first step towards practising art as a full-time endeavour. In my creative practice, her choice of colours and intuitive expression has definitely influenced my works," he said. True enough, while still very much distinct, Adam's psychedelic artworks has a touch of influence from Sharina's style.
He also shared that there is a constant struggle for abstract art to gain recognition and validation. Critics would make snide remarks, claiming that abstract artworks can be done by anyone, even a child. And without someone as inspirational as Sharina in the Malaysian art scene, Adam believes the younger him would have been a lot more hesitant to pursue this line of work.
"She helped pave the way for me, I believe," he shared. "As the world changes at break-neck speed, an artist must continually reinvent themselves; through the act of critical and mindful creativity, art practitioners have a responsibility to envision a world where things could and can be different. Sharina helped me do that, she helped me manifest my creative imagination into reality. She inspires me to be true to my authentic, creative and idiosyncratic self," he said.
The path less travelled is scary but when there's someone who has already trailed the road ahead and is ready to support you, things become a little less daunting. To Adam, Sharina will always be that trailblazer who paved the way for him.

Michelle Obama inspires Neeraj to be more graceful
Sometimes, inspiration can come from total strangers that we have a parasocial relationship with. For Neeraj, it's Michelle Obama who inspires him to become a more put-together, graceful person. "All the interviews and moments caught on camera that I have seen highlights her demure yet powerful presence," he said. Neeraj says that as the former first lady of the United States, Michelle Obama has set the standard of what someone in her position should be like — humble, helpful and inspirational. "I like how she's classy and at the same time sassy," he said. "She brings a positive aura and handles herself extremely well with grace and poise. I wish I had her gift of gab to be able to speak positively on any topic."
In his every accomplishment, most recently completing a Master's Degree from Birmingham University, Neeraj channels Michelle Obama's character and tries to become more patient in his pursuits. He wishes to meet her in the future, although he admits that there's a slim chance of that happening. Even if they don't meet, watching someone like her from afar has made Neeraj's life a little more meaningful.
Inspiration is somewhat a surreal concept. It's everywhere but elusive. It has an unlimited supply but also hard to get a hold of. However, finding inspiration would be a little easier if we look for it in the right person.
(Cover photo from: Adam Ummar, @bernardchandran)
Next, get to know the mentors of accomplished Filipino men.