It was one of the usual nights that me, my husband and my brother were watching television at my place and we were in dilemma to plan the coming long weekend and decide the place we want to go this time. After a lot of hotel and ticket research my hubby suggested we go - Hong Kong as we had never been there earlier, also the flights were not too expensive and it was just a 4hr odd flight plus a new destination will be added to our travel diaries. He quickly booked the tickets/hotel and we were quite happy to know Hong Kong has Visa on arrival so there would not be that hassle of getting our Visa processed. We went shopping the other day and packed our bags, I was super excited for the fun that was to knock in at our doors, bonus was we would also be getting to see how Chinese New Year is celebrated in HK.
We booked Malaysian Airlines and got lucky to be upgraded to Business class, we were to stay in Hong Kong for 2 nights and 1 in Macau, I usually love to plan and write an itinerary whenever I travel, because that helps to cone down the places I want to visit in priority and places to be missed if not important.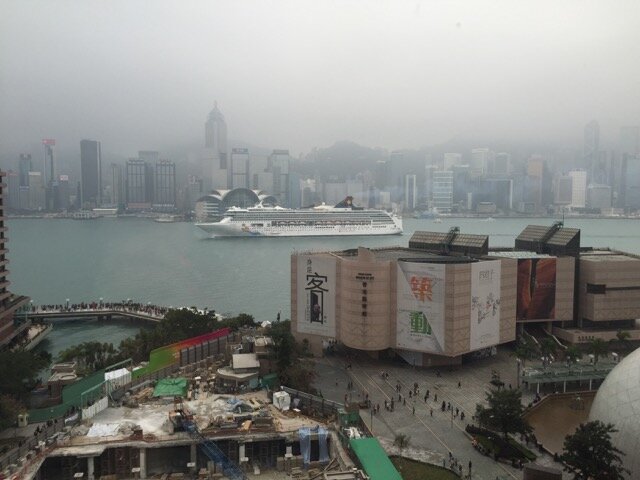 View from my room on 21st floor !!
We stayed at Park hotel for the 1st night due to huge rush and unavailability (obviously we would not have got a desired hotel on last moment plans) plus Chinese New Year was round the corner. We explored the streets at Tsim Sha Tsui at Kowloon, it was a shopping paradise with all the luxury brands and street shops sandwiched between lanes and hotels. I did feel like having a look at Tiffany and Gucci though but I had to control myself until the last day, which I only had proposed to be kept as "Shopping Day" (my bad).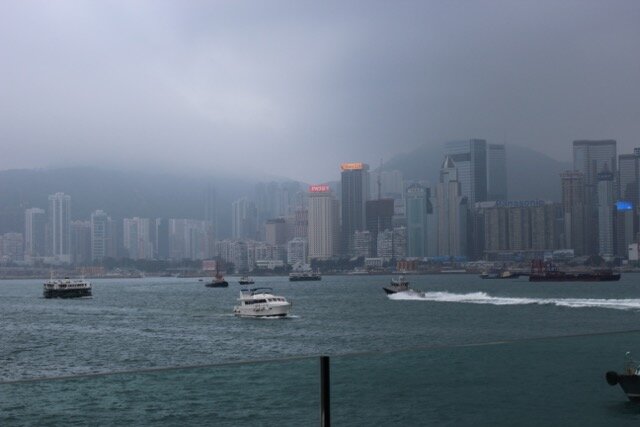 I loved how the streets were so colourful, crowded and alive with music , the most I loved was the cold, windy weather in HK. I love winters, I was happy to know the temperature would be low, but I did not expect the place to be so windy, and hence I shopped for - overcoats, scarf and boots. Both my hubby and brother had kept jackets and pullovers, and I did not take them seriously but now I did. But I was loving the feel, the cold, chills and wind, walking on the streets at midnight all wrapped in scarves and gloves is what I had always desired.

There was a bridge in front, a you can see in the picture it was always crowded and filled with people walking, we went there each morning and night to enjoy the weather.