We're sure you are familiar with the Korean 10-step skincare routine. The elaborate steps promise the coveted glow that Korean superstars sport. But over time, many have come to realise that sometimes, less is more. You only need a few reliable and trusted products in your daily life to give you the same results.

This rising trend has been referred to as "skip-care." The idea is simple: you focus on the ingredients of the products and identify which ones your skin needs and those it doesn't.
What if we tell you we have found the product that can simplify your skincare regimen?
The key is to find a product that can take the place of others. And that's exactly what
APSKIN
, the world's most advanced antioxidant cream, can do. Created by Sydney-based Dr. Vincent Candrawinata, the youngest PhD. holder in his field, APSKIN antioxidant cream is formulated with Activated Phenolics, an active ingredient extracted from Australian apples that helps make skin more radiant and youthful. The ingredient is the result of breakthrough technology more than 80 years in the making that harnesses the goodness of nature. APSKIN has high absorption levels, rich in nutrients, and it nourishes and targets skin regeneration at the cellular level.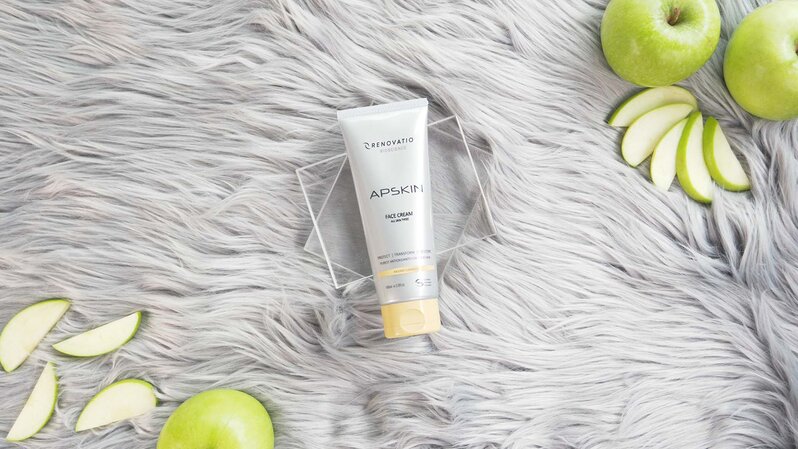 Plus, it uses SMARTSENSE™ Technology that senses the skin's hydration level, making sure APSKIN diffuses just the right amount of moisture needed by the skin up to 24 hours. It also ensures that Activated Phenolics are diffused immediately into the skin tissue, giving your skin instant radiance.

So how exactly can APSKIN simplify your skincare routine? Here are some of the things it can do.


For your skincare
After getting rid of impurities from the skin, we tend to use a toner, serum and moisturiser to balance the skin's pH value, promote cell restoration and hydrate it. But with APSKIN, you'll be able to do all that with just one product. APSKIN also promotes elastin and collagen production, giving you radiant and youthful skin after three days.
It even targets fine lines and other signs of skin ageing, removing the need for eye creams or other products that promise targeted solutions. APSKIN also helps to get rid of skin redness, acne scars, and tackles problems caused by sun damage such as sunspots, dryness and dullness.
APSKIN antioxidant cream is safe for all types of skin — even sensitive and acne-prone ones— so just about anyone who wants a more radiant complexion can use it. In fact, it's so gentle that you can even use it around your lips or under your eyes as an eye cream.

For your makeup


APSKIN hydrates the skin that any makeup you put on top of it glides on smoothly and stays on for hours. It's not sticky or oily and doesn't build up or crack, making it the perfect foundation primer. And because of the benefits it gives the skin, in time, this will also help you go foundation-free.


For your body care

Don't forget your body! APSKIN can also be used as an all-over body moisturiser. Its hydrating active ingredient ensures that you have radiant, healthy skin. It's especially great for skin areas that tend to be drier, such as elbows and knees. It also works really well for skin conditions such as eczema, psoriasis and dermatitis.


DUE TO OVERWHELMING RESPONSE, THE SAMPLES HAVE BEEN FULLY REDEEMED.
THANK YOU ALL FOR YOUR PARTICIPATION!
Try APSKIN for yourself. You can buy online at Biovida, or visit their retail partners listed here
Redeem your sample of APSKIN here!
*Giveaway runs from 11 January to 11 February 2019
*While stocks last
*Exclusive to Malaysia residents only
BIOVIDA APSKIN ANTIOXIDANT CREAM SAMPLING PAGE
TERMS & CONDITIONS

The Biovida APSKIN Antioxidant Cream Sampling Page is open to all eligible participants as stipulated in clause (2) below. By submitting an entry to the Contest, you are deemed to have agreed to be bound by these Terms and Conditions. Please read these terms and conditions carefully before you enter this campaign. Clozette reserves the right to amend the Terms and Conditions at any time without prior notice.


SAMPLING INFORMATION

This sampling campaign is organised by Clozette Pte Ltd ("Organiser") in collaboration with Biovida Sdn. Bhd.
The campaign begins on 11 January 2019 and ends on 11 February 2019, while stocks last.
The Organiser reserves the right to vary, extend or end the campaign period at its sole discretion, or if the sampling campaign is not capable of being continued for whatever reason or other reasons pursuant to the Terms and Conditions of this sampling.



ELIGIBILITY

The sampling campaign is open to all first time participants aged 18 and above.
Each participant is entitled to receive an APSKIN Antioxidant Cream 7ml sample

(limited to 1 sample per address)

The sampling campaign is open to Malaysia residents only.



SAMPLE REDEMPTION MECHANICS

To qualify, the participant will have to sign up and submit her/his particulars (Name, Email, Contact Number, Date of Birth, Mailing Address and Country). Participants who have successfully completed the Redeem Sample form will receive an APSKIN Antioxidant Cream 7ml sample (while stocks last).
The Organiser reserves the right to place the samples with items of similar value in the event that the samples become unavailable.
The sample will be sent via mail by representatives from Clozette within 4 weeks from the end of the sampling campaign.
The Organiser will not be responsible for wrongly entered information, delays, loss or damage to the sample/mail during mail transit.
The Organiser's decisions are final and no correspondence or questions will be entertained. The Organiser will not be responsible for any delays, loss or damage to the sample/mail during mail transit.



RIGHTS OF THE ORGANISER

The Participant agrees that all materials submitted by the Participant for this sampling campaign belongs to the Organiser.
If for any reason this sampling campaign is not capable of running as planned due to any reason not limited to infection by computer virus, bugs, tampering, unauthorised intervention, fraud, technical failures, or any other causes beyond the control of the Organiser that corrupt or affect the administration, security, fairness, integrity, or proper conduct of this sampling campaign, the Organiser reserves the right, at its sole discretion, to disqualify any individual(s) who tamper with the entry process, and/or to cancel, terminate, modify, or suspend this sampling campaign. If the Organiser elects to cancel or terminate this sampling campaign, the Organiser will not retain any rights in the Entries.
The Organiser reserves the right, at its sole discretion, to remove and disqualify any Participant and/or entries found or suspected of cheating/hacking/tampering with the sampling campaign submission process, the operation of this sampling campaign or to be in violation of any Terms and Conditions of the sampling campaign. The Organiser reserves the right to pursue legal action against any individual whom it believes to have been involved in fraudulent activities or other activities harmful to the sampling campaign, the Organiser or the Contest submission process.
The Organiser reserves the right to vary the Terms and Conditions of this sampling campaign at any time at its absolute discretion without prior notice.
In the event of any conflict between these Terms and Conditions and any terms contained in any promotional material for this sampling campaign, the terms contained herein shall prevail.



LIABILITY & RESPONSIBILITY

The Organiser, its partners, advertisers, sponsors, affiliates, authorised agents or participating agencies accepts no responsibility for entries lost, damaged, delayed in the post, or due to computer, IT or any technological error. The Participant is responsible for ensuring that his or her entry complies with all the terms and conditions of the sampling campaign, the rules of the sampling campaign and that his or her entry reaches the Organiser in the form required by the Organiser.
By entering this sampling campaign, all participants agree to release, discharge, and hold harmless the Organiser, its affiliates and agencies, and their employees, officers, directors and representatives from any claims, losses or damages arising out of or in connection with their participation in this sampling campaign (including but not limited to, any error in computing any transaction, any breakdown or malfunction in any computer system or equipment), any sampling campaign -related activities and the acceptance and/or use, misuse, or possession of any prize awarded hereunder. The Organiser reserves the right to alter or modify these Terms and Conditions at any time without notice.



GOVERNING LAW AND JURISDICTION

These Terms and Conditions shall be governed by Singapore laws and the participants of the sampling campaign shall submit to the exclusive jurisdiction of Singapore courts.
Availability of this sampling campaign in any country is subject to such sampling campaign not being unlawful or restricted under the laws of such country. Your ability to enter the sampling campaign does not constitute any offer by the Organiser to a party in a jurisdiction where the availability of the contest is unlawful or restricted.



PRIVACY NOTICE AND CONSENT

Your personal data, including without limitation the personal data obtained from you directly when you provide us with personal information, e.g. when you register for our contests and/or roadshows, buy a product or service from us, sign up to receive information, use our applications, fill out a survey, or make a comment or enquiry, and/or any further updates provided to us by you in relation to your personal information ("Personal Data"), will be processed for the purpose of your participation in our contest and/or roadshow and/or events, to provide you with products or services that you request from us, to provide you with advance notice of our future events, to respond to your inquiries, to provide you information about our and our partners', sponsors' and advertisers' products, services and/or new releases which may be of interest to you, to invite you and your subscription to our newsletters, and/or for auditing purposes in cases where there has been a dispute, collectively "Purpose".
We also wish to inform you that your Personal Data may be disclosed to third parties, such as to our headquarters, regional offices, subsidiaries, affiliates and/or members within the Organiser's group of companies, and/or our service providers, advertisers, sponsors and partners which may be located outside of your country, for reasons relating to the Purpose.
If you wish to access, correct, limit or update your Personal Data, or to make any inquiries or complaints about the processing of such information, please contact us:

Clozette Pte Ltd
25 Harrison Road
#06-00 Chin Lim Industrial Building
SINGAPORE 369646

Attention: Clozette Compliance Team
Email: [email protected]
Tel: +65 6281 0860

Kindly note that it will be necessary for us to process your Personal Data, without which we will not be able to carry out the Purpose. For more details on how we process your Personal Data, do visit our Privacy Policy at http://www.clozette.co/info/privacy