I'm always on the lookout for a good moisturiser, especially since I have dry spots that desperately need hydration. But I am also quite a minimalist when it comes to skincare, as I find that my skin stays clear most of the time (excluding some minor breakouts every now and then) and I certainly don't want to mess up that good juju. So when I started trying out the
Biossance Squalane + Omega Repair Cream
, which retails for SGD85/~USD62.39 for a 50ml product, I did so with utmost caution and low expectations.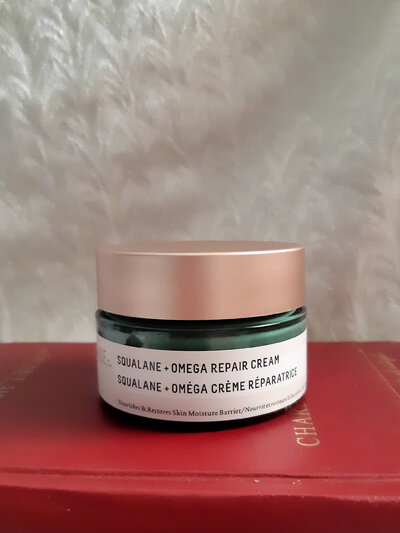 Biossance Squalane + Omega Repair Cream
This moisturiser has garnered quite the enthusiasm among the online beauty community, with people raving about its super-hydrating qualities. The brand claims that it can be used by people of all skin types, especially those with sensitive skin. Since it was so hyped about, I knew I needed to see how this moisturiser would react with my oily-combination skin. Here are my honest thoughts.
Packaging, Appearance and Texture


Its packaging is very sleek and luxe-feeling; it has a good hefty weight and comes in a jar with a dark green hue. It also has a secondary cap to keep the product from spilling. However, upon opening the tub, it gave off a scent that was off-putting as I am mildly sensitive to scents in my skincare. Despite them saying that it's fragrance-free on the packaging, I couldn't quite pinpoint the origin of the scent that was really noticeable.
Application and Usage


Since one of its active ingredients are omega lipids, the cream is very thick. It's mostly weightless but I did notice that there was a slight film of product that stays present for several minutes before it truly sinks into the skin. However, I found this to be a very good thing during colder weather as my skin was very dry. I was able to use it both in the morning and at night, without it feeling heavy. In more humid weather, I find that I can only use in small increments especially when applying it on or near my T-zone where I oil up the fastest. I tend to load it up at night before going to bed to gain the most benefits from its hydrating properties.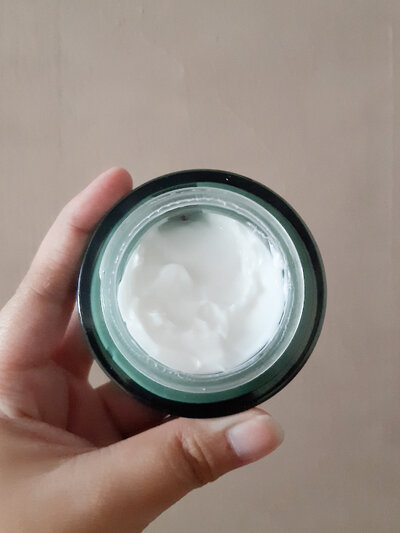 I barely used half of the contents, even after weeks of twice-a-day application. A little goes a long way.
I admit that I was very hesitant to include a heavy cream into my routine, especially one that targets the appearance of fine lines. I did notice that my skin felt very soft and hydrated, even when using the smallest amount. My dry spots disappeared after several weeks of continued use. I do think that you need to use a serum or light facial oil prior to applying it, or apply it to still-damp skin, as the thick formula may feel a bit dragging if you apply it to completely dry skin. I didn't experience any breakouts while trying this product, which I really liked.
Overall Thoughts


There are mixed reviews about the Biossance Squalane + Omega Repair Cream that can be found online. Most people seem to love it while others completely dislike its smell. As for me, I found myself liking it for its effects and disregarding the scent (eventually).
I think that a lot of people with dry skin will like how nourishing the formula really is. However, as someone who has oily-combo skin, I found that I needed to test out the perfect amount to apply so as not to have that shiny finish. It made my skin feel soft and hydrated, especially when used as a night cream. I cannot claim that it will be good for all skin types, especially for sensitive skin as I don't have it, as they claim on their website. I find that while my drier areas love it but I had to practice control when it comes to my T-zone. I do applaud them for being a cruelty-free, clean beauty brand.
Skincare is always a personal journey, and it all depends on our personal preferences. It does the trick if you're looking to rehydrate and repair your skin barrier. If you want to splurge on an effective moisturiser, you can find it on
Sephora Singapore
.
(Cover photo from: @biossance)