From visiting historical sites to finding the best authentic cuisine, travelling is one of life's greatest adventures. Our "Travel Notes" series features travel itineraries from real people as inspiration for your future escapades.

For the New Year, my boyfriend and I decided — on a whim — to kick off the new decade sprawled semi-naked under Boracay's dazzling sun. This decision was made mid-December, a.k.a. the worst time of the year to book airline tickets. So as a consequence of our impulsivity, we met roundtrip airfares that reached around PHP50,000 (~USD1,000) for two.
That is how we found ourselves on a boat.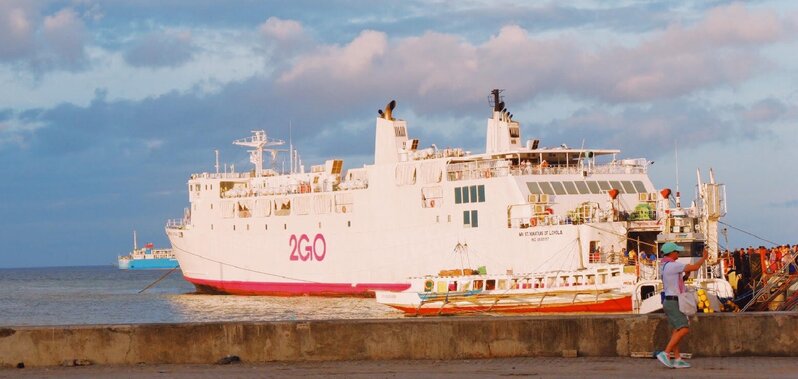 In the face of sky-high airfares, 2GO Travel saves the day
Preparing for the trip
"How many days will that take?" my aeroplane-flying friends asked before I left.
Just nine hours, it turns out. This voyage from Batangas Port (south of the Philippine capital, Manila) to Caticlan Jetty Port (the gateway to Boracay), however, still requires a two-hour land travel if you're coming from Manila, which is where the nearest international airport is located.
After scanning our options online, it took a simple telephone call to 2GO Travel to book a Stateroom (PHP5,286/~USD104) — the highest equivalent of a suite in certain ships — which included breakfast. It took a mere two days for the tickets to be delivered, and our payment to be collected (via COD). Those who are travelling from abroad can purchase tickets at any of the outlets nationwide. Booking online is also possible, but not for the stateroom or suite accommodations.
With a 50-kilogramme baggage allowance, it was tempting to pack my entire closet but I despised the idea of having to haul heavy luggage in and out of boats (even with the help of porters, carrying your own bags is inevitable). Apart from the usual trolley, duffel bag and purse, I carried some Bonamine (meclizine hydrochloride) to guard against motion sickness.


Day 1: Sailing to Paradise

Batangas Port to Caticlan Jetty Port
If you've ever thought negatively of Manila's airports, wait till you enter the pier. Unlike airports, which have automatic entrances and glimmering floors, at the pier, you will have to squeeze into narrow corridors along with humans and livestock. There is no Starbucks or Duty Free — just stalls purveying hot porridge (they're delicious, just watch out for the free hair). If you're accustomed to waiting around the airport in a chair, prepare to watch people sleep on the floor, beside discarded toilet paper and puddles of mud.
Past the pier, the ferry is like the pearly gates to heaven. Entering the section for suites, we were welcomed at an expansive lobby with Parisian decor, complete with a chic cafe.
2GO Travel's ferry lobby is très chic
It was hard not to feel like royalty in our stateroom, given that we had two king-sized beds — one for each person. The stateroom was equipped with air-conditioning, a television set, a mini refrigerator, electrical sockets, a desk, closets, and an en suite bathroom.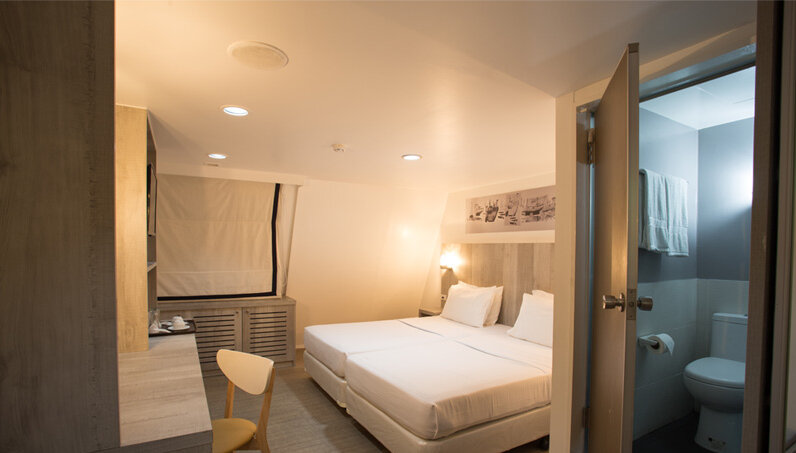 The room was too cosy, I slept from 9 p.m. all the way to 6:30 a.m., or the entire duration of the voyage. When I woke up, breakfast was served.
Day 2: Last Day of the Year

White Beach and Savoy Hotel
As a child in the early 90s, I saw Boracay back when White Beach was not lined by hotels but peppered by huts, oblivious to the fact that in a few years, my childhood playground would become a cesspool.
Due to numerous violations of building and sewerage regulations, as well as deteriorating environmental conditions, in 2018, the Philippine government closed the island for six months for rehabilitation.
Coming on the last day of 2019, I witnessed how the beach had become visibly wider. With this, beach bums now had the chance to lounge on the pristine, powder-fine white sand under the shade of swaying coconut trees.
And this time, there was no slimy algae.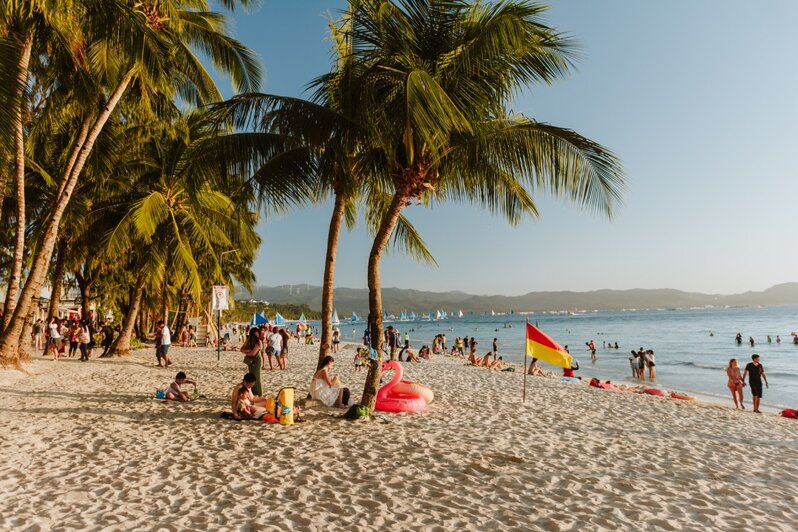 Boracay Island is back, beaches.
After several returns since my childhood, only now did I feel like I was finally home.
And when the sun took its final dip into the ocean to close the decade, the sky changed its colours, the boats set sail, and the waves calmly washed across the shore. For a moment, it felt like an assurance: everything is in now its rightful place.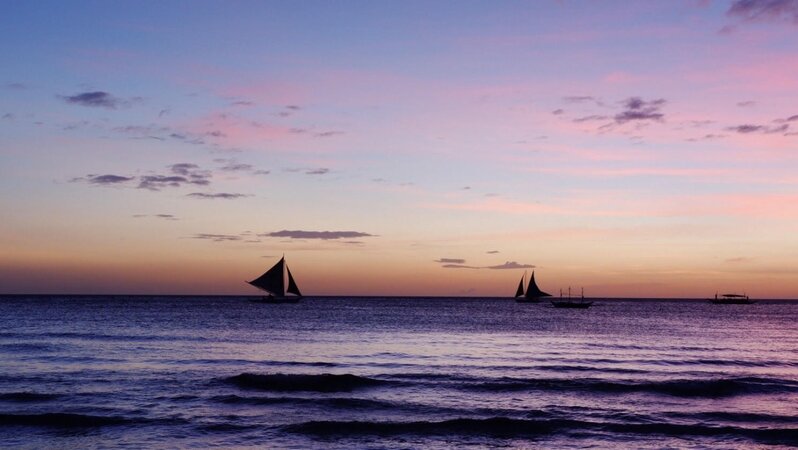 The last sunset of 2019
After sunset, we trooped back to the hotel to prepare for the New Year festivities.

Even for last-minute jet-setters like us, it was relatively easy to book a room at Savoy Hotel Boracay (around PHP8000/~USD158 per night), what with six storeys and 600 rooms on a sprawling 1.8-hectare land area. The hotel, which has a swimming pool, ballrooms, fitness centre, spa, restaurant and lounge, has plush interiors designed by award-winning FBEYE International based in Singapore. For its well-appointed rooms, the hotel is well worth its price.
Spectacular design aside, there were a few unignorable misses, particularly with regard to service. Often when we called the concierge, the phone would be unattended. We asked to have our fridge checked twice, we never heard back. For two days, our room wasn't visited by housekeeping despite us leaving the door sign on. When we raised this to the front desk upon our check-out, their reply was a curt, "maybe you didn't leave the sign on." And the most unforgettable: the hostess at the restaurant expressed her dismay by rolling her eyes.
But if there's something that Savoy knows how to do well, it's throwing an amazing foam party to ring in the new year.
Day 3: Supper, Sunset, Spa

Aria and Boracay Haven Spa


Reeling from a night of partying, not to mention waking up with fatigue from two full days, we rose at 4 p.m. — too late to do anything yet too hungry to take a dip by the sunset. An early dinner was in order.
Aria, a beachfront restaurant at D'Mall, was the perfect setting to devour authentic Italian food while watching the sun sink in the background.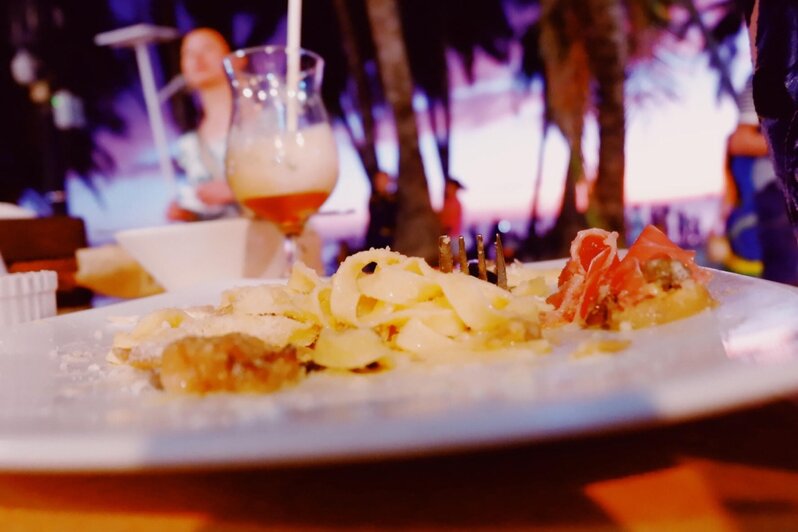 Pasta with a side of sunset
Of the smorgasbord that we ordered, it was the tagliatelle con tartufo, asparagi e prosciutto di parma (PHP590/~USD12) that stole my heart. As it landed on my plate, the fragrant truffle scent wafted in the salty air. The al dente homemade pasta jiggled as I rolled the noodles around my fork. The sauce was mild, creamy, and offered the perfect balance against the drizzle of parmesan cheese, with the chewy, paper-thin slices of pork introducing more saltiness.
Nothing on this island pairs better with the breathtaking sunset than this plate of god-sent pasta. Anything else is sacrilege.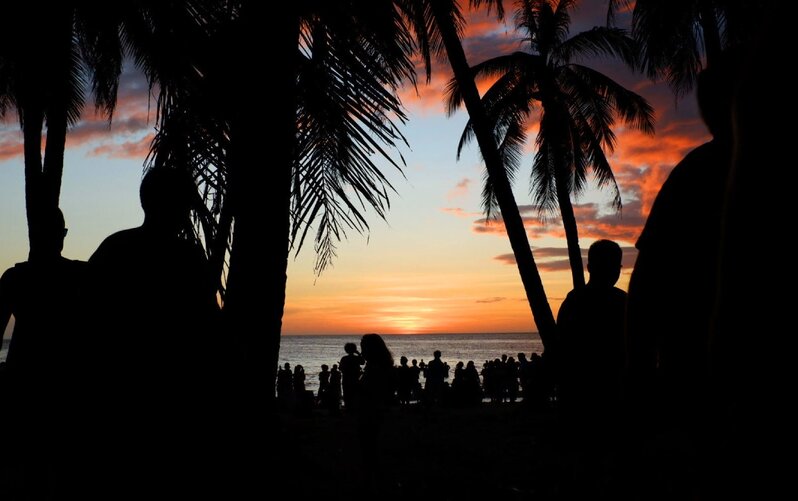 Boracay's iconic sunset
With nothing else to do — and with a little guilt — we went to Boracay Haven Spa, the in-house spa of the eponymous boutique hotel. Apart from the five-star service by all the staff starting at the front desk, the hotel offers an excellent Swedish massage (PHP1100/~USD22) experience, where every kneading stroke will gently put you to sleep (again).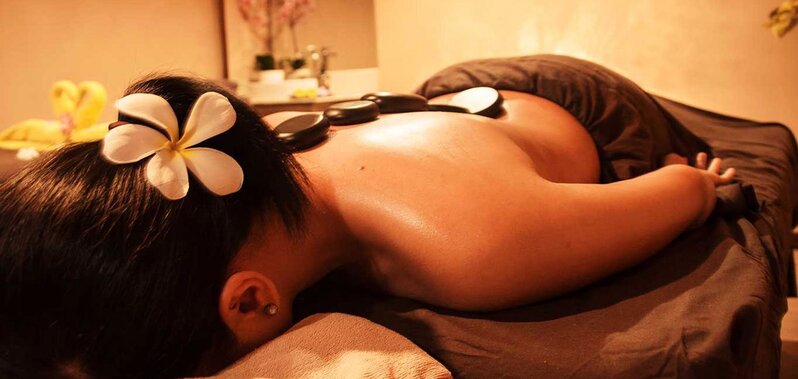 Day 4: Island Hopping

Crystal Cove Island, Crocodile Island, Magic Island, Puka Beach, and Balinghai Beach (supposedly)
Skip this if you're not into doing physical work during a vacation. By preference, I despise island hopping boat tours because: one, I do not like going out in the sun in the early afternoon, which is where all these tours are typically scheduled; and two, I don't like to hop on and off boats and walk across rocks and do it five times within five hours.
But for the sake of love, I joined an island hopping boat tour (PHP800/~USD16 per person, including lunch) with my boyfriend after his never-ending pleas.
Due to weather conditions, the motorboat couldn't dock at most of the islands. And perhaps, due to poor coordination among the boatmen and their men on those stops, we had to go near beaches and rock awkwardly until they decided that we wouldn't make it. We proceeded to lunch despite not shedding a single drop of perspiration. This lunch, which took place at a setting reminiscent of Slumdog Millionaire, took over an hour and was composed of an equally depressing fare.
After this forgettable lunch, the boat didn't go anywhere else but a Coral Garden where most corals were dead.
Then, the boat returned to White Beach, and despite not accomplishing even half of the itinerary, they never offered a refund.
Following this disappointing activity, we ran to Jonah's Fruitshake, the number one fruit shake establishment on the island, to down their best-selling Banana Peanut shake (PHP160/~USD3) and dispel all negative vibes.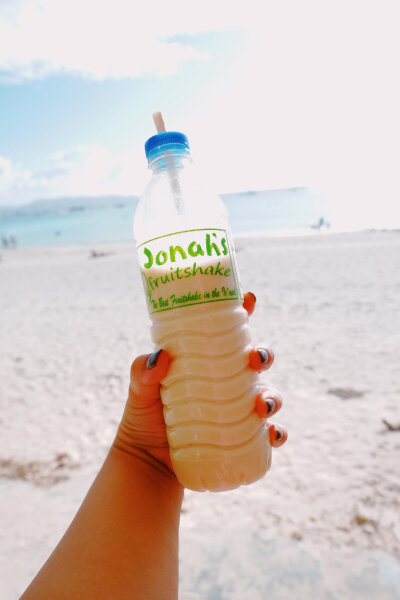 Jonah's undisputed Banana Peanut shake
It was worth it.
Day 5: Sunset Paraw and a Farewell Misadventure

White Beach, Caticlan Jetty Port
In an attempt to undo our traumatic experience, we booked a paraw (PHP600/~USD12 per person), a double outrigger sail boat that is native to this region of the Philippines. The paraw was set to leave at 4:30 p.m. — at the start of sunset on our last day on the island.
As the sun began to paint the sky lavender, pink and tangerine, the sea calmed down and reflected the colours above it. The wind blew the boat across the infinite bed of aqua and pastel. The farther we were, the fewer the people. In the middle of the ocean, under the cotton candy sky, there is nothing else to see but beauty, clarity and other sailboats quietly passing by.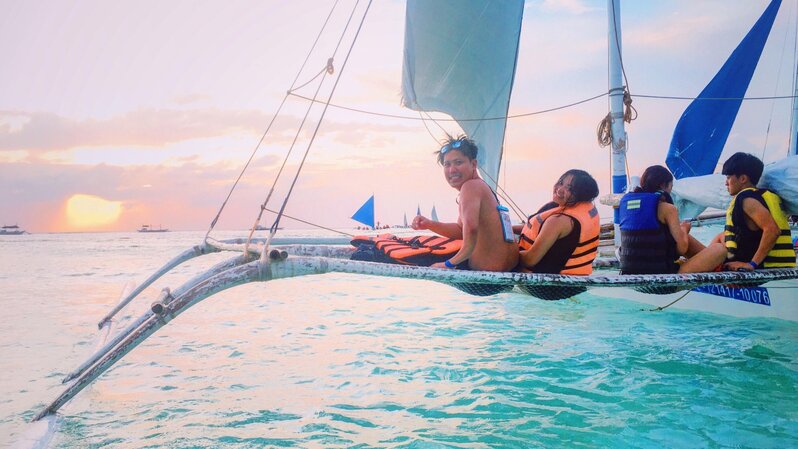 A paraw ride can change your entire trip dramatically
For our last dinner on the island, we paid a visit to
The Pig Out Bistro
on the main road near Station 1, one of the top-rated restaurants according to TripAdvisor. And while it is away from the beachfront, the exquisite food compensates for the lack of a seaview, with every morsel of seafood taking you back to the ocean.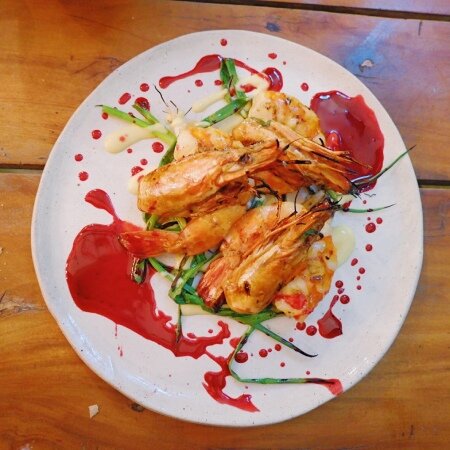 Pig Out Bistro's tiger prawns are painfully delicious
After dinner, we headed back with our luggage to the Caticlan Jetty Port, and due to a storm that delayed the ships from various departure points, we were left stranded along with thousands of other people (and livestock). The pier didn't have enough seats to accommodate everyone, it was pouring outside, the floors were muddy, the staff refused to take payments for the terminal fee, there were no clear updates on the status of ferry arrivals, and overall, tension was building up in the humid air.
We were lucky enough to take two seats (though far, far apart from each other) from the scarce supply, but because of the tight competition, we couldn't leave our seats despite the urge to urinate.
This went on for about six hours. When we were finally able to check-in at the ferry, we just allowed the waves to rock us back home.
Travelling by sea is a pleasant experience via 2GO Travel's line of ferries because you get the benefits of a first-class airline accommodation for a fraction of the price. But if you are privileged with the luxury of choice, and if you have a better option to travel by air than by sea, then I suggest you skip the ferry. The idea of sailing to and from paradise is romantic, but until the Boracay rehabilitation trickles down to its jetty port, a spacious king-sized bed in a gleaming stateroom is not worth the trouble of holding your pee.
Day-dreaming about your next trip? Explore your options here.