As the number 1 Luxury Skincare Brand in France with over 60 years of skincare expertise, Clarins recently launched two new additions to their whitening range - Clarins White Plus Tri-intensive Brightening Serum and Clarins UV Plus Anti-Pollution SPF 50/PA++++. If you have always wanted to try Clarins' whitening range, now's your chance.
When daily life becomes a daily grind, what is the thing you enjoy doing that lets you stay on the brighter side of life? Sometimes, it's the simple things that keeps you going. In my case, blogging keeps me sane. When you are doing serious work as your full-time job, it is necessary to have a meaningful hobby. To me, writing about what I love and sharing my passion is becoming a necessity. I also hang out with people who share my passion and ideas.
So what keeps you going and what makes you happy? Share your photos with us using the hashtag
#abrightersideoflife
and tagging
@clarinssg
, and three inspiring photos will walk away with a Clarins Brightening gift pack worth $200! Contest is from
28 Mar – 17 Apr.
--------------------------
After 20 years of whitening innovation and being the expertise of Plants and Science, Clarins have identified the precious benefits 
of a "whitening-in-control" plant extract – Acerola Fruit 
to create this revolutionary brightening serum.
In addition to the actions of the Acerola fruit extract (which has up to 6x more Vitamin C than an Orange), the seed extract found in this bottle of magic helps enhance cell oxygenation, which additionally boosts the skin's radiance and translucency.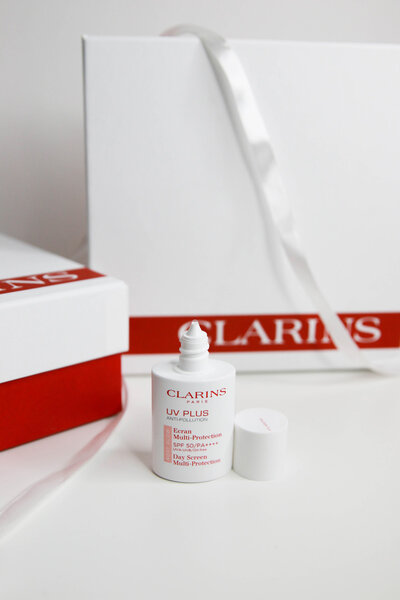 Not exactly new to Clarins, but newly formulated, the Clarins UV Plus Anti-Pollution SPF 50/PA++++ specifically developed for Asian skin is now available in three shades to suit all complexions:
Neutral
,
Pink
and
Blue
. Being fair, I am mostly pale without foundation hence I like to apply some blush and powder on my face so I look more alive. However there are times where I like to go
au natural
, which is why I love the Pink shade, which gives a radiant, rosy tint to my complexion. Of course, this is not all there is for a complete whitening regimen. Discover the full range over at
http://www.clarins.com
.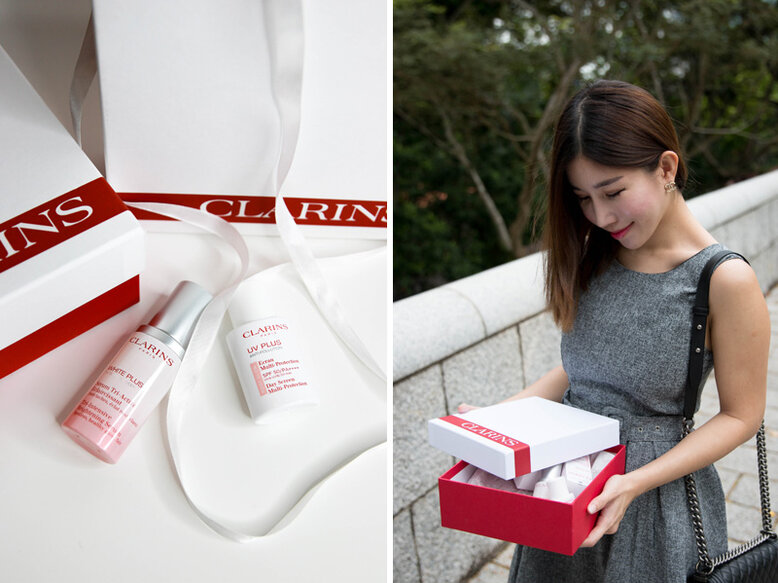 As a fashion blogger, I am often out in the sun taking pictures because the sun is essential for creating brilliant images. Due to my job hazard, I suffer from uneven skintone and pigmentation due to the harsh UV rays from the scorching sun.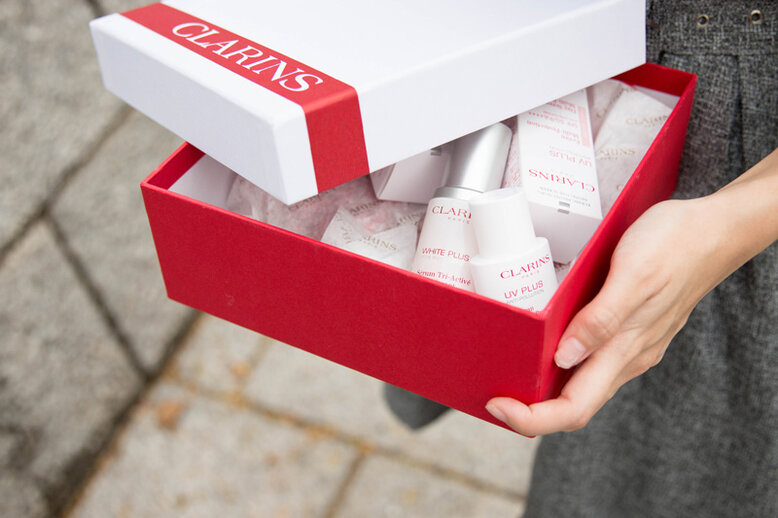 In order to protect my skin from the harmful UV rays. I use a good day screen which is none other than Clarins UV Plus Anti-Pollution SPF 50/PA++++ and additionally, I incorporate Clarins White Plus Tri-Intensive Brightening Serum into my daily skincare routine to prevent new spots, increases skin translucency and radiant glow, fairness, brightness and evenness.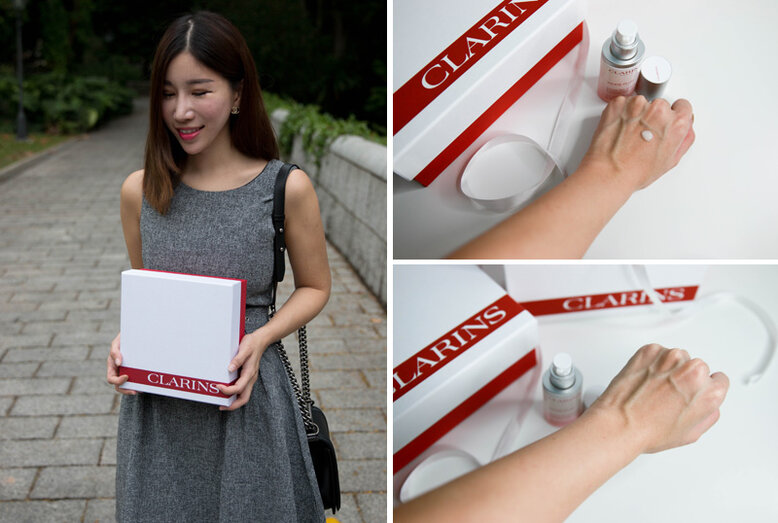 After letting the serum work its magic for about a month, I saw an improvement in my complexion. The pigmentation on my skin is lighter than before and skin tone is more even now. Constantly using it, the effects did not fade away so my skin is still as supple as before but with lesser marks and pigmentation. You can see the apparent glow and radiance in these photos. I like how the texture is so lightweight and absorbs quickly into the skin. In the past, I used to avoid whitening products as I have used a couple of whitening products before and what frustrates me is that most whitening products don't provide sufficient moisture but I have changed that mindset after using Clarins White Plus Tri-intensive Brightening Serum. I find that it provides adequate long lasting moisture to my skin. I understand most girls out there have the same issue as me and fail to find the right whitening products for their sensitive skin. Heavy chemicals are often found in whitening products which is potentially harmful to the skin hence I find myself turning to Clarins for their whitening range instead as they use 100% pure plant extracts which is less harmful to the skin.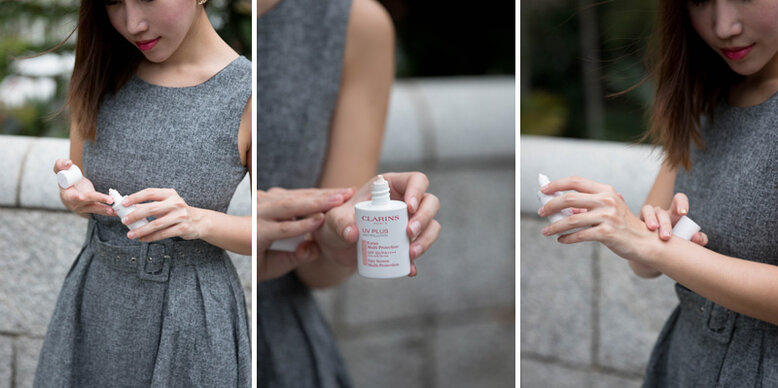 I am also a fan of their sunblock! Love how quickly the sunblock absorbs into the skin and provides a rosy tint to my complexion. It makes a perfect makeup base too! You can wear it as a primer, makeup base or as a very thin foundation.
Of course, besides having the right products it is essential to know the correct application methods. Realising this need, Clarins has introduced a one-to-one skin consultation service –
Clarins Skin Perfect Touch
. This is a complimentary service where Clarins will help you understand your skin better through an 8-point skin check and offer the best solutions for you. You can now get your skin analysed and ask any skincare questions you may have. You will be taught the right way to apply products. It teaches you how to use the Clarins touch to boost the efficacy of your daily skincare routine. Allow me to show you what goes through the Skin Perfect Touch.
1. Clarins Beauty Specialist will first assess your skin in a one-on-one skin consultation using only her hands.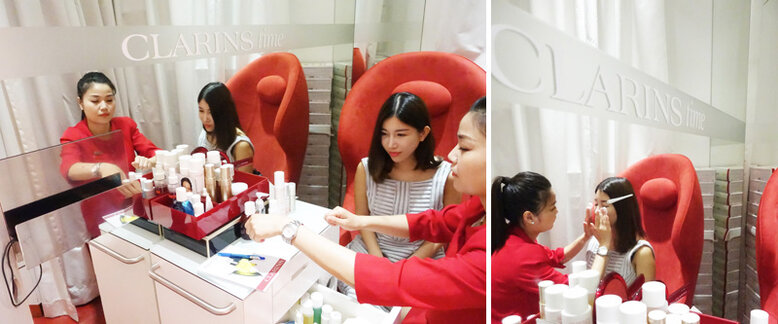 2. Discover simple yet effective Clarins methods to maximise the effect of their products in the hands on session.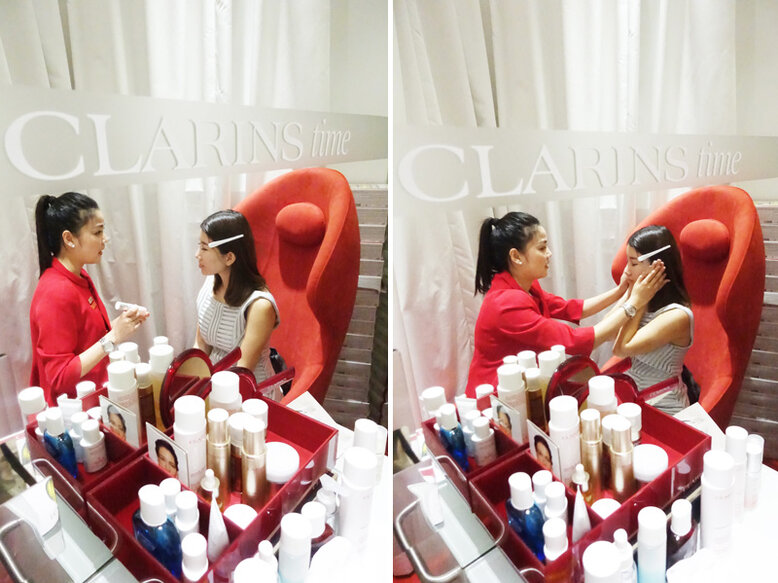 3. Get to try before you buy! Take home Clarins product samples selected specially for your needs and concerns.
After the wonderful session at Clarins Skin Perfect Touch, I felt I understood my skin better and now know how to use the Clarins Touch methods to achieve the best results.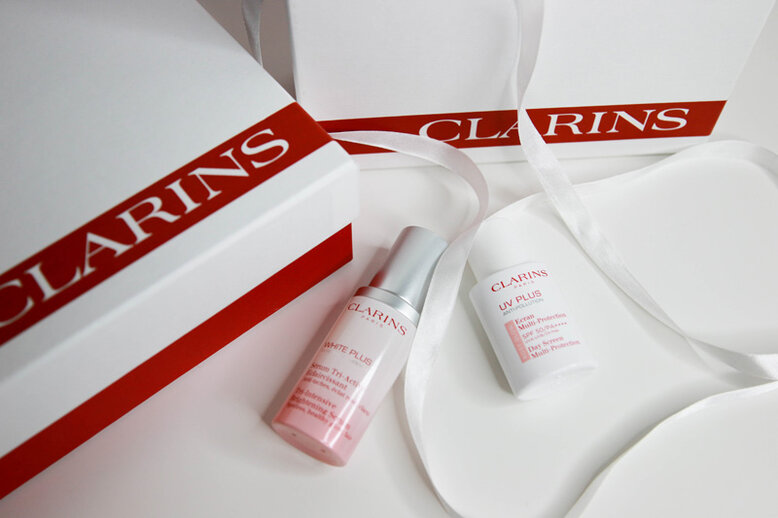 --------------------------