After a six-year tenure at Marina Bay Sands, Caffé B relocated to a corner shophouse on a cul-de-sac off the aptly named Club Street pubbing and dining thoroughfare. While the restaurant's name is somewhat humble, it is anything but. The three-story heritage building has been transformed into a chic, contemporary dining and drinks destination, housing a well-stocked bar on the ground floor, an intimate dining room on the upper floor and a private 12- seater event space in the loft.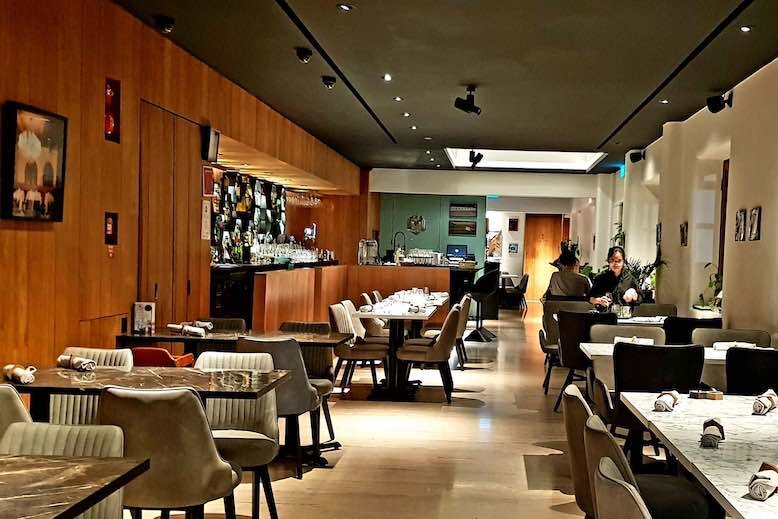 Ground floor


The new location saw the appointment of Chief Adviser Masanao Saito to rejuvenate Caffé B's menu. Born in Tokyo and brought up in a family of artistic talents in Saitama, Chef Saito's passion for his work shines through clearly as he shared enthusiastically with us his in-house fermentation experiments, inspired by the Noma Guide to Fermentation, co-written by renown Nordic chef, Rene Redzepi.
Chef Saito has developed and refined his culinary techniques over his career: starting as part-time kitchen help in an izakaya in Japan at age 15 and rising to the position of personal chef to a Japan Ambassador of Sweden, and culminating with stints at Hanashizuku and 999.99 in Singapore before helming Caffé B.
This review covers the omakase menu, melding my experiences at a private media invitation by Chef Saito and a subsequent dinner that I hosted there. Chef Saito's sophisticated cooking style is not easy to categorise — you'll be engaged by refined modern European flavours infused with Japanese influences and ingredients given an Italian touch.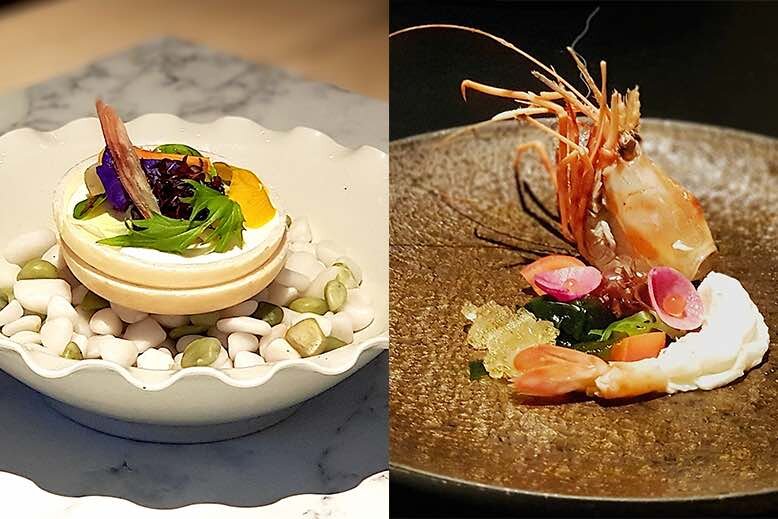 Monaka with Sour cream with Lemon jelly, Botan Shrimp with Red daikon radish, Yuzu, and Tosazu jelly




Chef Masanao Saito

Scandinavia's influence on Chef Saito's extensive time there is evident in his cooking; fresh, light yet flavoursome — hallmarks of Nordic cuisine that are trending worldwide. The first salvo of the seven-course tasting menu was the Monaka amuse-bouche, a play on the popular Japanese sweet, served with two thin crisp wafers to sandwich the sour cream, lemon jam and micro cress mix instead of the typical azuki bean paste filling found in the sweet — perfect pairing for the bubbly. The Botan Shrimp that came next was served sashimi style, the rawness of the sweet crustacean tempered by the zesty tosazu jelly and yuzu dressing.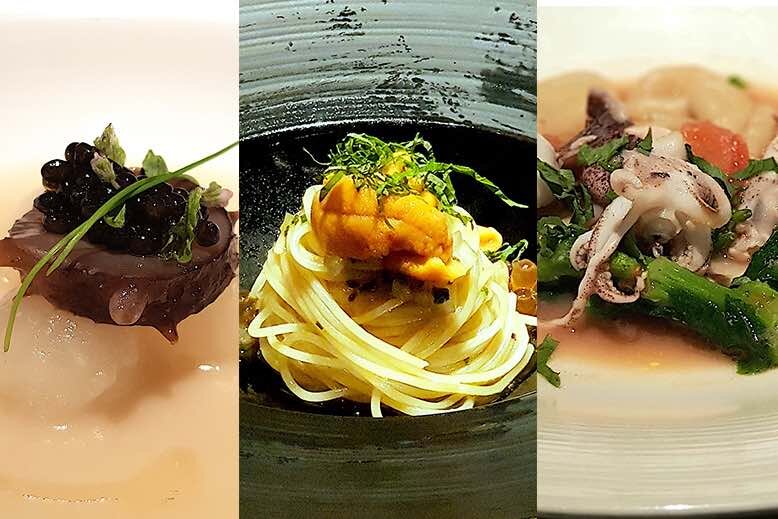 Left to right: Shogoin Turnip and Clam Soup, Uni Pasta, Orechiette with Baby squid and Nanohana

The Nordic influence on Chef Saito reared its head throughout the dinner: the rendering of the Shogoin Turnip Soup — a piece of tender sea cucumber sitting in a sweet Asari clam broth that carried a hint of the tartness from the Kyoto turnip, topped with a spoonful of gleaming caviar sprinkled with aromatic shisho flowers — had all the fresh ingredients forming a harmonious combination that tantalised.
Next came the pasta, which was executed authentically al dente on both my visits. The Nanohana Orechiette was served with supple baby squids and Japanese broccoli in a tasty emulsion. On my second visit, the Uni Pasta was equally delectable; simply dressed with truffle oil, Kyushu soy sauce and yuzu, and garnished with a dollop of luscious sea urchin.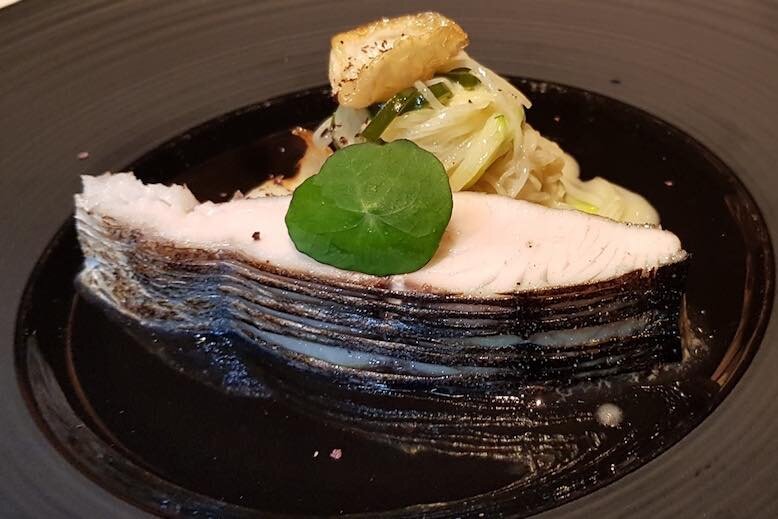 Sous-vide Sawara, Japanese parsley and potato noodles




Wagyu with Hishio-koji and Daikoku shimeji

The following sawara fish course showcased a seasonal Spanish mackerel usually wild-caught during winter and early spring and slow-cooked to retain its moistness. What lifted the dish was the pasta-like potato noodles, the tuber hand-cut into thins strips and sautéed with butter and vegetable stock into tasty and textured noodles with a light crunch.
If you're expecting Wagyu beef to be on the menu, you won't be disappointed. For the meat course of Wagyu Hishio Daikoku shimeji, Chef Saito marinated the beef delicately with his house-made miso-like paste fermented from koji mold and saltwater, served with a medley of fine vegetables flavoured with fermented barley — the wagyu served superbly succulent at medium-rare.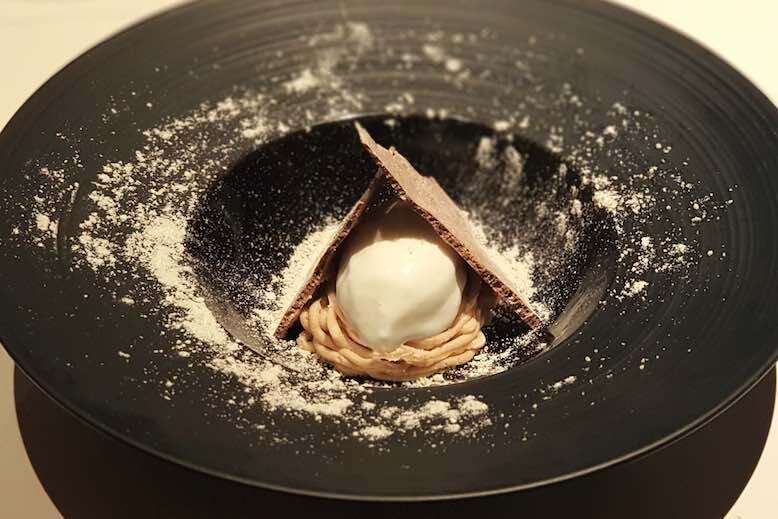 Hojicha ice-cream




Gewürztraminer, Il Pollenza Cosmino



The dessert of Kinoki carrot & golden orange was interesting, partnering a yuzu sorbet with cream cheese; but I preferred the dessert at my latter visit — an addictive concoction of Hojicha ice-cream, chestnut puree and almond cream.
For wine pairing, the dry Gewürztraminer by Elena Walch with floral lychee notes went subtly well with the seafood dishes, while the full-bodied Il Pollenza Cosmino complemented the wagyu with its silky, blackcurrant notes.
Overall, Chef Saito more than delivers on Caffé B's culinary manifesto of celebrating the union of cultural diversity, with no compromises on the freshness of ingredients. The use of his fermentations for seasoning and sauces makes a difference — you have to be passionate about your work to make such subtle efforts that may not be apparent to the casual diners.
The omakase course is well-curated and proportioned, each course orchestrated to titillate your palates and leave you anticipating the next — you'll leave the dinner sated without feeling bloated. Boasting a smart but understated décor, Caffé B offers an excellent fine dining experience that doesn't stifle. Besides the omakase course, there are other set courses as well as a reasonably priced ala carte menu. There's an ongoing 1-for-1 promotion for the SGD159++ Omakase menu for DBS/POSB Cardmembers, valid till 31 March 2020 — you won't find a better dining deal in town, so better hurry down.
Caffé B can be found at 64 Club St, Singapore 069438.