"I've always been more into skincare than makeup," said Carrie Gross, co-founder and CEO of Dr. Dennis Gross Skincare. This is coming from a lady who knows the importance of appearances. After all, she already had a burgeoning career as a fashion merchandising director before she started her own skincare brand with her husband, award-winning dermatologist Dr. Dennis Gross. Her journey from fashion to beauty is one for the books, a story of exploration and ambition. Get to know her thoughts on skincare, entrepreneurship and success.
Linking fashion and beauty together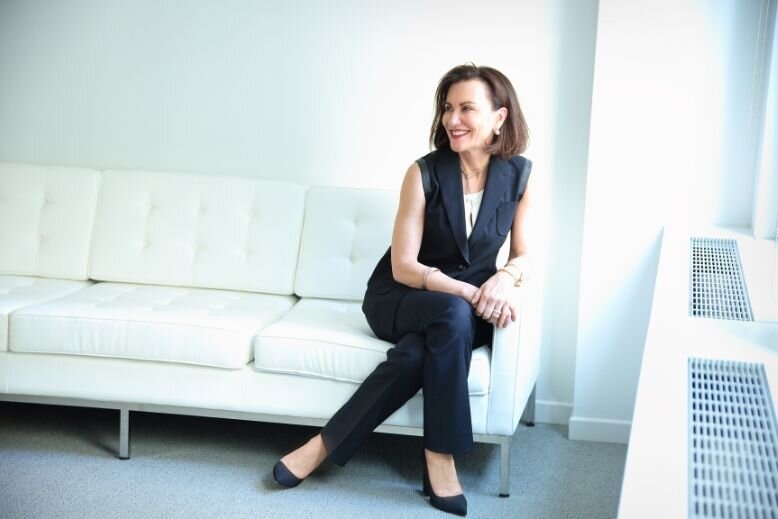 Carrie was already thinking about retirement and starting a family. But she also had a lot of ambition she needed to divert to other endeavours, even if it wasn't necessarily in fashion. A joint venture in skincare with her husband was very enticing. "We had been discussing the lack of efficacious skincare in the marketplace from the time that we were dating, so it happened very naturally."
It also doesn't hurt that for Carrie, fashion and beauty are intrinsically connected. According to her, if someone spends money on fashion, they're unlikely to neglect their skin and hair. "It's the aesthetics, it's about feeling and looking your best… It all goes together."
A valuable piece of insight from her years in fashion that she still treasures to this day would be knowing exactly who she's selling to. Whichever industry it may be, it's crucial that she's able to establish a connection with the consumer "on an emotional level and make them feel their best." This, in her opinion, is one of the many similarities between fashion and beauty.
Why skincare is not a one-size-fits-all
Much like our clothes, skincare isn't the same for everyone. Trends, for Carrie, should be taken with a grain of salt. In particular, she highlighted short ingredients lists which have gained popularity alongside trendy beauty labels such as greenwashing and clean beauty. "You need a well-balanced diet of skincare ingredients," she explained. You don't necessarily need to use 15 different products but rather, get effective multi-tasking ones. She personally uses active ingredients in "meaningful doses" hand-in-hand with botanical antioxidants.
And if there's one more thing she wants women to take to heart, it's the importance of creating a disciplined and religious skincare regimen that fits your specific concerns. "Stick to it. Your treatment products won't work if they're left sitting on the shelf." This is in-tune with her personal approach to fashion; that is, making an investment in a couple of products that really work for you. It's always worth investing in a "skincare wardrobe", as she aptly called it.
How to successfully work with your partner
While she came from a fashion background that took her all around the world, Carrie always carried an affinity for skincare. It's one of the things that she and Dennis connect over even after 27 years of marriage. "We started talking about skincare on our first date and the conversation has not stopped since!" Carrie enthused. She noted that there is a crossover between their personal and professional lives, which she admits they're not really good at separating anyway. Her husband is, after all, a renowned dermatologist and the Chief Science Officer in their company. He focuses on what goes in the bottle, while Carrie makes the science accessible to the everyday consumer.
The separate offices — Dennis in his clinical practice and Carrie in the headquarters — differentiate them from other husband-wife business tandems. They have their own work spheres they can engagedly converse about over dinner at the end of the day. Having mutual interests can benefit any couple, but the Grosses have taken it to a whole new level. Can you say "power couple"?
In her husband, Carrie found a mentor in skincare. She shared that it made her feel empowered when she started learning more about different ingredients and the best ways these can be delivered to your skin in order to achieve the best results. This knowledge shaped the philosophies behind their skincare products: blending a cocktail of ingredients to create a super treatment for your skin.
Advice for aspiring businesswomen
For women like Carrie who possess a lot of professional drive, there's nothing stopping them from pursuing their dreams. "Be a boss. Find a mentor. Dream big. Become a lifelong learner because there is so much great, inspirational business advice out there. Find people that are generous with their knowledge." After all, these prove effective in her case.
Carrie Gross has served as an inspiration for women, not just for the level of success she's attained but also her willingness to delve into a whole new industry. She took a leap into a new venture and it paid off. We know she will inspire more women to be their best selves where it matters most — from within.
You can purchase Dr. Dennis Gross Skincare products through Sephora Singapore.
(Photo from: Sephora Singapore)
For more stories about inspiring women behind the beauty brands, head over to our interview with Nudestix President Jenny Frankel.