This Festive season, SK-II has given the iconic Facial Treatment Essence a stunning new look with a meaningful series of limited edition designs that celebrate the power of personal transformation and the will to change your destiny.
The best-selling beauty essence contains over 90% Pitera™, the signature ingredient present in all SK-II products, and has transformed the skin of millions of women around the world, gifting them with crystal clear skin. It is no wonder that the essence has been nicknamed 'miracle water' by its loyal users who have changed their skin's destiny thanks to SK-II. Now, the essence gets its own transformation in the form of three distinctive festive limited edition bottle designs.

They have created artistic 'Wings of Change' bottles of the iconic beauty essence for the Christmas and holiday season. This series draws inspiration from two of nature's most beloved winged creatures, the butterfly and the hummingbird to symbolize the beauty in transformation and the possibilities of soaring beyond your potential.
Each adorned in a different colour, the three designs represent the various stages in the journey to change your destiny – boldness, encouragement, and perseverance – and thus become meaningful gifts based on the giver or recipient's personal stories in their quest to #ChangeDestiny.
--------------------------

BOLDNESS: Red Butterflies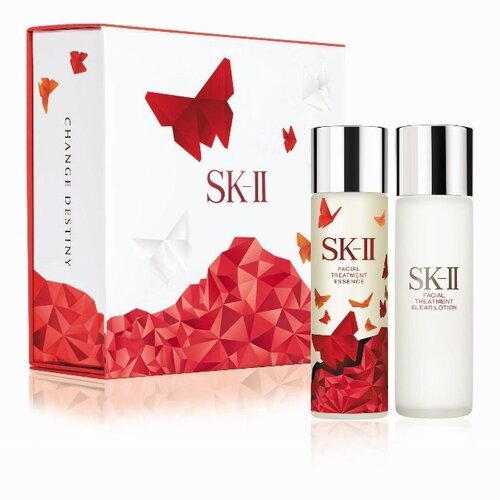 This is for the woman who embodies the boldness and courage it takes to change her own destiny. It is adorned with fluttering butterflies as the ultimate symbol of transformation, the graceful butterfly's inspiring metamorphosis from a caterpillar to a flying flower. Fashioned in invigorating red, this captivating design and colour express the heartfelt passion and bravery necessary to undertake the journey that leads to transformation.
Available in the SK-II Iconic Set (RM620) and SK-II Age Protect Set (RM1,181).