The age of Farmville, celebrity mohawks, everything vampire-themed (looking at you, Twilight) and of course, MySpace, it's safe to say that 2009 is an epic piece of recent history for all of us. This is whether we're talking about the good, the bad or the extremely cringe-y. And to be honest, most of the things that we've mentioned earlier are still pretty fresh in our memories that it's weird to think it's already been a decade since.
With the '10 Year Challenge' rising once again from the ashes, we get reminded that time flies really fast and looking back once in a while to see where we've been and where we're at is a refreshing experience. Even celebrities jumped in on this year's version of the trend by using hashtag #2009vs2019 and ICYMI, here's what some of them contributed.
Lily Collins
In 2009, Lily Collins was a newcomer in the industry, starring alongside Sandra Bullock in The Blind Side and having guest spots in the 90210 TV series remake. Fast forward to a decade later, she has now become a household name, starring in multiple romcoms, dramas, biopics and more and has had multiple acting awards added to her belt. But even with the major jump career-wise, some things never change. As she pointed out in her throwback post, her love for sequins didn't seem to falter and we can't blame her because she can really rock the look!


Reese Witherspoon
We had to do a double-take upon seeing this photo because Reese doesn't seem to have aged a day! The span of 2007 to 2010 was a trying period for both her career and personal life because of her struggles with creativity and not doing things she was passionate about. But since then, she has bounced back and created more films, started running a production company, and has been enjoying motherhood with her three beautiful children.



Brie Larson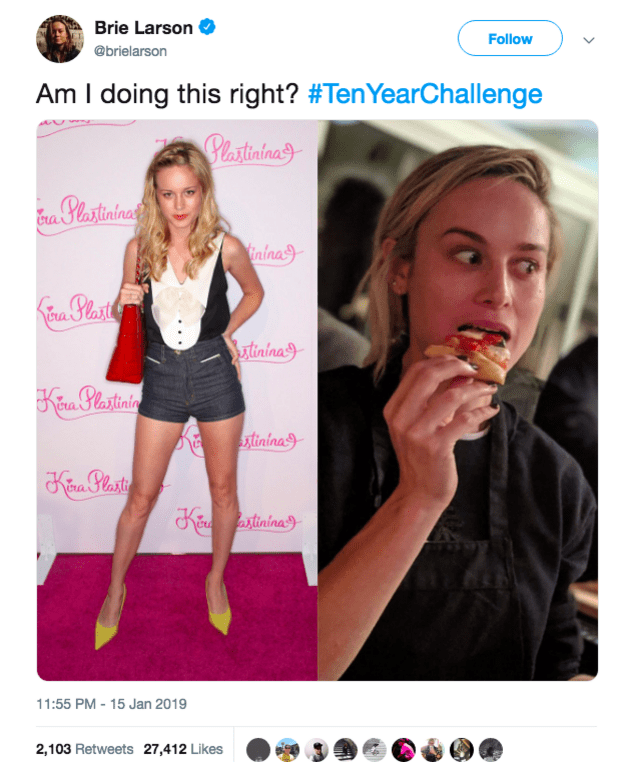 Even Captain Marvel couldn't resist sharing a throwback photo, and she gave us a funny one at that. Serving us flashbacks of fashion looks from 2009 with her two-toned sheer top and denim shorts combo in one photo and an adorable pizza eating shot in the other, it's safe to say that trends may come and go but one's love for food is forever.

Tyra Banks
The Smize Queen also joined the party by sharing a throwback photo of a look she wore in a 2009 Paris runway show. Her present look is just as fierce and gorgeous, and if we're being honest, we're totally digging her 2019 beauty look more!
Kate Beckinsale
Is it cheating if Kate used a 2005 photo instead of one from 2009? We don't think so because an older photo should show more disparities but hers just look incredibly vampiric, in the non-ageing kind of manner. Maybe she's channelling her character Selene from Underworld in this one? But aside from the awe-inspiring past and present comparison, what really impressed us about this throwback post is Kate saying in the caption that she's so much happier now.
Jessica Biel
"What a difference ten years can make," she says. But honestly, we can't see it. We really hope Jessica Biel spills the secret to her fountain of youth because apart from her blonde to brunette transformation, we really can't believe those photos were taken a decade apart.
Anne Hathaway
Hey, Anne, we have a question: How? If there's anything those 10 years have done to Anne Hathaway, it's definitely made her even more beautiful. In fact, she seems more glowing and healthier in her 2019 photo. She even said that it seems like she was "trying really hard not to do anything wrong" then in contrast to today where she feels like she's "doing what feels right." This reminds us that the landscape of acting, fashion and beauty has really changed a lot in the past decade and has definitely become more empowering towards women.
(Cover photo from: @lilyjcollins; @annehathaway)
Have you heard? Neon green is the new It colour according to celebrities and here's how to nail wearing it.