Sporting an effortlessly stylish ensemble to kick-start your trip can be a headache to plan. We all know about the crazy lines and multitudes of people we have to deal with as we pass through airports, with the added factor of having to stay in a flight for an hour or even more. So being at our most comfortable should be an absolute priority, on top of the fact that documenting your entire trip also starts with an Instagrammable airport outfit.
But as always, we've got you covered. If you're jetting off somewhere soon, we listed down our favourite celeb airport looks that are easy to cop for your upcoming trip.
Rihanna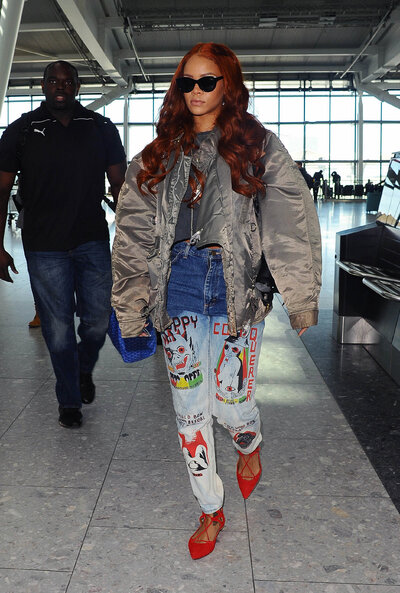 (Photo from: imagecollect.com)
There's just something so comfortable about oversized pieces, especially if you're spending long hours in a stuffy airplane cabin. But if you're still having doubts as to how you can rock a jacket that's at least twice your size, jot down some notes from RiRi's scene-stealer look and try to balance it out with bottoms that also make a statement. Don't forget to channel her 'ready-to-take-the-world' vibe, too, for the full effect.
Jessica Jung
Want to keep it clean, casual, and classy? Jessica Jung's look from her trip to Berlin last year takes the crown home for all three! Take inspo from this effortless ensemble with your own version of a knit dress and ankle high boots that are perfect for a plane-to-photo-op kind of day.