Did you know that acclaimed Taiwanese-born Canadian actor Godfrey Gao used to wash his face with a bar of soap? And that he had oily, blemished skin? And that Lee Sinje used to have dull skin?
If you saw the two of them at the launch of the SK-II AurActivator CC Cream held earlier this month, you wouldn't believe it. You could see the two brand ambassadors had crystal clear, radiant skin with absolutely no blemishes as they mingled with the media.
As the event proceeded, both celebrities revealed there was a lot of pressure on them to look good, with an emphasis on clear, radiant skin. According to Lee Sinje, "Being in this industry puts a lot more pressure on me to always look my best. However, for me, taking care of my skin goes beyond just looking good for others," she explained, adding, "It's amazing how much better you can perform when you put in effort to look and feel your best on the inside."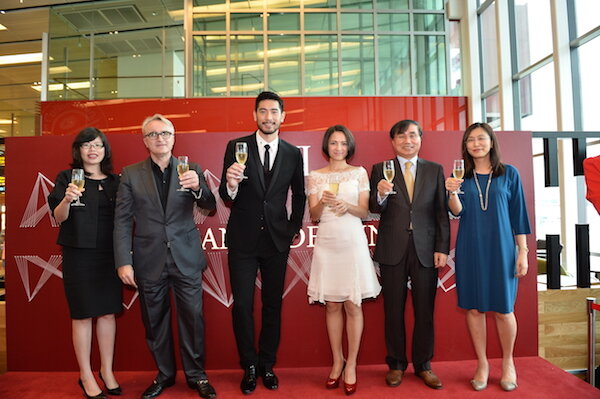 And while you would think men are exempt from this kind of pressure, Godfrey candidly broke that notion, "When you are an actor, the first thing most people notice is your face. Contrary to popular belief, proper skin and hair care is just as important for men as it is for women. A lack of grooming not only detracts from your appearance, but it also undermines your credibility as an artiste."
So how do the two of them manage to maintain such flawless complexions with hectic schedules? According to Lee Sinje, "I use my favourite SK-II products night and day! I start with the Facial Treatment Essence, the SK-II cleanser, the Facial Treatment Mask and my favourite Cellumination Aura Essence. I'm also excited about the new SK-II AurActivator CC Cream." Godfrey revealed, "The Facial Treatment Essence for Men is a definite favourite of mine. It is also important to wash your face with the right skincare products and follow a proper daily skincare regimen." And no daily skincare regimen would be complete without the new SK-II AurActivator CC Cream. The newly launched product takes a holistic approach to skin brightening. It promises to instantly deliver a radiant complexion, go deep within the skin to reduce melanin as well as protect the skin from damage caused by UV rays with SPF50. Truly, it is your one answer to achieving an aura glow.
The NEW AurActivator CC Cream first made its global debut at Shilla Duty Free in Changi Airport in early January (retailing at SGD92), and quickly exceeded expectations, selling out within 20 days. It is now back in stock and will be launching in the rest of the local counters from March 2015 onwards.
So what are your skincare secrets? Snap a photo of your skincare regimen and share it with our Beauty Community!