Perfect, flawless, always photo-ready — these are just some of the things that we often admire and envy about celebrities. But ever since movements on redefining beauty and rectifying our rose-coloured view of their lives, we continuously learn that they, too, have things about their own skin and their own beauty that make them feel vulnerable. And it's not just a speck of freckle here or a barely visible acne mark there. There are times when they have to deal with serious skin conditions and remind us why proper care, regardless of what lifestyle you lead, matter.
So whether it's something as simple as learning to manage your skin type or a bigger skin issue you need to battle through, keep these important skincare lessons in mind, inspired by situations experienced by celebrities.
Accept that everyone has skin issues
We've all wondered if high-profile personalities always just wake up beaming with confidence, perfect messy-but-sexy hair and glowing skin. But as much as we'd like to believe so, that's really not the case — not even for royals. We're talking about Duchess of Cambridge Kate Middleton who reportedly has been suffering from eczema since a young age.
Other celebrities and personalities like Adele, Britney Spears and Cara Delevigne have also been very vocal about their own skin struggles. So if you ever wake up one day and feel like your skin has failed you yet again, know that everybody has their own ups and downs when it comes to their skin and that if it didn't make them less awesome, then it shouldn't hinder you from doing what you want either.
Get checked

Former Miss Universe and now actress and model Dayanara Torres recently announced on Instagram that she has been diagnosed with melanoma, a type of skin cancer. She described her discovery of the disease as "a big spot/mole [she] never paid attention to, even though it was new, it had been growing for years and had an uneven surface." She pointed out that her fiancé had been begging her to get it checked for a while and it was just until recently that she did, only to find out the unfortunate news. She then ended her post by saying that "PLEASE, never forget to take care of yourself. If you see something or feel something different in your body have it checked..."
We usually view check-ups and physical examinations as a procedure meant just for our internal health. However, we forget that the skin is our biggest organ and that it needs to be monitored, too. Going to the dermatologist is often viewed as a luxury but given that our skin is at the frontlines of everything we do and it is the one exposed to many harmful factors every single day, it should be enough indication that we have to also make sure it's in its top condition.
Don't just cover it up — medicate!
We all know Kim Kardashian for her always-on-point makeup looks and bold fashion choices but it's worth noting that the main sister of KUWTK also has her share of skin woes. After opening up in 2016 about discovering that she has psoriasis, she has often gone on social media to ask for medication recommendations from her fans and even pointed out to tabloids that her skin condition is more than just "bad skin."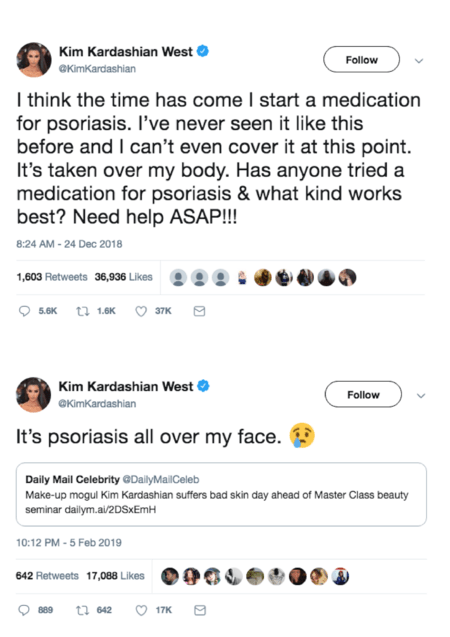 Whether you like her or hate her, Kim K. talking about her skin issues, especially given her influence, makes for a great example of why talking about skin conditions and getting them treated should be normalised. In fact, it shouldn't be viewed as superficial at all. There will always be situations where Band-Aids or makeup wouldn't be enough to cover an abrasion and just letting it be in the fear of being judged for vanity is but a ridiculous notion. At the end of the day, skin conditions are just like any other ailment and getting medicated is still the best chance to get actual results.

At the end of the day, stick to what you feel confident in
The tricky thing about learning from celebrities, models and other famous personalities is that we are still often sceptical even if they bare their vulnerabilities. Sure, the lessons mentioned previously are very important and atypical from the usual 'cleanse, moisturise, repeat' tips you see often, but it's understandable if you feel like what works for A-listers may not necessarily apply to you. So from one non-celebrity to the next, we're also pitching in our own skincare lesson into the mix.
Alicia Keys made headlines last year for going makeup-free on most of her shoots and TV appearances
Once you've accepted that everyone has skincare issues, decided to do skin check-ups and proper diagnosis, and have gone on and proceeded to medicate (if needed), at the end of the day, it's all about feeling confident despite knowing that you have 'imperfections'. It's a long journey, which most of us take years to master, but you don't have to jump on 'bare face challenges', 'show your tiger stripes' movements, or anything similar unless you are ready to do so. Don't feel pressured by celebrities stepping up and 'going bare' but rather use their stories to be empowered and inspired to do good on your own holistic being. Show confidence in your own skin — literally and figuratively — in your own way and don't get fixated on skincare just for vanity but for your own health.
(Cover photo from: @aliciakeys; @dayanarapr)
Speaking of celebs and lifestyle changes, would you go vegan for Beyoncé?