Life is a combination of both good and bad. We all have moments when we feel like our hearts are elated, only to be broken after. But no matter what life throws at us, there is still one thing that we can rely on: our own choices.
In the
first
and
second
part of our
#LetsTalkPink series
, we discovered stories of finding hope and seeing one's self in a new light despite breast cancer. In the last instalment of this trilogy, we bring you the story of
Joon Ng
and
Geraldine Goh
-- women whose choices led to conquering breast cancer's harrowing truths.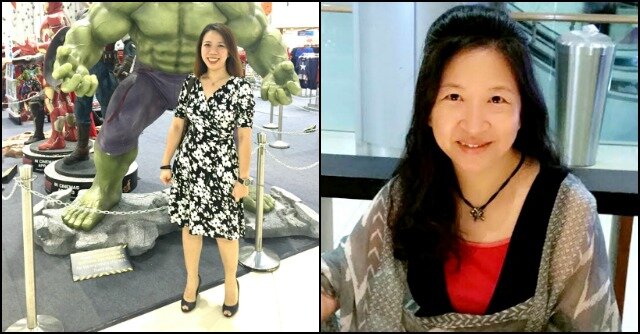 Joon (left) is currently undergoing active treatment for breast cancer. Geraldine (right), on the other hand, is celebrating her 3rd year of freedom from the disease.
Looking through the perspective of a patient and a survivor, keep scrolling to learn more about their story of choices, chances, and conquering fears.
Can you tell us more about yourself before breast cancer?
Joon:
I won't say I was a workaholic, but back then I worked at least 48-50 hours a week if I was really busy. My priority then was work first, followed with housework, then myself and my family last.
Geraldine:
I have never been an adventurous person. I prefer systems and routines. I used to rush [things a lot]. I also used to enjoy being alone. I am just someone who likes many things, but never get it done [because I stick to just] thinking about it.
--------------------------
How did all of these things change when you were diagnosed?
Joon:
I came to realise that life is actually very fragile and time, in my case, is even more precious. I almost immediately changed my lifestyle. Now, my life priority is myself, family, friends, housework, and work last.

Geraldine:
Now I challenge myself to water rafting, canopy walk, snorkeling, and zip lining. I never thought much about "basking in the sun", but now I like to travel to witness the sunrise. I appreciate being in other people's company as compared before.
Can you describe to us what happened when you found out that you had breast cancer?
Joon:
"How is this possible" was the first thing that came to my mind when I found out that I have breast cancer. My family and loved ones were also shocked and everyone was just sad. But
Breast Cancer Foundation
helped me through my breast cancer journey and I had a much easier time accepting my condition.
Geraldine:
You know what, I was peaceful, calm, and accepted the news with a smile and felt blessed that it was me. There weren't any fears, doubts, or expectations. There was no history of breast cancer in the family so I somehow pioneered it. It started with me and therefore should also end with me. Never did I ask the usual "why me" question. Everyone at home supported me throughout the journey. I'm really grateful to them.
--------------------------
What was the most harrowing thing about going through this part of your life? And what made you say "This is enough. I have to fight."?
Joon:
[It was definitely] the fear of death. But my husband, my family, and friends, especially the ones from BCF, gave me the courage and support to fight this condition.

Geraldine:
Breaking the news to my mum was more harrowing than the illness itself. I first broke the news to my only sister, just before my operation, through an email and I could tell how sad and helpless she felt. She broke the news to my mum only after my surgery. There wasn't anything like "that's enough. I have to fight on". It's not a war that kills. It's a battle within ourselves that we must conquer.
What were the things you discovered about breast cancer that you didn't know until you've actually experienced it?
Joon:
Anyone, regardless of age, may be at risk of having breast cancer. Therefore, regular breast check is important. Early detection saves lives.
Geraldine:
A mammogram checkup once or every 2 years can be a little too long and a little too late. In between that period, anything could happen. I was fortunate that I detected a dimple while "caressing" my bosom while taking a shower. I would like to encourage women to touch and feel their breasts more often to make it easier to notice any abnormalities.
--------------------------
How did this experience change you as woman and as a person?
Joon:
Simple. I feel much stronger and more passionate about life.
Geraldine:
Life goes on as before and I was pleased that friends and acquaintances didn't notice any differences in me. I was a strong woman then, and has turned into a more confident, healthier, and prosperous version of myself.
--------------------------
Last but not the least, what is your message to every woman who will read about your story this Breast Cancer Awareness Month? Do you think that there is a need for women to talk openly about breast cancer?
Joon:
Do regular breast self-examination and yearly breast screening as early detection saves life. There is still this taboo/fear in the older generation to talk openly about breast cancer and as a result the younger generation is less aware of it. I believe educating the younger generation, especially between ages 16-21 years old, about breast cancer will help them in preventing the risk of having the disease.
Geraldine:
Breast cancer isn't that scary and can be cured if detected early. Regular self-examination as well as mammography checkups are both necessary and important. Do not procrastinate or be in denial if you sense something unusual in your breasts.
--------------------------
Any inspiring stories about conquering fears to share? We'd love to hear all about them in the comments below!